Kirsten Dunst Was Happy Jake Gyllenhaal Didn't Replace Tobey Maguire in 'Spider-Man 2': 'It Would've Been Weird'
Sam Raimi's Spider-Man 2 was almost looking at a new actor to portray the titular superhero. Because of certain circumstances, it was unclear if Tobey Maguire would've been able to reprise his role as the wall-crawler. At one point, Jake Gyllenhaal was considered for replacing the actor. But Dunst, who was dating Gyllenhaal at the time, remarked it would've been 'weird' if that happened.
Jake Gyllenhaal almost replaced Tobey Maguire for 'Spider-Man 2' because of a back injury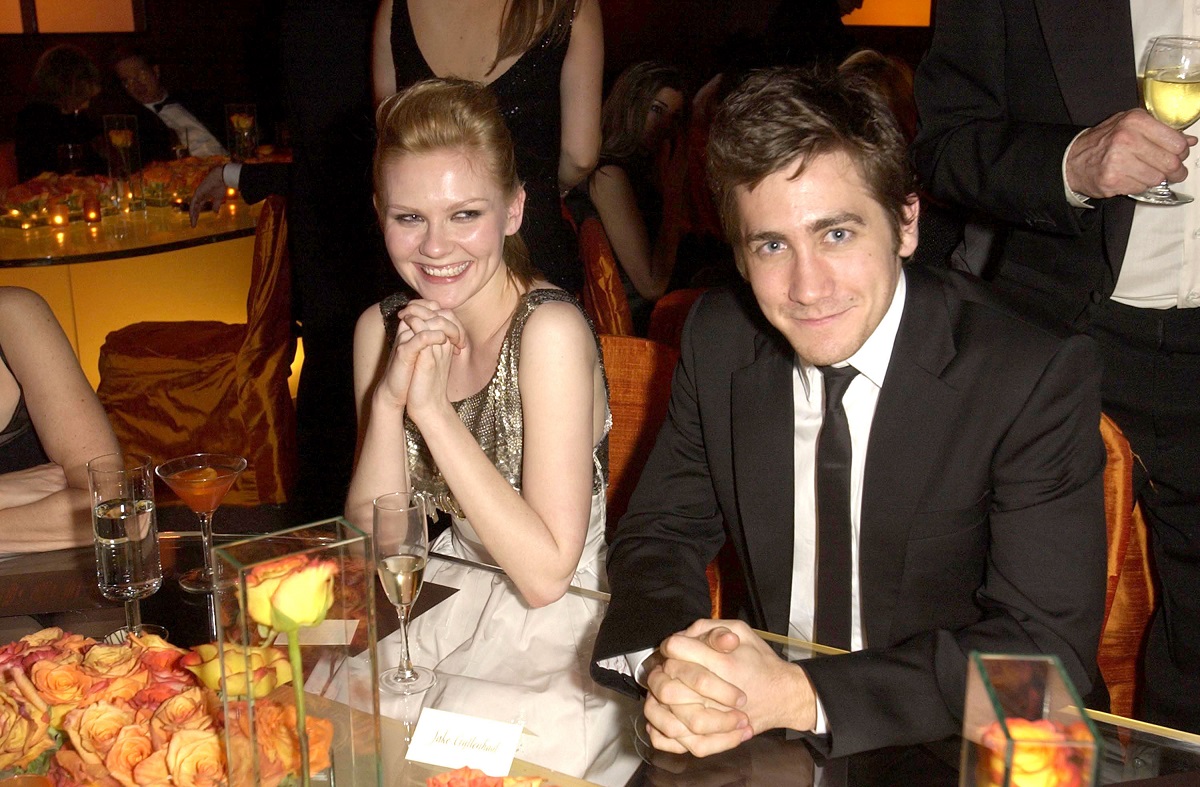 As some may know, Tobey Maguire was almost replaced in the sequel to director Sam Raimi's blockbuster hit. According to Seattle PI, there was real concern that Maguire wouldn't have been able to do the film due to his back injury. To protect Maguire, Raimi strongly considered switching him out of the role.
"I was told by someone, I don't know who, some manager or agent or representative, that his back was in such a state that if it got injured anymore, it could maybe lead to paralysis," Raimi recalled. "At that moment, I said to myself, 'I can't be irresponsible. I can't make a movie about responsibility and then grab this kid and make him do stunts where he's going to be paralyzed. And I can't compromise the movie.'"
In an interview with Yahoo, Gyllenhaal more or less confirmed the rumors.
"Eventually my belief is when an actor's played a character, particularly in a movie, the character's theirs, and that's that. But yeah there was talk, he hurt himself and there was talk," he said. "There was a slew of actors [possibly up for the part], and I was one of them."
How Kirsten Dunst felt about Jake Gyllenhaal almost replacing Tobey Maguire
Kirsten Dunst was dating Jake Gyllenhaal around the time Spider-Man 2 was set to hit theaters. Although the actor had no problem working with Gyllenhaal in movies at the time, she didn't want Spider-Man to be one of the films they collaborated on.
"It would have been weird," Dunst told Black Film. "I mean I would like to work with him and I would, I'm happy it wasn't this because I would rather do a more intimate movie with him where I could actually have, like, many scenes with him and it's not, you know if we had done this we could never have done another movie together probably and I would rather do something else with him than this movie."
Dunst also revealed that not everyone was on board with the idea of doing a movie with her then-boyfriend Gyllenhaal.
"I think, you know even I was talking to Amy Pascal; she would do a movie with us together," Dunst said. "Like certain people are, think it's ridiculous that it should even be questionable and certain people are against it and everybody has a different point of view on it and I think we probably could do a small movie together."
Sam Raimi was concerned that Tobey Maguire and Kirsten Dunst breaking up would influence 'Spider-Man 2'
Before dating Gyllenhaal, Kirsten Dunst was also in a brief relationship with her Spider-Man co-star Tobey Maguire. The two broke up before the second movie, which was a concern for Raimi at the time.
"I actually had some worries about that," Raimi said according to the Sydney Morning Herald. "They apparently began dating with each other, I think, in the middle of the first movie … although I didn't know it at the time … but definitely they eventually broke up before the second movie."
But after filming with the former couple, Raimi's concerns were put to bed.
"I was concerned they wouldn't get the same chemistry back, but it was just me worrying. They really like each other, I think, very much. And that relationship probably just added to their ability to trust each other," he confided.
RELATED: 'Spider-Man': Director Sam Raimi Gave Kirsten Dunst a Book to Prepare for the Upside-Down Kiss