Could Kit Harington and Emilia Clarke Reunite in the Marvel Cinematic Universe?
Kit Harington and Emilia Clarke were two of the biggest stars on Game of Thrones during its eight-season run. Now, both actors are set to make their respective debuts in the Marvel Cinematic Universe.
Does this mean that Harington and Clarke could reunite in a future MCU project?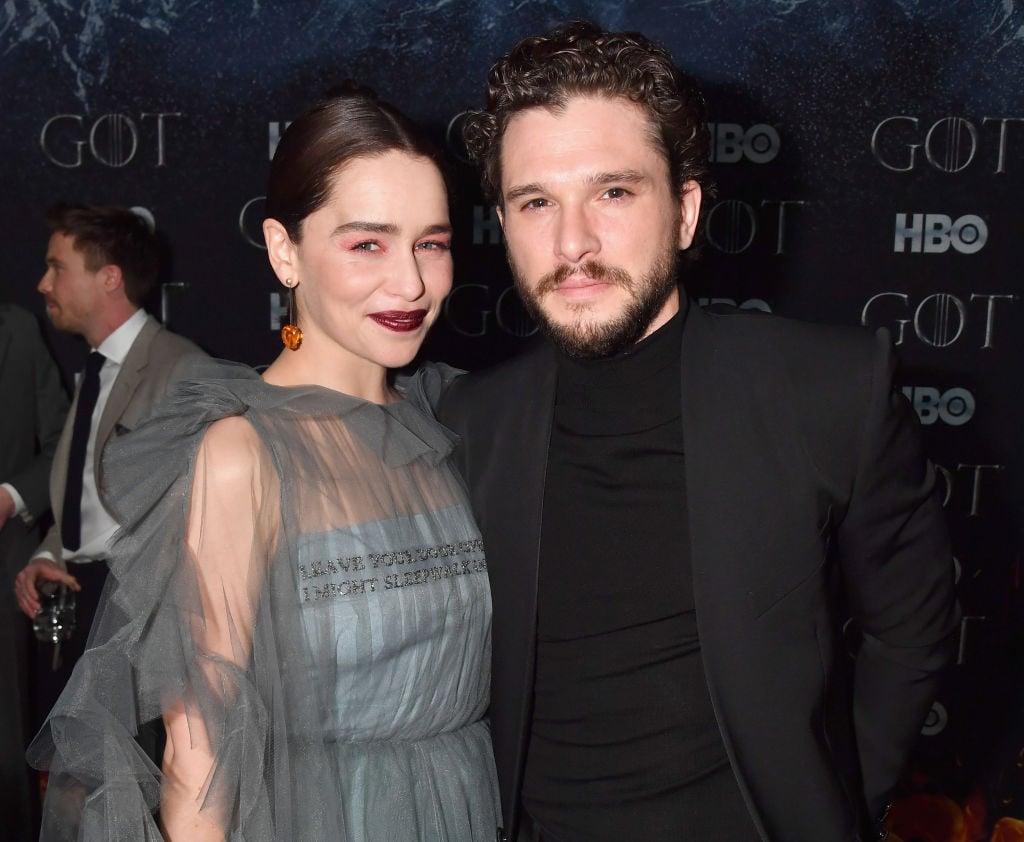 Kit Harington will star as Dane Whitman/Black Knight in 'Eternals'
Harington will make his MCU debut later this year when Eternals finally hits theaters. Originally scheduled for a 2020 release, Eternals will see Harington as Dane Whitman/Black Knight. But other than that, not many details are known about the film.
From the comics, we know that the Eternals are an immortal race of super-powered, god-like aliens. They've been on Earth for millenia in secret and share the planet with humans. One of those humans is Dane Whitman.
According to Screen Rant, the film will see the creators of the Eternals — the Celestials — send the race of super-powered aliens on a mission to fight their greatest adversaries, the Deviants.
How is Black Knight connected to the Eternals?
With the casting of Harington as Whitman, it's clear that he will be an important character in Eternals. But, what does the Black Knight have to do with their fight against the Deviants? At this point, it's unclear what the connection is.
In the comics, Whitman is a physicist who inherits the Black Knight's legendary sword — the Ebony Blade — from his uncle, Nathan Garrett. He then becomes Black Knight and eventually joins the Avengers.
Emilia Clarke is following in Kit Harington's footsteps
Fans have known since 2019 that Harington would be joining the MCU. But it was just revealed that Clarke will also be invading the superhero universe. According to Vulture, Clarke has signed on to join the cast of the Disney+ series Secret Invasion.
The role that Clarke will be playing is still a secret. But, we do know that she will be joining confirmed cast members Samuel L. Jackson (Nick Fury), Ben Mendelsohn (Talos), Olivia Coleman (unknown role), and Kingsley Ben-Adir (main unknown villain).
The Emmy nominee is now the third Game of Thrones alumnus to join the MCU. Harington will star alongside Richard Madden in Eternals when it finally arrives in theaters.
What is 'Secret Invasion' about?
Marvel announced last year that Secret Invasion was in development, but they've yet to reveal any major details about the series. It will reportedly follow The Skrulls, a group of green shape-shifting aliens who have been infiltrating Earth for years. Fans got a glimpse of the alien race in 2019's Captain Marvel.
Kyle Bradstreet is the executive producer and head writer of the series. Marvel studios will be producing the series for Disney+, just like WandaVision and The Falcon and the Winter Soldier.
Will Kit Harington and Emilia Clarke reunite in a future MCU project?
With so many details being kept a secret for both Eternals and Secret Invasion, it's hard to predict if there will be a reunion between the extended Stark-Targaryen clan in the MCU. But, it's definitely possible, since everything in the MCU is connected.
One man that knows for sure is boss Kevin Feige. According to Marvel star Anthony Mackie, the actors are in the dark about the future of the MCU just like fans.
"In a lot of ways, we're spectators, just like everyone else," Mackie said. "Every cliffhanger is a cliffhanger for everybody, except Kevin."
Marvel's Eternals is scheduled to hit theaters on November 5, 2021. A premiere date for Secret Invasion has not been announced. All eight seasons of Game of Thrones are available on HBO Max.