Kit Harington and Rose Leslie Just Made Their Debut on TikTok Thanks to Rob McElhenney
Kit Harington and Rose Leslie don't do social media, but they have famous friends who do. Thanks to It's Always Sunny in Philadelphia star Rob McElhenney, Harington and Leslie just made their debut on TikTok.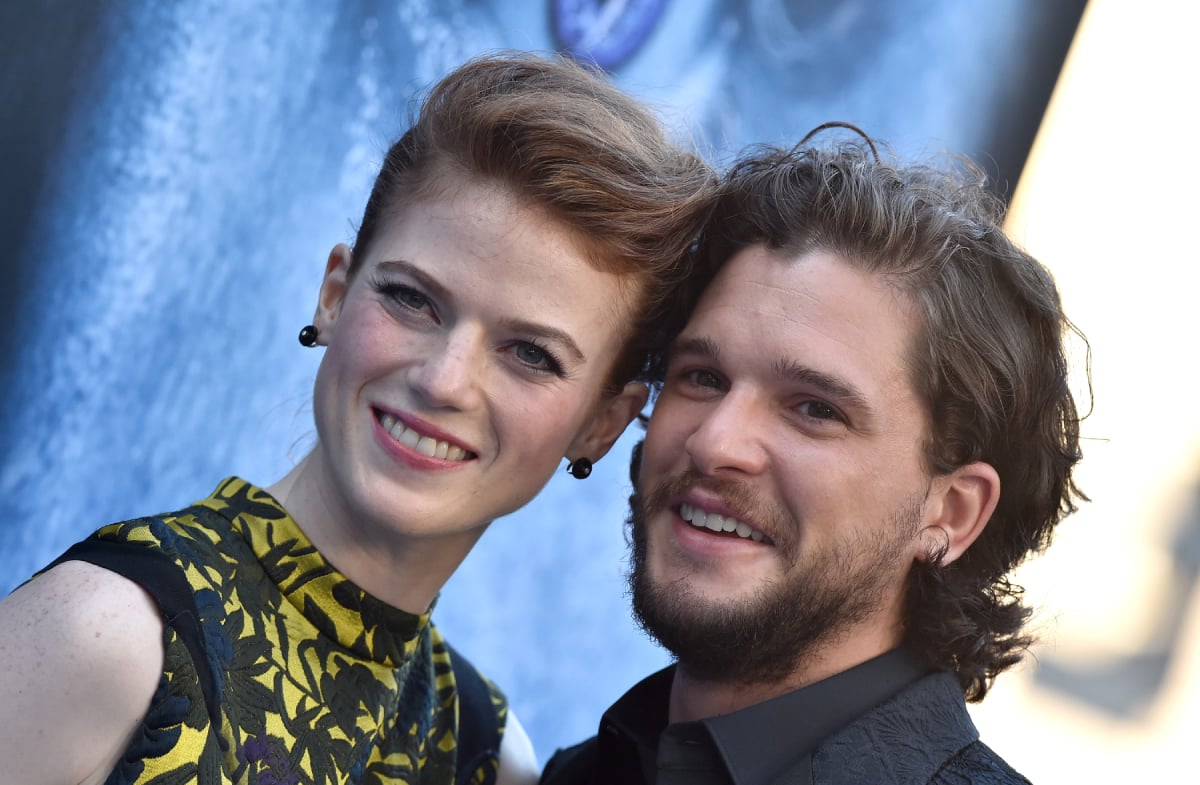 Kit Harington and Rob McElhenney watched the Euro 2020 final together
McElhenney is the co-owner of Wrexham AFC, and during his recent trip to Las Vegas he represented the club by wearing his black Wrexham cap while watching various sporting events. McElhenney was in Sin City with his wife — It's Always Sunny In Philadelphia star Kaitlin Olson — to watch the UFC 264 tournament.
To let his fans know that he was promoting Wrexham everywhere he went, he tweeted a selfie while wearing his cap.
"Did y'all think I was playing? @Wrexham_AFC everywhere. @Wrexham_AFC always. We're just getting started. LET'S GO," McElhenney wrote.
While in Vegas, the Always Sunny star also caught the Euro 2020 final with Harington, while once again wearing his Wrexham cap.
Rob McElhenney jokes that he's one of the 'biggest stars' of 'Game of Thrones'
While McElhenney and Harington watched the game between England and Italy they posed for a pic that featured the Always Sunny actor with his arm around the man who portrayed Jon Snow. Harington had the cross of St. George painted on his face, but McElhenney explained in the caption that his allegiances were complicated. He also managed to mention the fact that he had a brief cameo in Game of Thrones.
"Just the two biggest stars of @gameofthrones wearing tight tee shirts and watching football. My allegiance is complicated (re: 🏴󠁧󠁢󠁷󠁬󠁳󠁿). But my buddy Kit needs this as does @humphreyker and I'm choosing to be there for them *just this once, please forgive… 📸: 🐦," McElhenney wrote.
Kit Harington and Rose Leslie just made their debut on TikTok
During their time in Vegas, McElhenney captured the moment that Harington discovered a Game of Thrones slot machine. He decided to turn the clip into a TikTok video, with a voice-over that read, "When you realize that your deal didn't include merchandising rights."
RELATED: Inside Kit Harington and Rose Leslie's 15th-Century Home — aka 'the House That Jon Snow Built'
McElhenney wasn't done, though. He posted a second video that featured him asking Harington what he thinks about the Always Sunny actor joining TikTok. McElhenney just joined the platform in late June and already has hundreds of thousands of followers and millions of views.
The 'Game of Thrones' star is not impressed
In response to McElhenney's question, Harington says, "Isn't that, like, for kids?" With Harington not realizing he just threw some shade, McElhenney remains silent with a stone face before the video cuts to a Game of Thrones clip featuring Leslie as Ygritte saying "You know nothing, Jon Snow.
These two videos were Harington and Leslie's debut on TikTok, and fans should probably enjoy the viral moment. Unless he continues to hang out with McElhenney, chances are fans won't see the Game of Thrones star on the platform that often.
Kit Harington and Rose Leslie reunited on screen for a charity campaign video
In addition to their recent TikTok appearance, Harington and Leslie recently reunited on screen for a charity campaign video to help raise money for the MS Society. According to The Independent, all of the celebrities who appeared in the video have a "close personal connection" to MS.
RELATED: Kit Harington and Rose Leslie's Wedding Venue Was Straight Out of 'Game of Thrones'
"The MS Society is very close to my heart, and the work they do is incredible," Leslie said. "I want to support them in raising funds for MS research because we're so close to finding real and long-lasting solutions to tackle this condition."
All eight seasons of Game of Thrones are available on HBO Max. It's Always Sunny In Philadelphia is available on Hulu.