Kit Harington and Rose Leslie's Wedding Venue Was Straight Out of 'Game of Thrones'
Game of Thrones stars Kit Harington and Rose Leslie will soon be celebrating their third wedding anniversary. The couple tied the knot in June 2018 in Aberdeenshire, Scotland, in front of family and friends. The actual venue for the ceremony was reminiscent of Winterfell, as it was a real-life Scottish castle.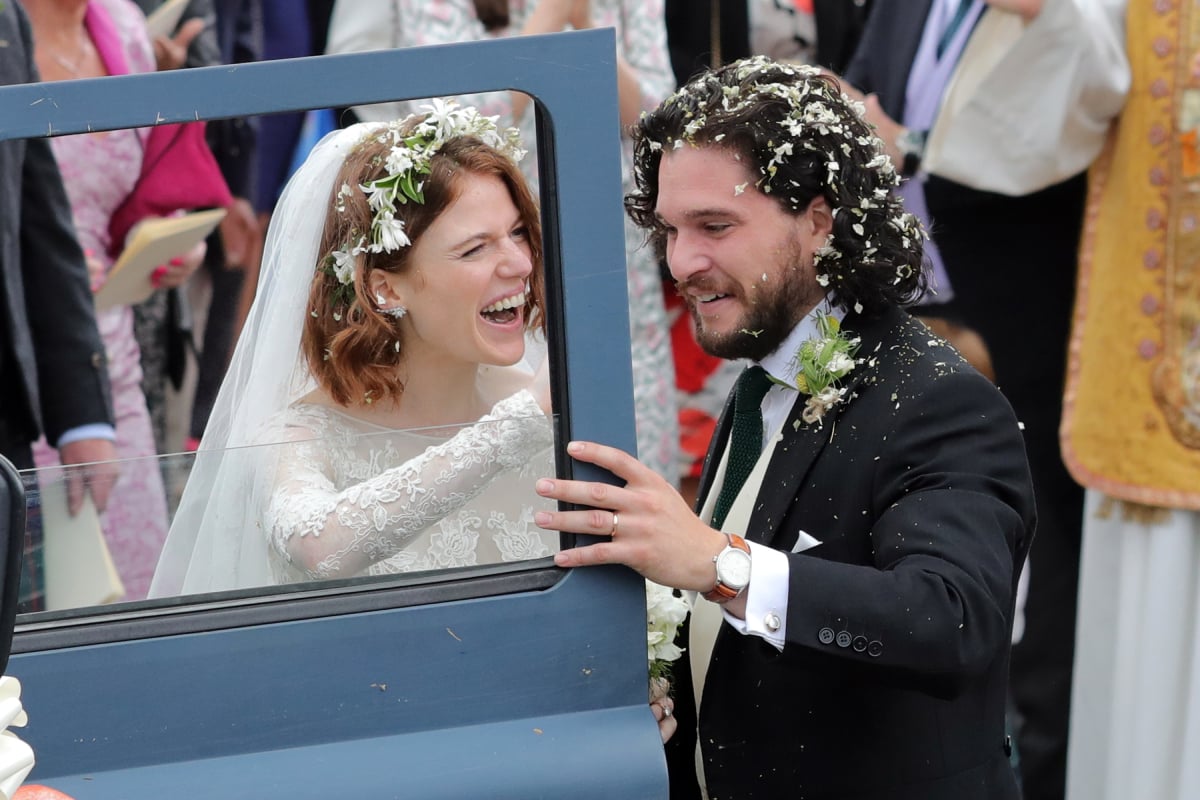 Kit Harington and Rose Leslie met while working together on 'Game of Thrones'
Harington (Jon Snow) and Leslie (Ygritte) first met on the set of Game of Thrones back in 2012. They proceeded to spend a lot of time together —both on and offscreen — because their characters were each other's love interests.
They didn't go public with their relationship until 2016. But when they did, Harington admitted that Game of Thrones did much more than launch his acting career.
"It gave me my future family and my life from here on in," he said in the press room at the 2018 Emmy Awards, according to People Magazine. "That's the main thing it did for me, and it's changed it completely."
Kit Harington and Rose Leslie's engagement announcement didn't include social media
Both Harington and Leslie are extremely private, and neither one has any social media accounts. Instead of announcing their engagement on Instagram, the couple actually revealed the news in their local paper.
"The engagement is announced between Kit, younger son of David and Deborah Harington of Worcestershire, and Rose, middle daughter of Sebastian and Candy Leslie of Aberdeenshire," the announcement read, according to the BBC.
Harington and Leslie became husband and wife on June 23, 2018. They married at the Kirkton of Rayne Church at Wardhill Castle. Several of their Game of Thrones co-stars in attendance.
Rose Leslie's family has owned a castle for generations
According to Architecture Digest, the Leslies have owned Wardhill Castle for nine centuries. The family's castle was constructed in the 1100s, and the stone-covered construction is decorated with towers and turrets, just like Eddard Stark's Winterfell.
The 700-acre estate features views of the Bennachie hills, and the castle itself has eight bedrooms (four are en suite). There's also a rustic one-bedroom cabin on the property.
The historic items in the castle include a bed from the Queen of Spain, curtains from the Paris Embassy, and centuries-old trunks. The iconic estate is available to rent for weddings and other events, at the cost of £2,500 per night.
Rose is closely connected to royalty
Of the dozens of Game of Thrones cast members, Leslie is actually the one who is closest to actual royalty. She was raised in Lickleyhead Castle in Aberdeenshire because her father is the Aberdeenshire Chieftain of Clan Leslie.
Outlander fans might be interested to find out that Leslie's mother also has noble ties because she comes from Clan Fraser. The actor — whose full name is Rose Eleanor Arbuthnot-Leslie — is connected to Charles II. Her maternal great-great-grandfather was Simon Fraser, 13th Lord Lovat, and descendant of Charles II of Scotland and England.
Will Kit Harington and Rose Leslie ever work together again now that they are married?
Even though Harington and Leslie met on the set of Game of Thrones, he says that he's not sure they could ever work together again. Now that they are married, Harington says it's not easy to act alongside his wife.
"I think almost the worst thing about falling in love with Rose and marrying her is that it's going to be very hard to work with her again," he told InStyle. "Working opposite her was one of the highlights of my life and career. I don't know when, if ever, I'm going to get to do that again, because we're married now, and it's hard to work opposite your wife."
All eight seasons of Game of Thrones are available on HBO Max.