'Kitchen Crash': Do Contestants Featured on the Show Get Reimbursed If They Lose?
We've all been there — it's a Wednesday night and we're already exhausted from a long week that's only halfway over… We have a family to feed and just a random assortment of ingredients in the cabinet. A trip to the grocery store is just about the last thing anyone wants to do. So is it take-out once again? 
Food Network might have some help for that "what's for dinner?" conundrum that many of us face on a regular basis. Their new show, Kitchen Crash, may inspire some of us to think outside the box and get creative with that seemingly useless jumble of ingredients we often have in our kitchens. 
Food Network's 'Kitchen Crash' is a big hit with lucky homeowners
Food Network has a new competition that puts a twist on their typical culinary games–this time, they're coming into YOUR kitchen. Well, maybe not technically into your kitchen (unless you're lucky enough to be a contestant!), but they're visiting ordinary neighborhoods and raiding pantries for everyday ingredients just like you have in your home. 
Kitchen Crash, hosted by Jeff Mauro, brings the Food Network into a variety of neighborhoods across the country. The competition pits neighbors against one another as three lucky families are chosen to "host" a talented chef.
The chefs raid their host kitchen, scrounging up whatever they can use to create a game-winning dish. In the meantime, Mauro sets up an incredible outdoor kitchen area where the chefs will battle it out. The winning chef shares a cash prize with their host family. 
The show has quickly become a big hit. Fans love seeing the creativity involved in making delicious meals with the limited resources found in an ordinary kitchen. They're also inspired to try their hands at creating their own unique meals at home. 
Who is Jeff Mauro?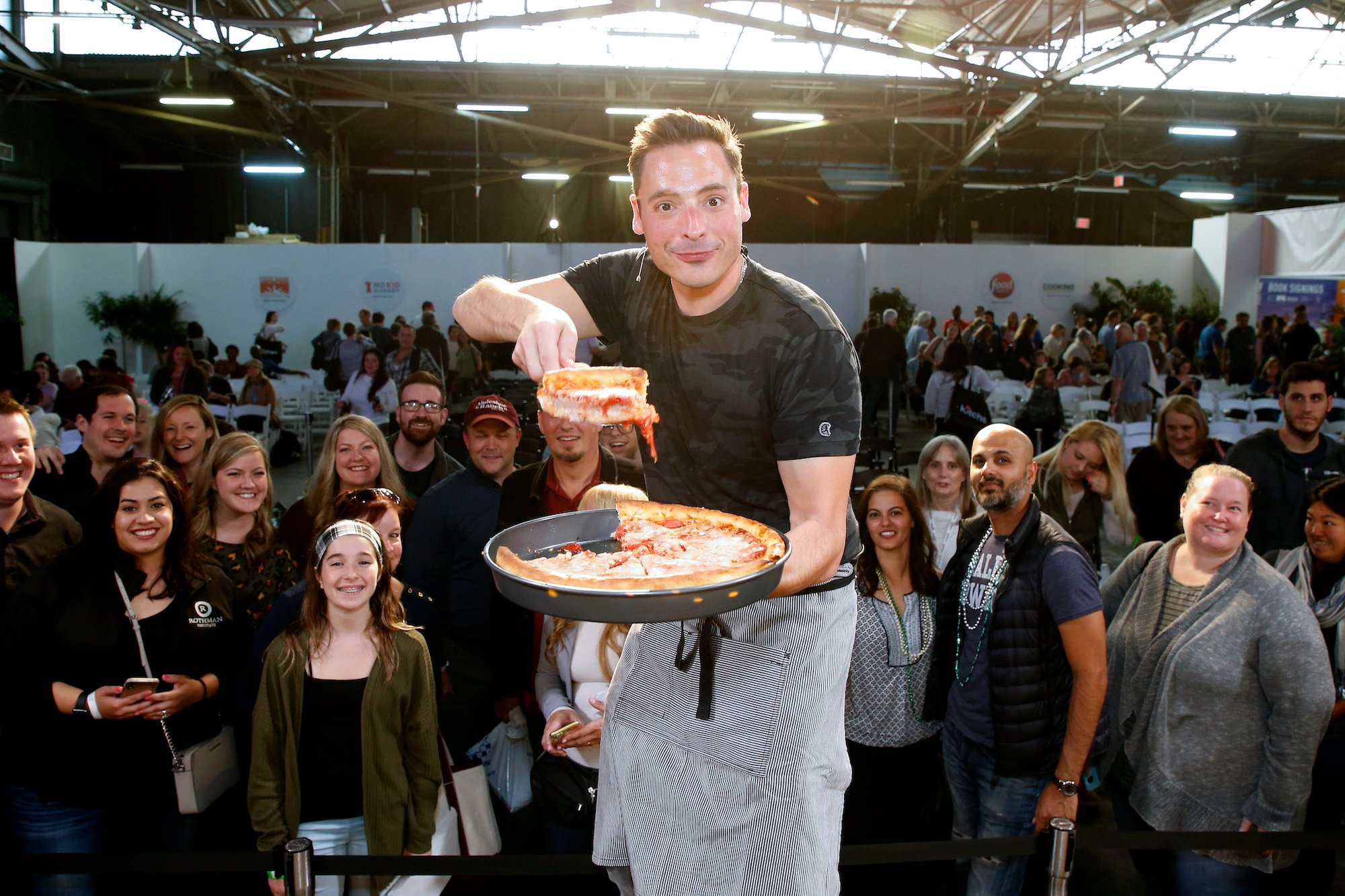 Jeff Mauro–known by many as the "Sandwich King"–is a renowned chef with a flair for comedy. The culinary master was born in Illinois, and grew up with a brother and two sisters. His siblings knew from an early age that Mauro had a knack for entertaining people–he always enjoyed filling the house with laughter. 
He became involved in performing arts at an early age, and soon discovered his love for food. He opened a deli and catering company with his cousin after graduating from college. Cooking became a huge part of his life. He would indulge in one passion by day and another at night, working days in his deli and spending his nights performing in the Chicago play, Tony and Tina's Wedding. 
Mauro eventually enrolled in Le Cordon Bleu to broaden his culinary knowledge. After graduating, he returned to Chicago where he became a cooking teacher, corporate chef, and sandwich artist. He continued to perform on stage in his free time, and entered the Food Network Star competition. His win led to his own Food Network series, Sandwich King, and the rest is history.
What happens to the host families whose chefs don't win? 
Since the Kitchen Crash crew is raiding people's homes and using pretty much all the ingredients in their kitchens, fans are wondering what happens to the families who don't win that great cash prize…
Some fans took to Reddit to talk about the show, asking if the families are reimbursed for the food the chefs use. Jeff Mauro himself answered the Reddit thread, saying "100%. they all get reimbursed regardless of bringing home a 'W'." 
While many viewers are enjoying the series, there are always a few skeptics in the bunch. The Reddit threads showed that some viewers aren't buying the "surprise" element–"'Wow sure you can raid my pantry random door knocker!' – person dressed up with makeup done and hair did on a Saturday morning…" 
Mauro took the time to respond to the skeptics, explaining the details behind the show, " Full disclosure, the families DID know a television show was filming on their block and they could possibly be featured. They DID NOT KNOW it was a Food Network show or a food competition in any way."