Here's What We Know About Elton John's New Album 'The Lockdown Sessions'
Elton John has built his successful career on collaborations. He's collaborated with long-time lyricist Bernie Taupin since 1967 on more than 30 albums and has worked with fellow musicians on songs throughout his career as well. However, he's begun working with the younger generations recently, forming collaborations we never knew we needed. Not to mention, he's formed friendships with the most unlikely people in showbiz.
Now, he's is releasing a new album called The Lockdown Sessions, and it boasts an impressive variety of guest appearances from all of his friends and collaborators. Here's what we know so far about the new album.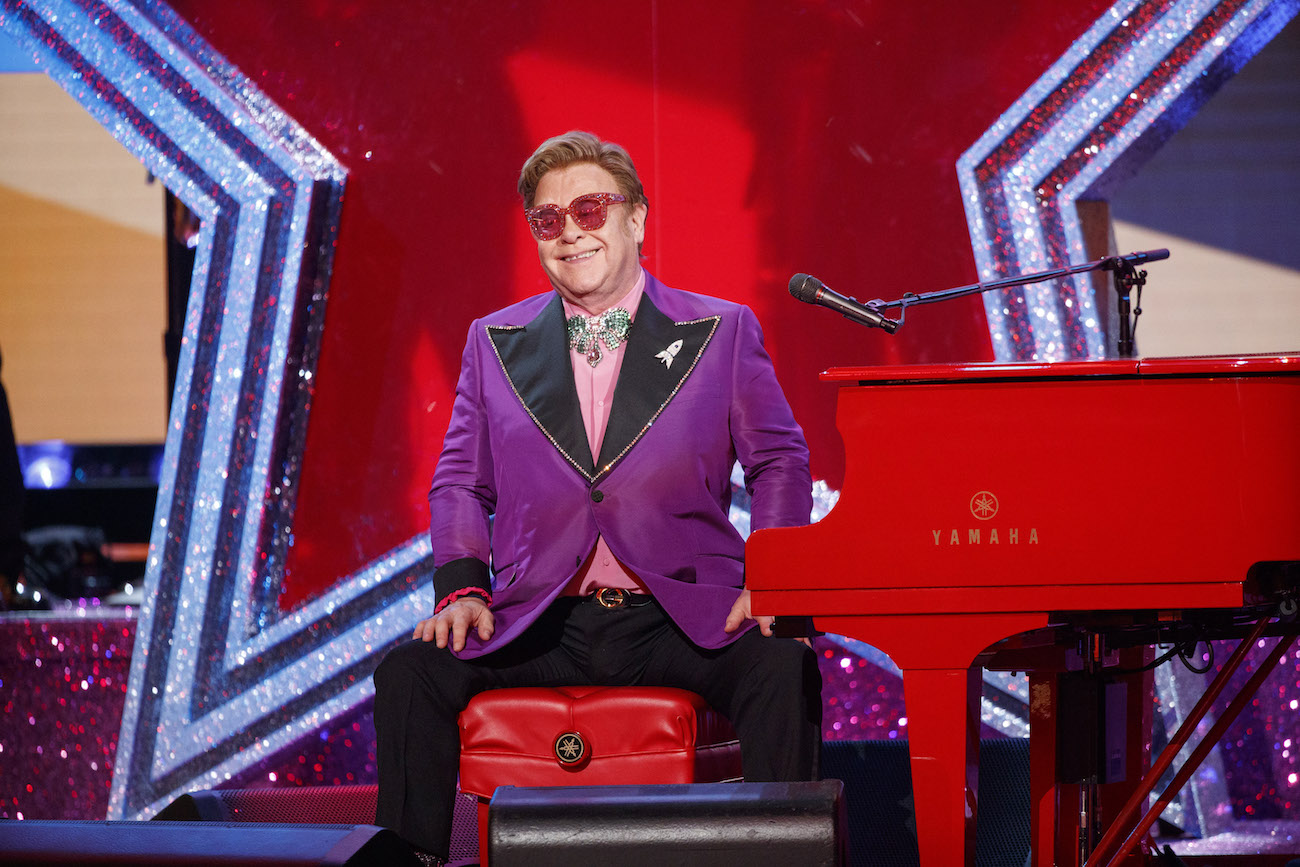 When does Elton John's new album 'The Lockdown Sessions' drop?
The Lockdown Sessions is due on Oct. 22, 2021. He collaborated with a very diverse group of musicians and artists, including Dua Lipa, Miley Cyrus, Eddie Vedder, Lil Nas X, Charlie Puth, Gorillaz, Stevie Wonder, Stevie Nicks, Young Thug, and Nicki Minaj.
According to Rolling Stone, he asked many of the artists on the album to work with him after collaborating together on his Apple Music show Rocket Hour. Then, he made the album during the 18 months of the pandemic.
Now, fans can hear the leading single, "Cold Heart (PNAU Remix)," featuring Dup Lipa. It's a remix of the 1989 song "Sacrifice," his 1972 hit "Rocket Man," his 1976 deep cut "Where's The Shoorah?" and his 1983 single "Kiss The Bride." Billboard writes that the song is a milestone for Elton John because it debuted at No. 81 on the Billboard Hot 100, making it his 68th entry, and his first in over 21 years.
RELATED: Why Elton John's Ex-Wife Is Suing Him for Millions
Here's a full tracklist:
Elton John & Dua Lipa – Cold Heart (PNAU Remix)
Elton John, Young Thug & Nicki Minaj – Always Love You
Surfaces feat. Elton John – Learn To Fly
Elton John & Charlie Puth – After All
Rina Sawayama & Elton John – Chosen Family
Gorillaz feat. Elton John & 6LACK – The Pink Phantom
Elton John & Years & Years – It's a sin
Miley Cyrus feat. WATT, Elton John, Yo-Yo Ma, Robert Trujillo & Chad Smith – Nothing Else Matters
Elton John & SG Lewis – Orbit
Elton John & Brandi Carlile – Simple Things
Jimmie Allen & Elton John – Beauty In The Bones
Lil Nas X feat. Elton John – One Of Me
Elton John & Eddie Vedder – E-Ticket
Elton John & Stevie Wonder – Finish Line
Elton John & Stevie Nicks – Stolen Car
Glen Campbell & Elton John – I'm Not Gonna Miss You
He didn't expect to make an album
Like most of us, Elton John didn't expect to enter into lockdown. Midway through his Farewell Yellow Brick Road tour, the world ground to a halt, yet he made use of all his free time. He didn't expect an album would come out of it. However, his experience making The Lockdown Sessions reminded him of his early career.
"The last thing I expected to do during lockdown was make an album," he said in a statement. "But, as the pandemic went on, one‐off projects kept cropping up. Some of the recording sessions had to be done remotely, via Zoom, which I'd obviously never done before. Some of the sessions were recorded under very stringent safety regulations: working with another artist, but separated by glass screens."
"But all the tracks I worked on were really interesting and diverse, stuff that was completely different to anything I'm known for, stuff that took me out of my comfort zone into completely new territory. And I realized there was something weirdly familiar about working like this. At the start of my career, in the late 60s, I worked as a session musician. Working with different artists during lockdown reminded me of that. I'd come full circle: I was a session musician again. And it was still a blast."
RELATED: Elton John on Befriending Ed Sheeran and Getting 'Sick' of Him
He is returning to his farewell tour
Making the album was fun. However, Elton John is happy to go back out on the road to finish his farewell tour. He returns on Sept. 28 at the Royal Arena in Copenhagen, Denmark. Next, his North American leg begins on Jan. 19, 2022, at the Smoothie King Center in New Orleans.
The Lockdown Sessions comes out in the middle of the tour, leaving us wondering whether or not he'll play some of the album's new material live, possibly with the artists he collaborated with. Seeing the "Rocket Man" singer performing with Lil Nas X, Young Thug, and Nicki Minaj would be a sight to see.