Kobe Bryant's Daughter, Gianna, Was the Next Basketball Star of the Bryant Family
Los Angeles Lakers shooting guard Kobe Bryant's daughter, Gianna, was the next basketball star of her family. Gianna was Kobe's second-oldest daughter and had dreams of playing in the WNBA one day. The 13-year-old tragically passed away alongside her father in a helicopter crash over the weekend.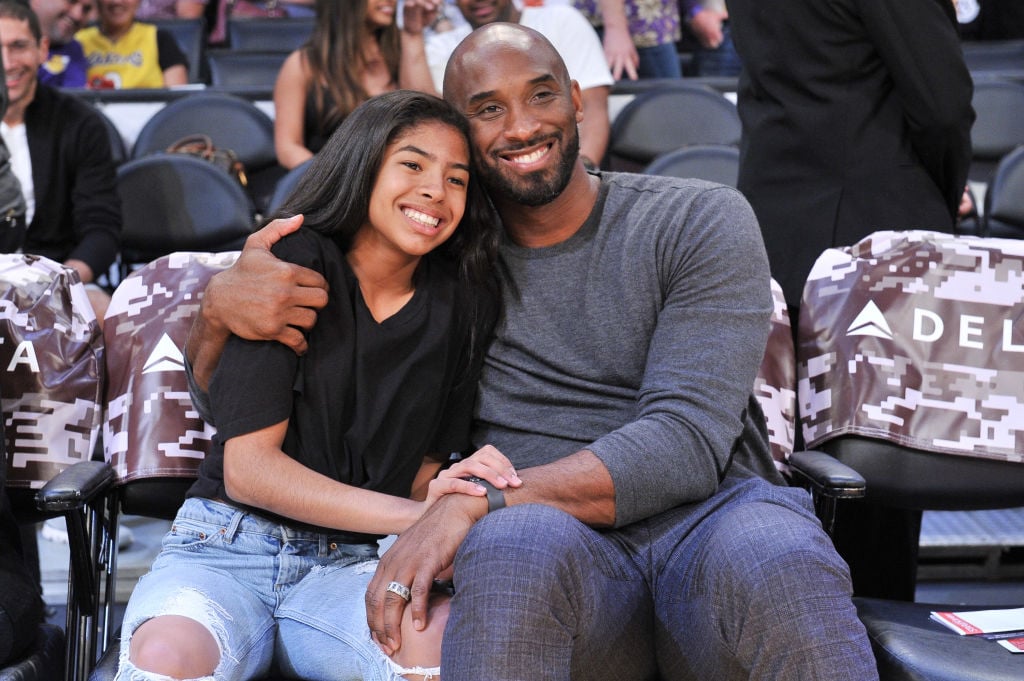 Kobe Bryant talks about Gianna's basketball future
As one of the greatest players in the history of the NBA, Kobe was never shy about dishing on his daughter's love for the game. Back in 2018, Kobe was asked on Jimmy Kimmel Live if Gianna, also called Gigi, wanted to play in the WNBA and follow in his footsteps.
"She does, for sure," a proud Kobe responded.
According to the New York Post, Kobe added that Gianna always had a hilarious response whenever fans argued that he and his wife, Vanessa, should have a boy.
"She's like… 'I got this. Ain't no boy for that. I got this,'" he shared. "I'm like, 'That's right. Yes, you do. You got this.'"
On social media, Kobe Bryant often called Gianna Mambacita, which is a play on his NBA nickname, Black Mamba. He also frequently shared clips of his daughter playing basketball alongside her teammates.
In the videos, it is pretty evident that Gianna had a promising career in basketball ahead of her and could have very well become the next star of the WNBA.
Kobe coaches Gianna's team
Kobe Bryant was very involved in Gianna's basketball upbringing. Once he retired from the Lakers in 2016, Kobe started coaching Gianna's team in middle school.
In a 2018 interview, Kobe talked about how he and Gianna get along great and that they had zero issues in their relationship.
"Gianna's pretty easy to coach," Kobe stated. "We haven't had any issues of dad-daughter sort of thing. She's very competitive and she's a hard worker, so there haven't been any issues with that."
Later that year, Kobe Bryant revealed that Gianna was already thinking about playing basketball in college. Her top choice was the University of Connecticut.
Kobe revealed Gianna's college plans to Reggie Miller following a game at the Staples Center. Kobe told the former Indiana Pacers star that she was "hellbent" on joining the Huskies.
Given her development on the court over the years, there is little doubt that the Huskies would have welcomed Gianna with open arms. We are also confident that Kobe would have supported her at every step.
A life cut short
Gianna's promising career in basketball was tragically cut short after she passed away in the same helicopter crash that took her father. Kobe Bryant and Gianna were traveling with five other passengers when the aircraft crashed into a hillside in the Calabasas.
It is unclear what caused the helicopter to go down, but the weather is believed to have played a factor. Hopefully, we will learn more about the tragedy in the days and weeks to come.
The two were making their way to a basketball camp in Thousand Oaks and the helicopter belonged to Kobe. It crashed going well over 160 mph and immediately erupted in flame.
Emergency personnel arrived quickly after the crash and found no survivors on board. The deaths of Kobe Bryant and Gianna Bryant have stunned the basketball world. The two are survived by his wife Vanessa and three siblings: Natalia Bryant, Bianka Bryant, and Capri Bryant.
Inside Kobe Bryant and Gianna's strong bond
Outside of coaching her on the court, Kobe and Gianna shared a tight bond that revolved around the game of basketball. The pair were frequently spotted watching NBA games together, where Kobe would often give Gianna insights on what was happening on the court.
This includes an appearance at a Brooklyn Nets Game back in November. Kobe was caught giving Gianna some pointers and it is clear that they shared a unique bond.
Gianna, of course, was not shy about showing off her skills on social media. A few weeks ago, she shared a clip of herself during a game and compared it to highlights of her father.
She also recently shared an adorable photo of her and Kobe sitting front row at a Lakers game. The two smiled big for the cameras and looked overjoyed to be sharing a moment.
Following the tragedy, Kobe and Gianna have received an outpouring of love and support from fans across the world. This includes remembrances from David Beckham, Shaquille O'Neal, and Magic Johnson.
The NBA has also released a statement honoring Kobe Bryant and his legacy.