'Korea: Cubically Imagined': Immersive Technological Artistry Showcasing Rich South Korean Culture and Entertainment
'Korea: Cubically Imagined' takes BTS fans into a VR concert experience up close and personal with the K-Pop group. The exhibit uses VR technology to explore the metaphors and details of the movie 'Parasite.'
South Korea has become a hot commodity in recent years. It has seen skyrocketing fame in K-Pop, K-dramas, movies, and its culture on a global scale. With so much to explore, The Korea Creative Content Agency (KOCCA) and the Ministry of Culture, Sports, and Tourism of the Korean Government, present Korea: Cubically Imagined. An interactive and immersive exhibit in New York using the latest technology to bring to life the wonders of Korea.
The exhibit has it all for fans wanting to learn about the riches of Korea's history. Through art to a VR experience taking K-Pop fans up close with BTS. Visitors can also get an inside look into the Oscar-winning movie Parasite.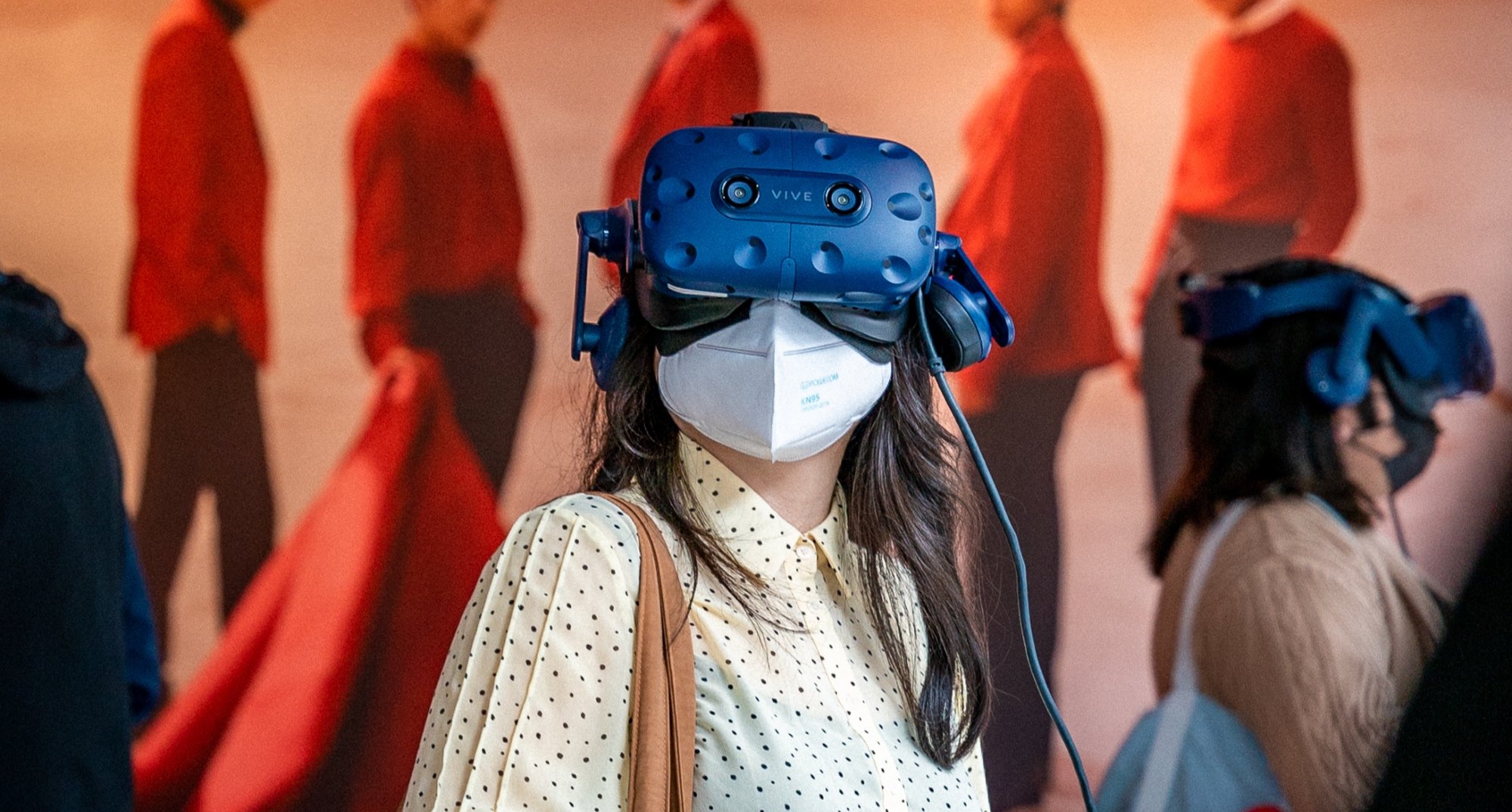 'Korea: Cubically Imagined' looks to bring Korean culture and history to the forefront in an accesible experience
While the world is hooked on K-pop groups like BTS, and the storytelling in K-dramas, South Korea is also rich in history. After all, where would the global phenomenon be without its historical roots? The exhibit features art installations, Royal Procession and with the People and Climbing Mt Geumgang. It uses projection mapping to bring to life landscape wonders of the Joseon era in an immersive experience. The installation is brought to visitors by The National Museum of Korea.
Namkoung Young-joon, the Senior Manager, Global Business Division of KOCCA, explains using technology allows for a learning curve on a grander scale.
"In the past, it was a little difficult and challenging to learn more about Korean culture and history because you need to be able to read books in Korean and look for content and materials elsewhere. Immersive content like this one you see over here really allows visitors to learn more about Korean history and culture in an easy way, in an accessible way," explained Namkoung.
Korea: Cubically Imagined also combines the hustle and bustle of Seoul. As well as the folklore of household gods in a colorful and awe-inspiring art form. Design Silverfish has created AR installations showcasing the city's livelihood with a twist of nostalgia.
BTS takes center stage in an immersive fan experience, while visitors can deep dive into 'Parasite'
There is no denying that part of the global fame the South Korean entertainment industry has seen in recent years is due to BTS. The K-Pop boy group has broken barriers no other group has done before with Billboard hits, Grammy nominations, and more. Korea: Cubically Imagined gives fans the ultimate experience. With world tours selling out, fans can get their own personal concert at the exhibit.
Using VR headgear and 'Unreal Engine' 3D technology, fans are transported into BTS's online concert "Map of the Soul ON:E" from 2020. Fans feel as though they are standing in front of Jungkook, V, and the Jimin. All while performing hit songs like "Dope" and "DNA."
Namkoung explains, "You can experience the content as if in real life, even without having to be there physically in person. Those who otherwise would not be able to access the content of BTS performances can still experience it up close and personal."
Fans of Korean cinema can also experience the VR world of Bong Joon-ho's Parasite. "Immersive content like this one can really capture key touchpoints from the film and distill the entire film into content that's in a more digestible format," explained Namkoung.
Created by EVR Studio's director Bryan Ku, the VR film takes fans through hidden metaphors, details, and environments from Parasite using "surreal visual language."
Visitors can explore the merging of nature, the Korean alphabet, and humanity through technology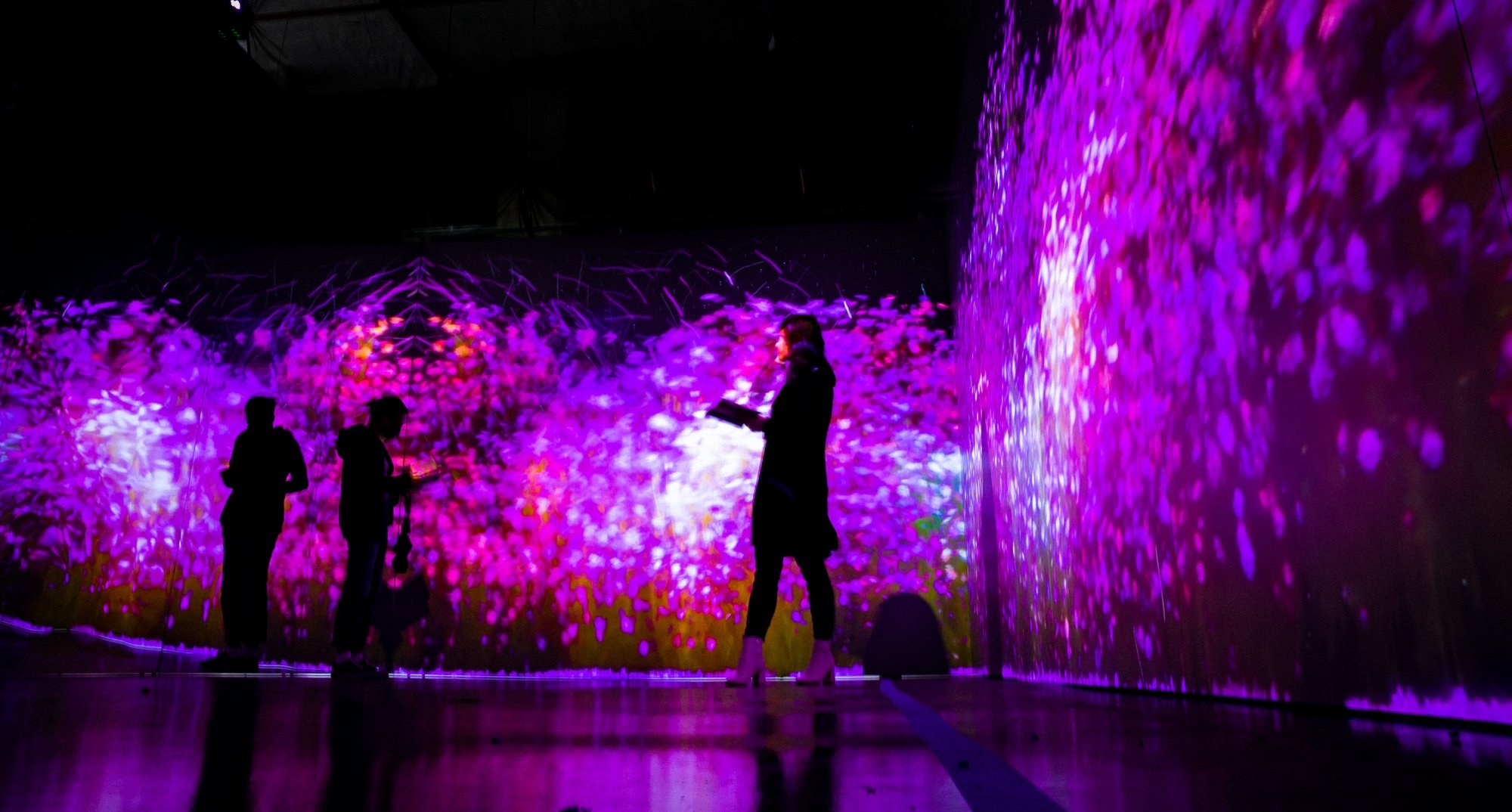 Korea: Cubically Imagined takes visitors into the nooks and crannies of South Korea like its alphabet, Hangeul. The exhibit has work by Tactic Group, an audio-visual performance group. They developed an audio-visual artwork combining Korea's writing system, algorithms, and sound.
Visitors also immerse themselves in the naturalistic wonder of d'strict's Eternal Nature series. Three distinct installations showcase the beauty of nature combined with a technological media platform. The installation will have visitors soothed by the sounds of wind and harmony and colorful displays. On the other end is ROOMTONE's In the Gray VR and game installation. It tells imaginary stories of the technological influence on humanity.
"Having a solid understanding of both traditional and contemporary culture of Korea is so important in understanding the full scope of what Korea has to offer when it comes to culture," said Namkoung.
Korea: Cubically Imagined goes through the layers of what makes South Korea at the forefront of the metaverse, technology, and entertainment. While linked to its appreciation of the country's history.
Korea: Cubically Imagined will be open from May 2–to May 14, 2022. It is located at 549 West 28th Street, New York, NY, and is open from Monday to Sunday, 10 am to 7 pm. The exhibit is free and open to the public.