Kourtney Kardashian Adorably Calls Travis Barker Her 'Boyfriend' in TikTok Family Challenge With Their Kids
Nearly two months after Kourtney Kardashian made her romance with Travis Barker Instagram official, she publicly acknowledged him as her boyfriend in a recent TikTok video.
To make the post even more adorable, the couple's children were also featured in it as they gave fans an inside looking into their fun family getaway ahead of Easter Sunday.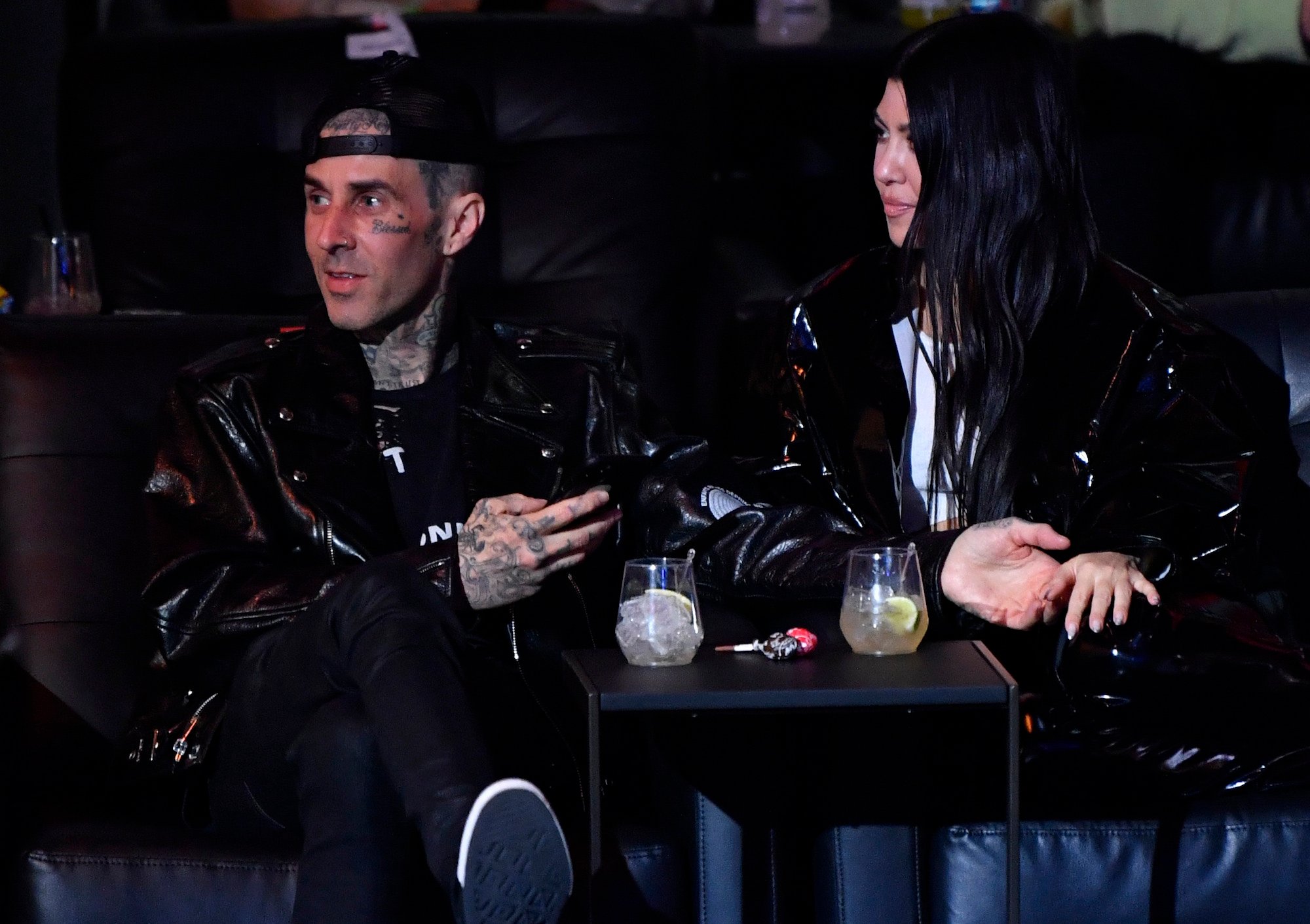 Kourtney Kardashian and Travis Barker played the viral 'Pass the Phone' challenge with their children
Things are going so well between Kardashian and Barker that they are already taking family vacations together with their kids.
Earlier this month, the couple took a trip to Deer Valley, Utah, and brought their children along for the ride.
On Apr. 3, the Keeping Up With the Kardashians star and the Blink-182 drummer took to their respective Instagrams to share videos and photos from their snowy excursion.
While Kardashian posted photos of her and her 6-year-old son, Reign Disick, posing in their warm attire, Barker shared a video of him snowboarding down a steep slope.
The Blink 182 drummer's 15-year-old daughter Alabama Luella also posted content from their vacation to her TikTok feed, sharing a video of her and the rest of the family doing the viral "Pass the Phone" challenge.
The video begins with Alabama passing the phone to "somebody who can't get acrylics," before giving the device to Kardashian's 8-year-old daughter, Penelope.
Once Penelope was onscreen, she said, "I'm passing the phone to somebody that doesn't let me do anything" — namely, her mom!
It was then Kardashian's turn, who said, "I'm passing the phone to my boyfriend," before handing the device over to Barker.
The video continued with the family sharing hilarious facts about each other, like Barker wiping out while snowboarding and not being able to walk. Viewers also learned that the musician's eldest daughter, Atiana, was on her "second hair-dye fail," but let's be honest, who hasn't had one of those.
The video concluded with Kardashian passing the phone to her youngest son Reign, who demanded, "Pause it!" before getting a little tongue-tied.
"I … um … oh f*ck, oh sh*t!" the 6-year-old said in frustration, before Kardashian declared, "Okay, we're done."
Kourtney Kardashian confirmed her romance with Travis Barker in February
Though Kardashian and Barker have been dating for a few months, this is the first time she's called the rock star her "boyfriend" in public.
While she made their romance Instagram official over Valentine's Day weekend by sharing an Instagram photo of their hands intertwined to her feed, the Poosh founder has yet to speak out about her relationship with Barker.
However, the Blink-182 drummer raved about his budding romance with Kardashian while appearing on a recent episode of The Drew Barrymore Show.
RELATED: Kim Kardashian West Questions Kourtney Kardashian and Addison Rae's Close Relationship on 'KUWTK'
"I'm spending time with a woman who's a great mom, who's a great friend and you don't have to worry about any of those things," Barker told Barrymore. "It just comes natural — it's like a maturity thing."
"And I also really like missing someone and cherishing the time that I spend with them instead of every day being with them, especially in the beginning of the relationship," he added. "I think missing someone is so important."
Kourtney Kardashian and Travis Barker spent their first Easter together
Although Kardashian and Barker have kept their relationship on the down-low, their romance continues heating up.
Following their snowy excursion in Utah, the rock star joined the mom of three and the rest of the Kardashian-Jenners in Palm Springs, where they celebrated Easter together as a family.
In true Kardashian fashion, the famous bunch went all out for the fun and festive holiday, from filling their vacation home with endless amounts of sweet treats to holding an Easter egg hunt for their little ones to participate in.
Though Kardashian and Barker didn't snap any photos together during the holiday, both shared similar footage from the celebration (which was obtained by E! News) to their respective social media accounts.
From what we can tell, Kardashian and Barker's relationship continues to grow, and we can't wait to see how it evolves over the next few months!