Why Kourtney Kardashian Did a Cameo On Lil Dicky's FXX Series 'Dave'
Dave Burd, better known as rapper Lil Dicky, has collaborated with some of the biggest names in music. Now, thanks to his new FXX comedy series Dave, Burd continues to work with stars of all kinds — including Kourtney Kardashian.
Kardashian and several other celebrities were spotted in Dave Season 1, Episode 8, "PIBE." Find out how Burd was able to get Kardashian to make an appearance on his brand new 30-minute comedy.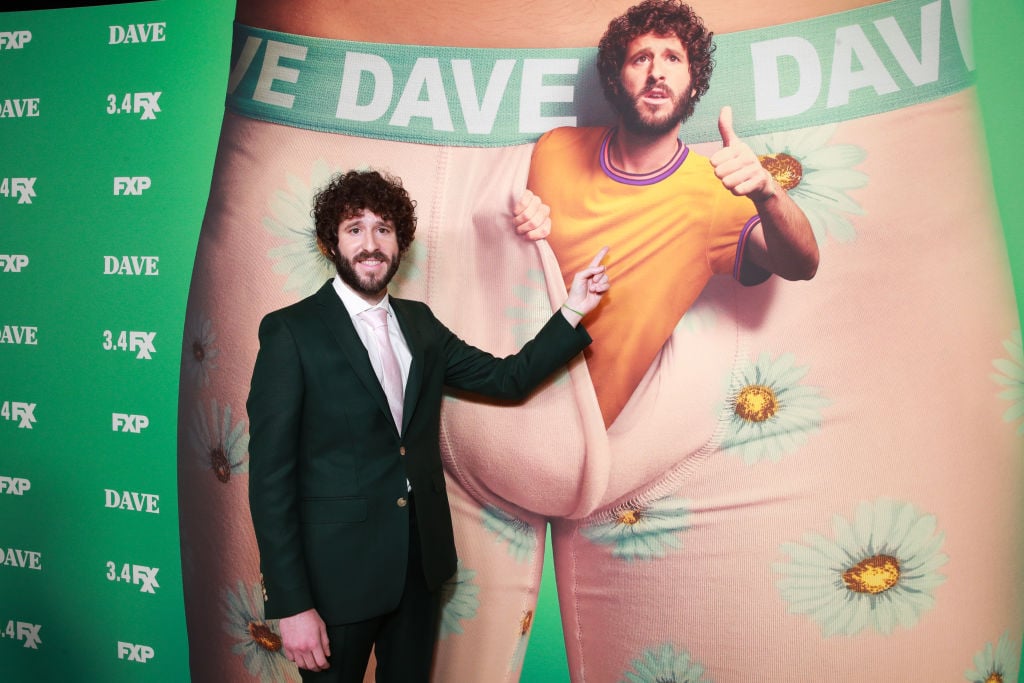 What is 'Dave' about?
Dave shows the hilariously mundane aspects of Burd's life long before his song "Ex-Boyfriend" became a viral sensation, highlighting his early attempts to work with some of the biggest rappers in Los Angeles.
Comedian Kevin Hart is an executive producer on the project, together with music manager Scooter Braun. Hart and Burd share a few things in common — they both like to entertain, and they're both from the same area. Hart grew up in Philadelphia and Burd was raised in Cheltenham Township, a suburb outside of Philadelphia.
Kourtney Kardashian and Justin Bieber had cameos on 'Dave'
In the episode titled "PIBE," Burd gets invited to his first Hollywood party after brushing elbows with Justin Bieber at producer Benny Blanco's house. Bieber asked Burd what his plans were, to which Burd replied, "Let me think about what I have going on, and I've thought about it — there's nothing. I was actually just going to PIBE."
Confused, Bieber questions the meaning of Burd's acronym. "Yeah, PIBE —Play It By Ear," Burd explained, then quickly changed the subject and began describing how much his girlfriend, Ally, enjoyed Bieber's work.
Later in the episode, Burd attended Bieber's party with some of Hollywood's biggest stars — including the eldest Kardashian — while Ally and Elz, Burd's friend and DJ, get browned out watching football at a local bar.
Why Kourtney was willing to do the show
Dave is still in its debut season on television, leaving many fans wondering how the series had the budget for so many guest stars like Kardashian.
Braun and Burd have a history working in the music industry together, but they're also close friends. To help Burd create an epic L.A. party for "PIBE," Braun reached out to his contacts and helped bring in the likes of Bieber, Kardashian, Tierra Whack, and YG.
Plus, for many of these celebrities, "PIBE" was something unique for them to be part of. "We're putting these people in positions they're not used to being in," Braun said, adding: "Dave is the magnet for all these people. They want to come and be part of what Dave is doing."
In this season of Keeping Up with the Kardashians, the 41-year-old revealed that she was taking a hiatus from the family's most significant project. "I have decided to take a big step back from filming and really just pick and choose what I will allow cameras to follow," the mother of three shared with the KUWTK cameras. "I think just now when I have something that I find is interesting to film, or that I would feel excited to film, that I do that," she explained.
Dave must have been one of those projects! Fans are eager to know what else Kardashian has been up to — perhaps more cameos are in her future.
Watch Dave Wednesday nights on FXX.