Kourtney Kardashian Explains Why She Refuses to Cut Her Son Reign Disick's Hair, Calls it 'Most Gorgeous Hair on Earth'
Kourtney Kardashian has zero time for haters who make comments about her son Reign Disick's long hair. After she posted photos of her sweet boy on Instagram, the critics were out in force again, questioning why the reality star refused to chop off his flowing locks.
This is far from the first time Kourtney faced the exact same comments. Like clockwork, every time she posts a pic that shows off her son's long hair, the comments section gets flooded with fans questioning her parenting decisions. Here's what she had to say this time.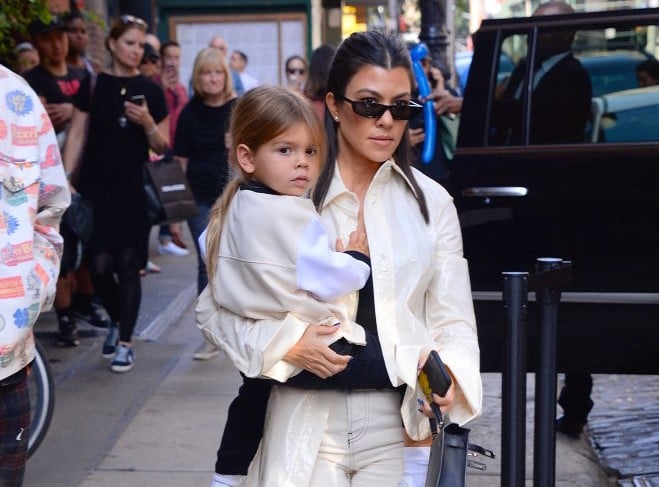 Kourtney Kardashian's Easter photos showed off Reign's long hair
The Poosh creator shared a bunch of photos from her family's Easter celebration, including delicious-looking foods, fun crafts, and decorated cookies. But instead of celebrating along with the family, fans used Kourtney's post as an opportunity to express their feelings about the length of Reign's hair. Again.
"Bruh cut your son hair…smh…" one person wrote. "Cut your son's hair," another said bluntly, and for that person, Kourtney penned a reply.
Kardashian wrote, "Most gorgeous hair on earth, anyone who says otherwise ABCDEFG."
She shut down the conversation about Reign's hair immediately
For anyone wondering, "ABCDEFG" is Kardashian-speak for "this conversation is over." As Urban Dictionary reports, Kourtney explained the phrase to ex Scott Disick and confirmed, "it means the convo is done… G = goodbye."
And no one is surprised that the 40-year-old mother of 3 is fed up with having the same conversation over and over. It's been happening every couple of months whenever she shares a photo of Reign, inspiring her to put fans in their place and telling them to mind their own business.
Kourtney Kardashian clapped back over the same topic in the past
In October, Kourtney got sassy with yet another fan who expressed disdain over Reign's hair length. "She really needs to cut his hair," the critic wrote. But Kardashian fought back, saying, "She really needs to not worry about kids that aren't her own. He is a happy boy."
It's clear that critical opinions are the last thing on Kourtney's mind. And while the busy media personality has been very vocal about the challenges of motherhood, especially navigating the tricky dynamic co-parenting with Disick, it's clear that trivial details like the length of her kids' hair don't matter in the grand scheme.
She called raising children 'a job'
Kourtney has been very vocal about her intentions to step back from Keeping Up with the Kardashians and focus on other pursuits like spending time with her children and working on her lifestyle site, Poosh. She and Kim get into a pretty serious fight in the season 18 premiere of the show about it. But Kourtney insists she still has a strong work ethic — it's just that her priorities have changed.
"I realize that a lot of the conversation right now surrounds my work ethic, and I feel like I need to just make one thing clear: raising children is a job as well," Kourtney tweeted.
All of Kourtney's focus is on her kids — and not caring what critics think of her personal parenting decisions. Makes total sense!