Kourtney Kardashian Had the Perfect Response to a Fan Who Called Her 'Mrs. West'
These days, Kourtney Kardashian and her sisters are looking more and more alike and fans on Instagram (IG) are quickly taking notice.
These days, Kourtney Kardashian and her sisters are looking more and more alike and fans on Instagram (IG) and other social media platforms are quickly taking notice. Though diehard fans of Keeping Up with the Kardashians insist that the sisters all have wildly different personalities, when looking at pictures of them it can be hard to tell them apart. In fact, fans of the KarJenners have taken to arguing about which sister is which as of late.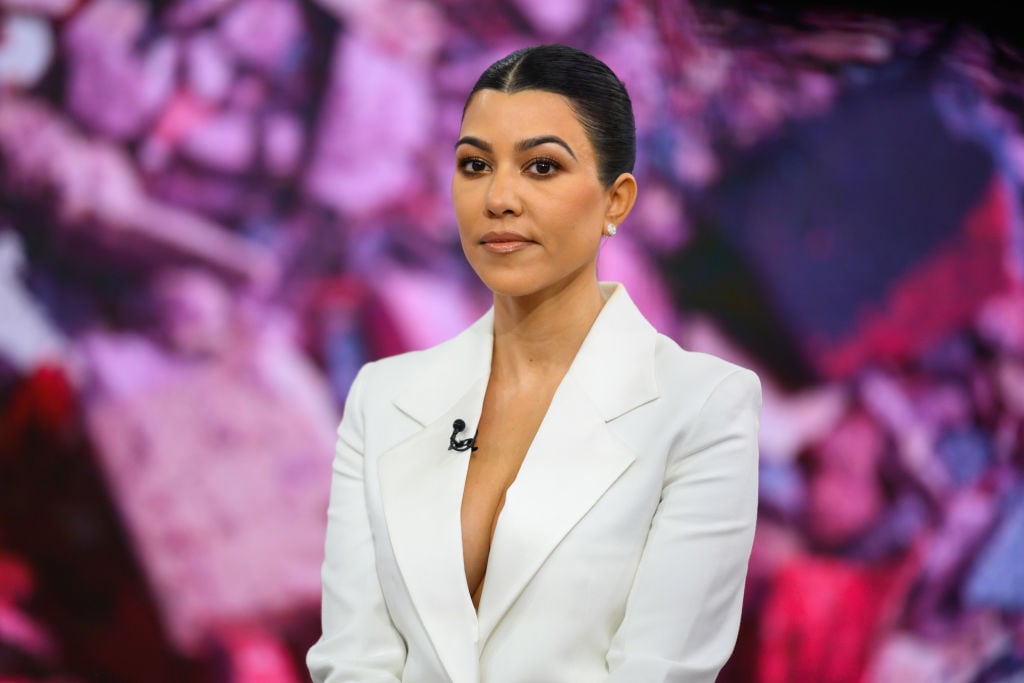 Recently, Kim Kardashian West posted a picture to her IG page featuring one of her sisters. In the caption, she shared that she missed her sisters since their families have been practicing social distancing from each other. The sister in question was, in fact, Khloé Kardashian, but many fans believed her to be Kylie Jenner of Kendall Jenner. They were only able to decipher that it was Khloé Kardashian because of her hand tattoo and the fact that her assistant was in the picture.
Kourtney Kardashian is mistaken for Kim Kardashian West on Instagram
But now, it looks as if people are confusing Kourtney Kardashian with Kardashian West. On March 19, 2020, the eldest KarJenner took to her IG page to post a picture of herself. In the photo, Kardashian is wearing lingerie and a jacket and she is promoting her recent cover with Health Magazine. Fans immediately took a liking to the picture, and it has racked up nearly a million likes and thousands of comments.
One comment that managed to capture Kardashian's attention came from a fan who mistook her for her younger sister. "Mrs West, 👍" one IG user wrote, clearly believing the picture was of Kim Kardashian West, who is married to rapper, Kanye West. Fans immediately began to chime in on the mistake. Some people felt that it was a mistake anyone could make. Others were baffled as to how anyone could confuse the two.
Some IG users think all of Kris Jenner's kids look the same
"Hahahhah, okay, but they two are really alike, 😊" one person wrote. "Can't blame you, they all use the same plastic surgeon and the same FaceTune app,😂😂🤣" another IG user chimed in. "You all look and sound the same. ur interchangeable," yet another person co-signed. "They all be lookin the same these days. Ha. Kourt used to be the only one looking natural," another person added about the eldest Kardashian.
Of course, there were fans who couldn't see how anyone would mistake the sisters for one another. "Crazy how they get you mixed up with your sisters. I don't think y'all look alike. Y'all are all gorgeous in different ways. I have to say… this pic right here, you are slaying it all. Love love love," one fan added. For her part, Kardashian didn't seem to be worked up by the comment at all. She merely set the IG user straight and moved on. "I'm Miss Kardashian, 🙋🏻‍♀️" the Poosh founder commented. The comment seems on-brand for Kardashian as she shared she rarely lets social media get to her anymore.
How 'KUWTK' star copes with social media
"I really try to not give energy to things that aren't worthy of my energy. Once in a while, I may respond to a negative comment for fun, or if something really does bother me I definitely have the platform to correct it… but I usually don't think twice," the mom of three admitted in a recent interview with Rose Inc. Clearly, Kardashian was unbothered by the IG comment, now if only her fans and critics would follow suit.