Kourtney Kardashian Critics Are Convinced Her Kids Don't Listen to Her
Millions of people love to follow Kourtney Kardashian, her famous Kardashian-Jenner siblings, and her kids. Together with her ex-boyfriend, Scott Disick, 41-year-old Kourtney has three young kids. Her eldest son, Mason Disick, is 10 years old. Meanwhile, her only daughter, Penelope Disick, will soon celebrate her eighth birthday. Finally, her youngest child, Reign Disick, is 5 years old.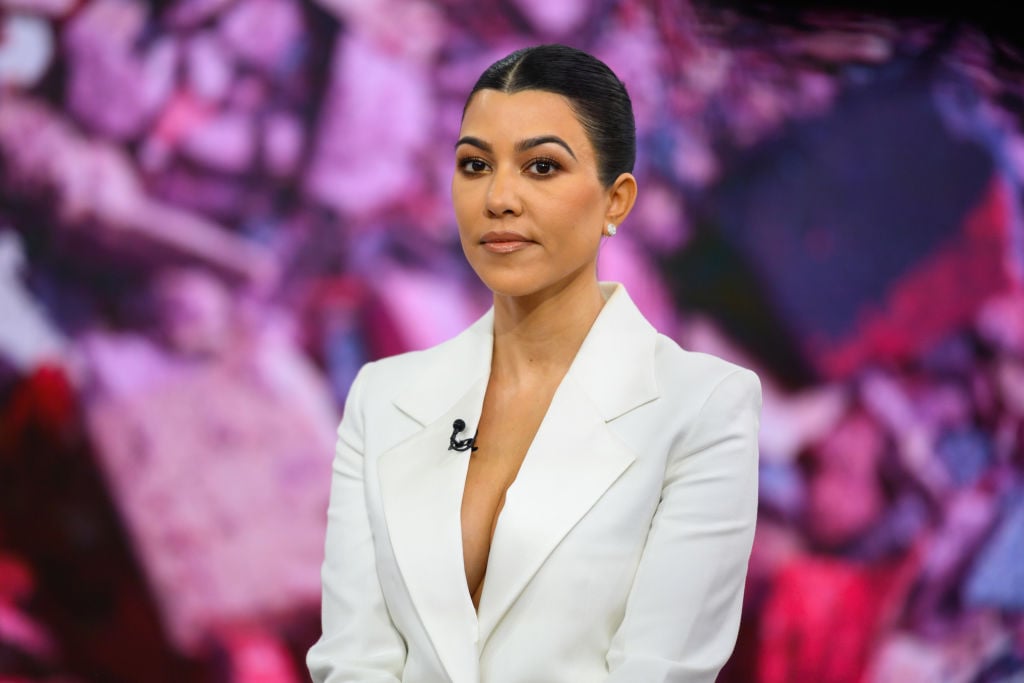 Kardashian has long since been vocal about how much she enjoys being a mom. In fact, one of the biggest reasons that she wanted to leave her family's hit reality TV show, Keeping Up with the Kardashians, is to spend more time with her kids. As all three of her kids are young and impressionable, she wants to be with them as often as possible.
Kourtney Kardashian shared what she's teaching her kids
Recently, Kardashian took to her Instagram page to share what she's teaching her kids. After sharing a picture of herself with her son Mason, she wrote a caption about her responsibilities as a mother.
Given the state of the union, the 41-year-old felt it prudent to share that she's teaching them about the dangers of racism. The Poosh owner said she also teaches her children about their whiteness, so they can understand the inherent rights and privileges it affords them. Kardashian urged other mothers to continue educating their children about these issues.
RELATED: Kourtney Kardashian Shared the Food She Will Never Touch
Of course, Kardashian's post received mixed reviews. Some people complimented the reality TV star for being a good mother. And others were pleased that she was using her immense platform to talk about important issues.
However, some critics felt the need to call out the past behavior of Kardashian's kids, using it as evidence that she wouldn't be able to talk to them about anything of substance.
Instagram users are convinced Mason, Penelope, and Reign don't listen to their mom
"Her kids be out here smacking their babysitters. Mason reveals everything about their family situations on IG. I don't wanna hear it Kourt," one person commented on Instagram.
"Ma'am they don't even respect the nanny," another person stated, citing the issues that Kardashian has had with keeping nannies in the past.
"They don't even listen to her, so I know they not going to listen to her about racism," another person chimed in.
RELATED: Kourtney Kardashian Says Kim Kardashian West Made Her Step up Her Beauty Routine
Kardashian herself has admitted that there are times when her kids aren't interested in what she has to say. In a recent interview with Health magazine, Kardashian revealed how she managed to cope when her children are failing to listen to her.
Kardashian occasionally struggles to parent 3 young kids
"I have my moments! When no one is listening to me, that causes a moment," Kardashian told Health magazine. "Especially if you're on a time crunch and trying to get out the door. I don't always have as much patience as I'd like. But I try to remember, 'It's not that big of a deal, it's fine; we're going to get there.' It's about letting go of the plan — it doesn't always work out!"
Clearly, Kardashian sometimes struggles to get control of her kids just like any other parent. All we can do is hope she has those conversations about racism and privilege with her kids on a consistent basis, as well as continues to use her wealth and fame to fight against injustices.