Kourtney Kardashian May Have Just Shaded Kim Kardashian and Kylie Jenner's Makeup Lines With a Recent Instagram Post
The reality star recently took to Instagram to seemingly throw shade at sisters Kim Kardashian West and Kylie Jenner's makeup brands.
Kourtney Kardashian, the Queen of shade, has struck again, and this time, she went after two of her famous siblings.
The reality star recently took to Instagram to seemingly throw shade at sisters Kim Kardashian West and Kylie Jenner's makeup brands.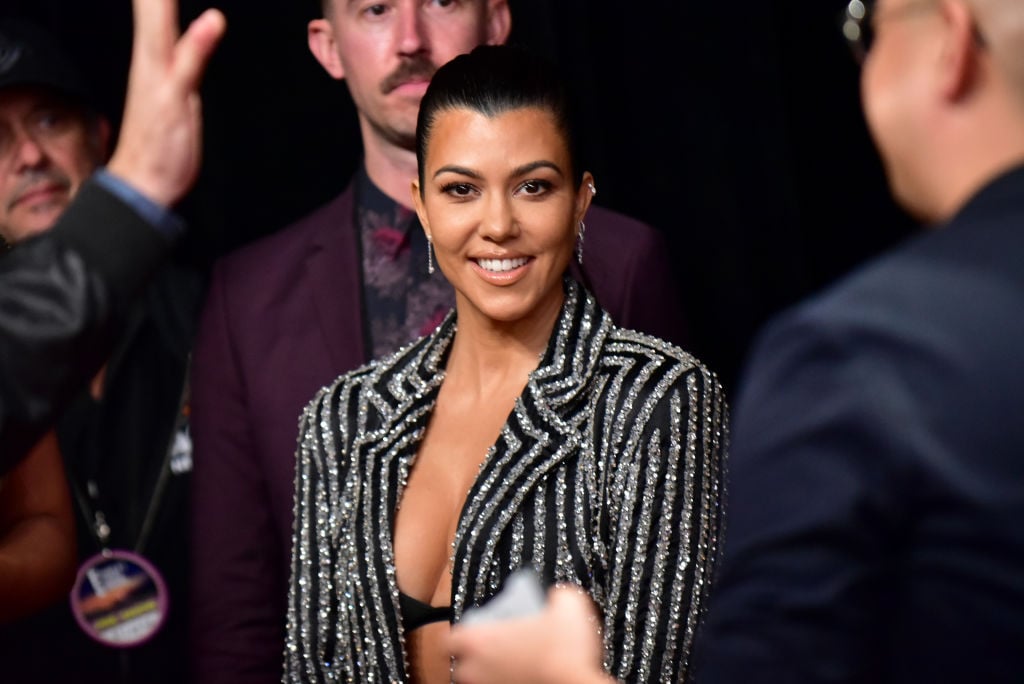 While the post could have just been Kardashian's way of poking fun at her younger siblings, fans think this was an intentional diss. Especially since she hasn't been on the best of terms with her sisters in recent months.
Fans think Kardashian doesn't consider her sisters' brands to be "clean"
Having sisters who run two of the biggest makeup companies in the world, you would think Kardashian wouldn't need suggestions for new beauty products.
However, the Poosh founder recently took to Instagram to ask her followers to recommend "clean" beauty brands, and some think this was a subtle diss toward Kylie Cosmetics and KKW Beauty.
On Feb. 21, the mom of three shared a photo of herself posing in her backyard with the caption, "Been testing clean makeup, trying to find brands I love! Teach me please, favorites?"
After sharing her post, the comments sections began flooding with names of brands that sell products made with all-natural ingredients and are tested safely, which is what Kardashian was likely referring to.
While many fans were quick to share "clean" makeup suggestions, some were convinced that Kardashian full-out shaded her sisters' products for not living up to this standard.
"You're kinda dissing your sisters' makeup lines?!," one fan wrote
"Definitely not kkw beauty or Kylie cosmetics," someone else pointed out.
While Kylie Cosmetics is cruelty-free, not all of its products are vegan, as some contain beeswax, carmine, or other animal-derived ingredients or by-products.
The same thing goes for KKW Beauty, which does not test any of its products on animals and uses all-natural ingredients for some of its cosmetics.
Kardashian's relationship with her sisters has been a little rocky lately
Though there is a chance Kardashian wasn't trying to shade her sisters' brands, fans couldn't help but sense a subtle diss — especially since she hasn't been getting along too great with her siblings as of late.
If you've been following the Kardashian family in recent months, then you know that there's been some tension between the famous siblings.
It's all started when the eldest Kardashian sister shared that she would be taking a step back from the show to focus more on being a mom and living her own life.
She later voiced that she no longer wanted to showcase her personal life on their reality show, Keeping Up With the Kardashians.
Of course, Kim and Khloé Kardashian didn't take this very lightly, and tensions rose when they called their sister out for not pulling her weight when it comes to filming.
Though they tried talking through their differences, the bad blood was still pretty evident and carried on in the months following.
On Feb. 10, the Poosh founder seemingly got into a heated Twitter exchange with the Good American CEO, who publically dragged her for "ruining" the night after attending Beyoncé and Jay-Z's Oscars afterparty together.
"Ugh why did @KylieJenner and I allow @kourtneykardash to ruin our night last night? Ugh," KoKo tweeted.
The next day, the mother of three took to Instagram to claim that her younger sister "ditched" her that night. "Date night, even though she ditched me half way through," she captioned a series of photos of them together.
While this social media exchange could have just been for fun, it appears to fans there's still drama going on between the Kardashian sisters.