Kourtney Kardashian Might Have Just Hinted She's Starting a Makeup Line
Could Kourtney Kardashian be following in her sisters' footsteps? It looks like it's a possibility. The Poosh founder, who has mostly been focusing on her lifestyle website and raising her three children, might have just hinted that there could be a new Kardashian makeup line on the horizon — one that has nothing to do with Kylie Cosmetics or KKW Beauty.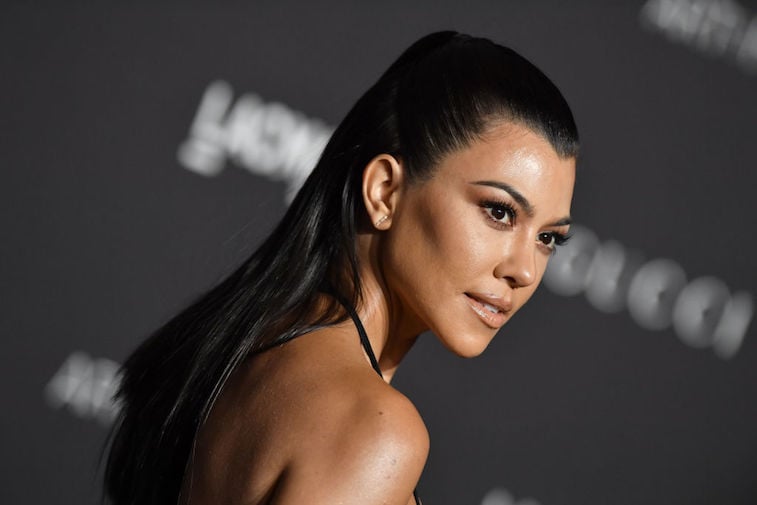 Kourtney Kardashian launched Poosh in 2019
At this point, none of the Kardashian sisters are just reality stars these days. The women, who first appeared on our television screens back in 2007, have since gone from reality TV stars to business moguls. But Kardashian was a bit further behind her sisters when it came to launching her own brand.
The Kardashians have everything from clothing lines (Good American) to makeup brands (Kylie Cosmetics and KKW Beauty), to massive modeling careers (Kendall Jenner, of course). But Kourtney Kardashian only just found her niche last year — lifestyle. The 40-year-old mother of three launched her lifestyle brand, Poosh, in 2019. Poosh covers everything from health and wellness to home and entertaining, and it's become a major source of income for Kardashian.
The 'KUWTK' star has discussed leaving the show to focus on other things
It's no secret that there has been some tension between Kardashian and her sisters when it comes to filming. The family has been doing their reality show, Keeping Up With the Kardashians, for nearly 13 years. And last season, Kardashian voiced that she was going to leave the show to focus more energy on being a mother and taking on other things.
The tension rose between Kardashian and her two sisters, Khloé and Kim, who still do the show full time. But Kardashian might have wanted to leave because she has something else up her sleeve.
Kardashian just hinted at launching her own makeup line
On February 20, Kardashian took to Instagram to ask fans about their favorite "clean" makeup brands. She's likely referring to brands that are made with all-natural ingredients and are tested safely. Fans shared their opinions, but one fan suggested that Kardashian launch her own makeup line — one that would likely be "cleaner" than her sisters'.
Surprisingly, Kardashian responded to the suggestion. She replied with a "thinking" emoji, hinting that it's something that's been on her radar, and fans went crazy. "Yes Kourtney please any products you'd make would be bomb," one person replied. "I'd buy because I know you're passionate about a clean lifestyle!" another person commented. Though Kardashian didn't say any more, she might have just hinted at something huge.
There could be direct competition with Kylie Cosmetics and KKW Beauty 
It's no secret that Kylie Jenner made her billions through makeup. And Kim Kardashian West hopped on the beauty bandwagon a couple years later when she launched KKW Beauty in 2017. If Kourtney Kardashian starts her own line, it would be in direct competition with her sisters. And from a popularity standpoint, her two sisters are arguably more popular than she is.
Kardashian's line would bring something completely new to the makeup industry, should it be as clean as she'd want it to be. And that on its own might attract a whole new group of customers. It might also have a heavier price tag, though, due to its ingredients, which could turn some people away. Time will tell if Kardashian takes the idea seriously.