Kourtney Kardashian Reveals 1 Sister Tried 'For Years' to Get Her to Date Travis Barker
Kourtney Kardashian and Travis Barker knew each other for years before they began dating. The reality TV star recently shared that one of her sisters urged her to jump on the chance at romance with Barker.
Kourtney Kardashian and Travis Barker recently decided to take the next step in their relationship and have a wedding in Las Vegas.
However, before they even started dating, Kardashian and Barker knew each other. In fact, Kardashian shared that one of her sisters saw sparks between them and urged her "for years" to date Barker.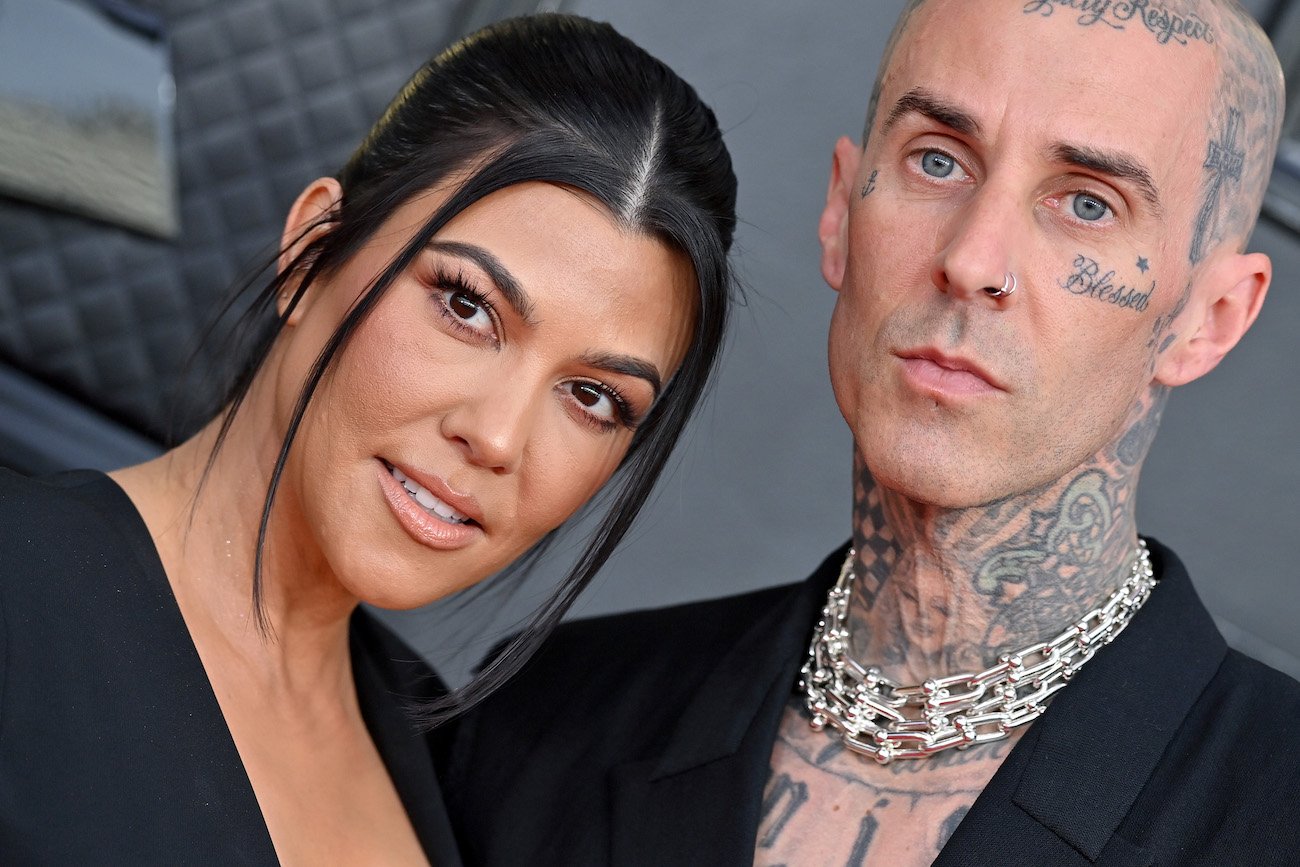 Kourtney Kardashian and Travis Barker were friends before dating
Prior to dating each other, Kardashian and Barker had public relationships with other people. Most notably, Kardashian had an on-and-off relationship with Scott Disick for almost 10 years. Meanwhile, Barker was married twice. He was married to Melissa Kennedy for nine months and ended in 2002; then, he was married to Shanna Moakler from 2004 to 2008.
A source told Us Weekly that Kardashian and Barker were friends before getting together as they ran in similar Hollywood circles. In 2017, Barker made an appearance on an episode of Keeping Up With the Kardashians as Kardashian's neighbor. 
Barker was even linked to Kardashian's younger sister, Kim Kardashian. He even wrote in his 2015 memoir, Can I Say: Living Large, Cheating Death, and Drums, Drums, Drums, about his romantic encounters with Kim.
"We went to dinner, we went to lunch," Barker said. "You might think I would be doing the worst things with this girl because of her tapes, but it was the exact opposite of any other encounter I've had with a woman: with Kim, I wanted to be nothing but a gentleman to her. It was so weird."
However, Barker commented that "Kim and I never touched each other" and that the relationship "just wasn't meant to be."
Kourtney Kardashian reveals 1 sister tried 'for years' to get her to date Travis Barker
In a recent talk with People, Kardashian shared that her sister Kendall Jenner was the one who pushed hard for Kardashian and Barker to date.
"Kendall, for years, would always say… 'He's so fire, he's so fire!' Anytime we'd see him or he'd be with us," Kardashian said.
"I have a secret psychic ability that nobody knows about it and I knew it from very long ago. I always had a feeling and I would encourage her. Every day I'd be like, 'Just do it, just try! Just try,'" Jenner said. "Cause they were really good friends for so long. Just try, take it to the next level, what's it going to hurt?"
Meanwhile, sister Khloé Kardashian revealed that the other sisters saw some romance there as well.
"I definitely know Kim and I have spoken about [their intense connection]. I feel like Kendall and I have," Khloé said. "It was perfect timing. It was timing. We were all like, 'Come on, they've just got to hook up.' And they did and they haven't [stopped]."
Kourtney Kardashian and Travis Barker want to have a child together
Both Kardashian and Barker are parents. Kardashian has three kids with Disick, and Barker has two children with Moakler.
In a trailer for Hulu's The Kardashians, the eldest Kardashian shared that she and Barker "want to have a baby." There is also a clip of the couple visiting a doctor's office. 
Kardashian and Barker have not publicly revealed much about this, but it seems fans will be able to follow their fertility journey on the upcoming show.