Kourtney Kardashian Is Reportedly Already Thinking About a Baby With Travis Barker After Surprise Engagement
Kourtney Kardashian is already thinking about expanding her family with Travis Barker after their engagement on Oct. 17.
First comes love, then comes marriage…Kourtney Kardashian is already thinking about Travis Barker's baby in a baby carriage. On Oct. 17, news broke that Travis proposed to the reality star in an adorable moment surrounded by flowers and candles on the beach. After taking their relationship public in February, Kourtney and Travis quickly became one of the hottest celebrity couples, so many fans were thrilled to see the engagement. According to inside sources, Kourtney feels pretty thrilled, too, and she's reportedly considering expanding her family with the Blink-182 drummer.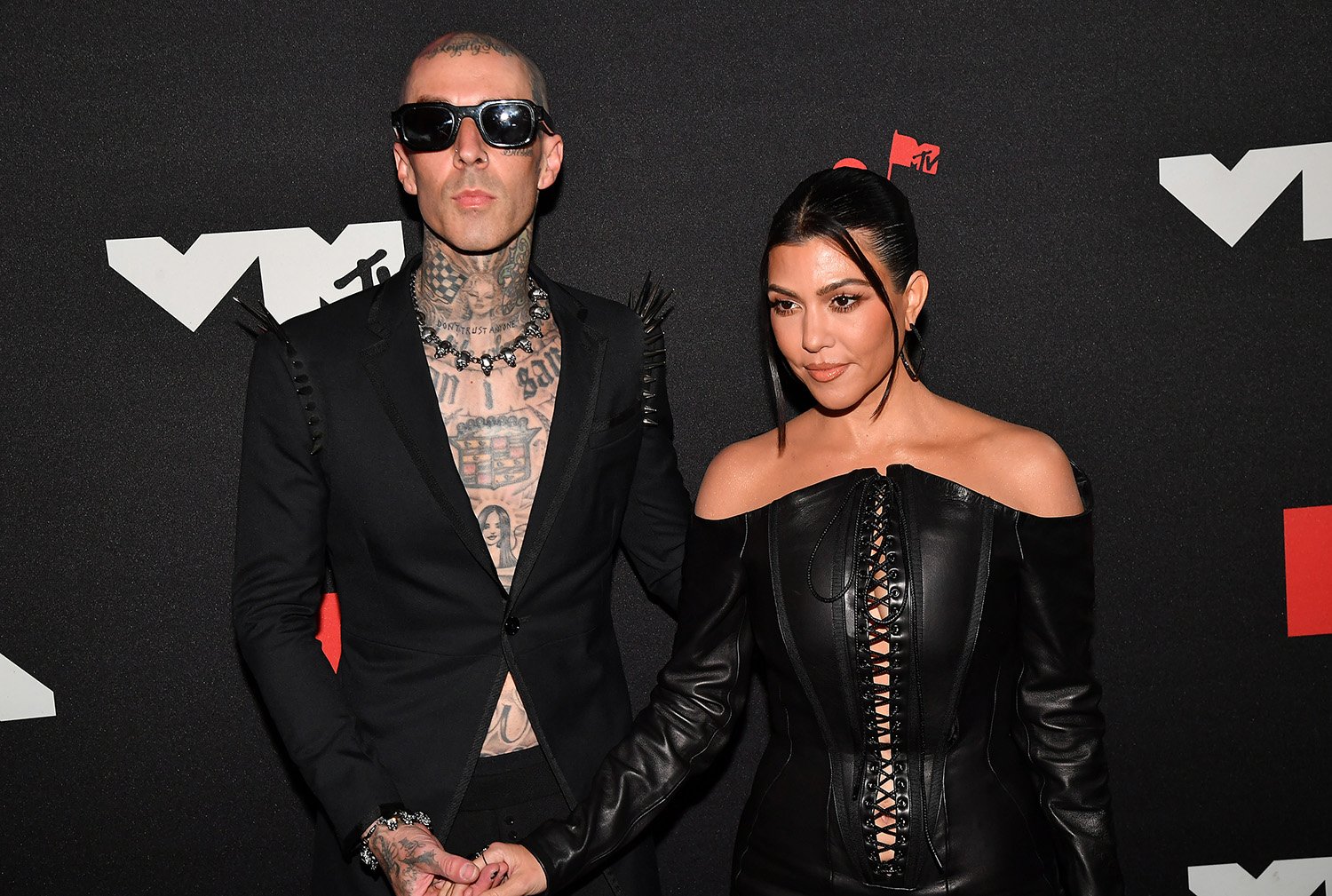 The couple got engaged at Rosewood Miramar hotel
Kourtney announced the engagement via Instagram with some photos of Travis's set-up on the beach. The lovebirds stood in the center of a heart made out of red and white roses as waves crashed onto the shore behind them. Someone must've taken the photos moments after Kourtney said yes, as she and Travis embraced with their foreheads together.
"Forever," she captioned the post.
An alleged insider provided some details on the engagement to E! News. According to the report, Kourtney and Travis had just kicked off a vacation in Montecito. The source said Travis likely chose the Rosewood Miramar hotel as the proposal spot because they frequently stay there on weekends, and "it's one of their favorite places."
Once Kourtney and Travis arrived on the beach, he "professed his love for her and thanked her for making him a better person." The Kardashian-Jenner family, who knew about the proposal plan and kept it a secret, watched from a distance before heading off with the couple to celebrate privately.
Later, Kourtney's sister, Kim Kardashian West, took to Twitter to show off Kourtney's massive diamond ring, seen below. In the video, Kourtney and Travis shared a kiss, and Kourtney smiled from ear to ear.
"KRAVIS FOREVER," Kim added.
Sources say Kourtney Kardashian is excited about the engagement and 'would love' a baby with Travis Barker
According to E! 's source, Kourtney quickly became emotional when she realized what Travis had planned.
"It was super emotional and sentimental. Kourtney was so happy and was definitely emotional," the source added. "She teared up and couldn't stop saying, 'I love you.'"
Additionally, a source told People that Kourtney might have a bit of baby fever with Travis.
"Kourtney is, of course, ecstatic. She can't wait to marry Travis. She would also love to have a baby with him," the source revealed.
Kourtney's and Travis's families have already blended very well together. Kourtney shares three children with her ex, Scott Disick: Mason, 11, Penelope, and Reign, 6. Meanwhile, Travis shares son Landon, 17, and daughter Alabama, 15, with ex-wife Shanna Moakler. Having grown up in the same neighborhood, the kids have reportedly always gotten along well with each other. Sources say that Travis's kids have grown close with Kourtney and vice versa.