Kourtney Kardashian and Travis Barker's Ex-Wife Shanna Moakler Appear to Be Feuding on Social Media
Just when we thought Kourtney Kardashian was on good terms with Travis Barker's ex-wife, Shanna Moakler, a pair of recent social media posts now have us thinking otherwise.
A few days after Moakler liked a shady comment about Kardashian and Barker's new romance, the Keeping Up With the Kardashians star seemingly threw some shade at the former Miss New York USA, which she appeared to give right back without hesitation.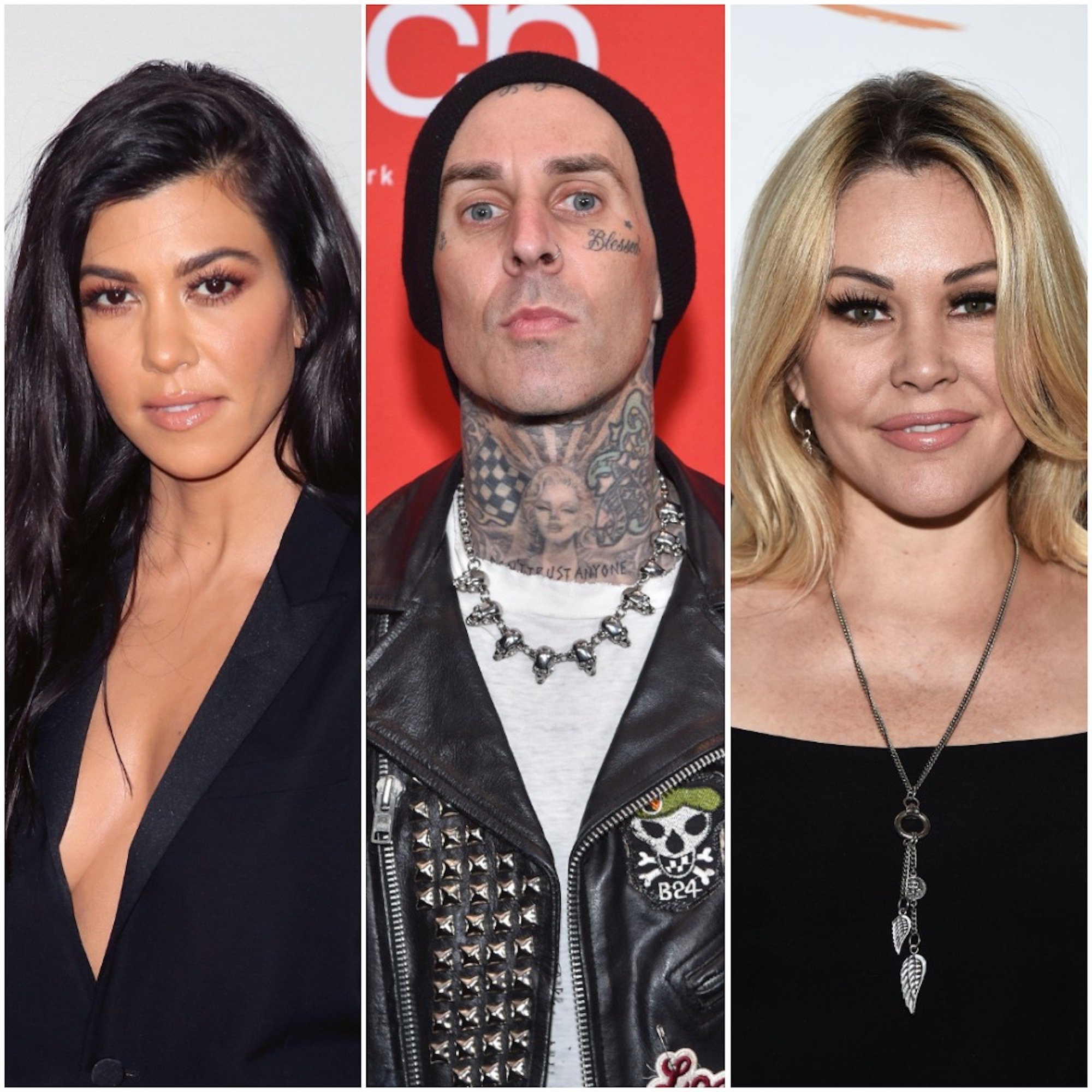 Kourtney Kardashian and Shanna Moakler seemingly took digs at each other on social media
Kardashian may be the less dramatic one in her family, but she recently proved that she doesn't stay quiet when people shade her online.
On Feb. 22, the mom of three appeared to diss her new boyfriend's ex-wife, Moakler, upon learning that the model took a dig at her on social media a few days prior.
RELATED: Who Has a Higher Net Worth, Kourtney Kardashian or Her New Boyfriend, Travis Barker?
According to Page Six, Kardashian shared a photo of a women to her Poosh Instagram Story with the caption, "Stop (social media) stalking your ex."
She also put a link to a blog post titled, "How to Break the Habit of Stalking Your Ex on Social Media," which seemingly takes a swipe at Moakler.
"Modern life has cursed us. We are haunted by the radical accessibility of everyone we've ever met, hooked up with, or dated via a tiny device we happen to keep on our person during all our waking moments," the blog post read. "It's no wonder we've made a daily-or several times daily, or every hour-habit of checking in our exes, and our exes' exes, their new lovers, friends, acquaintances, and so forth. It's not healthy, it's not helping us move on, and unfortunately, it's all too easy."
A few hours after Kardashian shared the post, Moakler seemed to diss the reality star right back.
Taking to her Instagram Story, the former pageant queen shared a quote that read, "Stop complaining about your life. There are people out there dating your ex," adding the crying-laughing face and wink face emojis.
Shanna Moakler recently took a swipe at Kourtney Kardashian and Travis Barker's new romance
Seemingly throwing shade at Kardashian online is nothing new for Moakler.
After Kardashian and Barker went Instagram official on Feb. 16, Moakler cheekily liked a shady comment referencing her ex's new relationship.
RELATED: How Does Scott Disick Feel About Kourtney Kardashian's New Romance With Travis Barker?
"Shhhhiiiii that broad don't got nothin' on you. Travis downgraded big time," an Instagram user wrote under Moakler's post.
The model's reaction to the comment made it seem as though she was not supportive of the Blink-182 drummer's romance with the reality star.
However, a few days after her apparent diss, Moakler set the record straight on her feelings toward Kardashian and Barker's new relationship.
Shanna Moakler claims she's happy for Travis Barker and Kourtney Kardashian
Despite her social media actions, Moakler had nothing but nice things to say about Barker and Kardashian's newfound romance when she was approached by Page Six outside LAX on Feb. 18.
"He's my friend and co-parent, and I want him to be happy," she told the outlet. "And if being with her makes him happy, and she's happy, I'm happy for both of them, honestly."
She added, "He can handle that Kardashian drama."
Rather than concerning herself with her ex-husband's newfound romance, Moakler seems to be focused on her own relationship with boyfriend Matthew Rondeau, who she's speculated to be engaged to after being spotted with a massive diamond on her ring finger.