Kourtney Kardashian and Travis Barker's Relationship Seems 'Performative', Fans Say
Kourtney Kardashian and Travis Barker recently got engaged and fans have many opinions — and some think their relationship is 'performative'.
Kourtney Kardashian and Travis Barker caught the world by surprise when they announced their romantic relationship in January 2021. There had been previous speculations about their pair's romantic link, which Barker denied. He had stated that Kourtney's just a friend and he loves her family to death.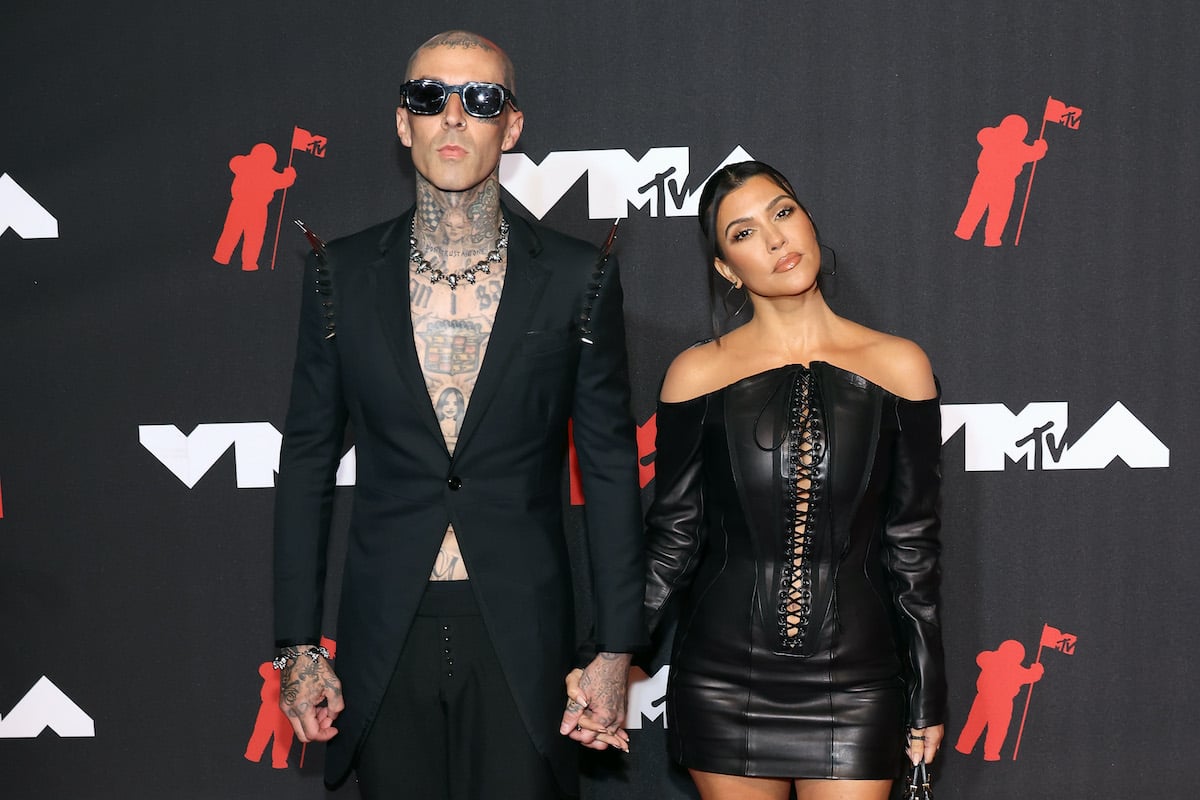 The pair were neighbors and good friends for years. Following their reconnection, they realized they had a lot in common and a spark was ignited. While they look happy together, fans think their relationship seems somewhat performative.
Fans on Reddit said they think Kourtney and Travis' relationship is 'performative'
Both Barker and Kardashian have had reality shows in their lives. While they shared a great deal of their past relationships on air, they seem to have a laid-back view on doing that again. In the last season of Keeping Up With the Kardashians (KUWTK), Kardashian made it clear she didn't want to share that much of her dating life.
On the other hand, Barker stated in his autobiography Can I Say, that he felt like having the reality show Meet the Barkers changed his ex-wife, Shanna Moakler's character. Barker said:
"It was turning into a variety show instead of a reality show — and in my mind, she was behaving out of character on camera, which was carrying over to her not being genuine with me." 
While the couple's relationship seems genuine for wanting to keep things private, fans on Reddit disagree. The pair's multiple paparazzi photos of them displaying affection publicly have had KarJenner fans idolizing them.
Although the love birds look happy, other fans feel like the relationship is just for show. One Reddit fan commented:
"It bugs me out how much I see people idolizing Kourtney Kardashian and Travis Barker. I recognize that people are happy for Kourtney, but people are dragging it as usual. These two haven't even been together for that long and their relationship comes off as performative, to me. Not saying they're not genuinely happy- they very well may be! It's just the idolization for me. Very weird."
Other fans responded in agreement, however, some fans didn't see their relationship as performative or rushed — one fan commented that Kardashian is clearly "just having so much fun right now."
Kourtney's comment on how fast the relationship has progressed 
Kourtney and Travis Barker have showered social media with intense PDA over the past months. Although it may seem like they moved too fast, Kourtney says she is happy and likes how their relationship has progressed.
Needless to say, she deserves this romantic sweetheart yet gothic type of love. After a long on and off relationship turned co-parenting partnership with Scott Disick, she is enjoying the more mature vibe that Barker brings.
Barker and Kourtney discovered that they had a lot in common while enjoying each others' company at Kris Jenner's vacation home. In the following months, the couple has been open about their relationship. We've watched them vacation together, share loads of PDA pictures, and leave sweet and flirty comments on each other's social media posts.
Kourtney has never been engaged before 
Two public relationships and three kids later, this is Kardashian's first engagement. In the past, Kardashian openly told Disick on KUWTK that she would say no if he proposed. The two had a complicated relationship for over a decade.
Kardashian's main reason for not wanting to tie the knot with Disick was his constant immature behavior and inability to fully commit. Kardashian has said that Disick is a great dad and that he makes it clear that the kids are his priority.
Soon after ending her relationship with Disick, Kardashian dated the much younger model Younes Bendjima. However, during the recent KUWTK reunion special with Andy Cohen, the KarJenner clan all admitted no one really liked their relationship, branding it as toxic, according to Page Six.