Kris Jenner Admits Kylie Jenner Is No Longer Focused on 'KUWTK'
Kylie Cosmetics founder Kylie Jenner has become the wealthiest member of her family, and it only took her a few short years to get there. The youngest Kardashian-Jenner has had a whirlwind of a year, from unfriending Jordyn Woods to dealing with a tough breakup to selling more than half of her cosmetics company. And her mother, Kris Jenner, just admitted that with everything going on, her daughter's focus is not the family's reality show, Keeping Up With the Kardashians.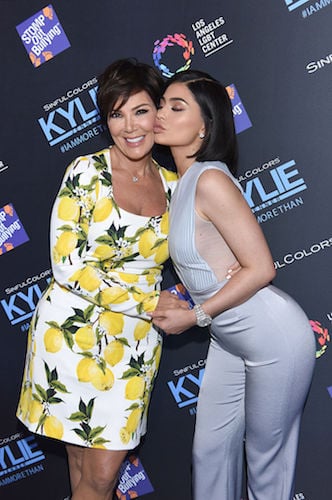 2019 was quite a year for Jenner
for the 22-year-old Kylie Cosmetics owner, 2019 saw many ups and downs. On the positive side, Jenner celebrated her daughter's first birthday, became the world's youngest self-made billionaire thanks to her brand, and sold half of her company to help Kylie Cosmetics become even more of a global powerhouse. But the year didn't come without its trials and tribulations.
In February 2019, Jenner learned that her best friend, Jordyn Woods, had been involved in a cheating scandal with Khloé Kardashian's then-boyfriend, Tristan Thompson. Later in the year, she ended her relationship of two and a half years with rapper Travis Scott. Though there were some growing pains, it was a very vital year for the young woman.
Kylie Jenner has been making fewer appearances on the family's show
Fans have noticed that Jenner hasn't been seen much on Keeping Up With the Kardashians. She and her sister, Kendall Jenner, have different contracts from Kim, Kourtney, and Khloé Kardashian, so they don't make as much money or have as much camera time as their older sisters. Both Kendall and Kylie have taken different paths that have veered from the show, which has caused them to agree to different terms than their other sisters.
Her mother said the reality show is no longer in focus for the beauty mogul
When news broke that Jenner had decided to sell more than half of her company, her mother, Kris Jenner, did an interview with CNBC's Squawk Box about the future of her daughter's brand. Kris said she's excited to watch Kylie Cosmetics grow even more, and she said that it's becoming something her daughter is incredibly passionate about.
"She feels like this is where she belongs. This is where her passion is… And this is what she wants to do for the rest of her life," Jenner said, when discussing where Kylie Jenner's focus is. Kris noted that the family still "enjoys what we're doing" in terms of the show, but she made it clear that that's not where her daughter will be focusing her energy. Jenner's words give some clarity to why her youngest daughter is rarely on the show.
Some suspect Jenner will quit the show entirely
Though Jenner's future with her beauty brand seems promising, her future with KUWTK is a bit foggier. Since she's already making very few appearances on the show as it is, and there's now an expectation that her brand will grow even more in the coming years, some think that Jenner will remove herself from the show entirely. Though fans don't want this, since her billionaire lifestyle is so interesting, it wouldn't come as a surprise — especially since Kourtney Kardashian admitted she no longer wants to do the show. But time will tell if Jenner makes the same decision.