How Long Has Kris Jenner Been Dating Corey Gamble?
Kris Jenner, the head of the Kardashian-Jenner family, and arguably the most famous momager in the world (she coined the term), has it all. She manages her kids' careers and somehow finds time to have a personal life. Learn more about Jenner's relationship with Corey Gamble ahead.

How long has Kris Jenner been dating Corey Gamble?

Jenner began dating Gamble shortly after divorcing Caitlyn Jenner, formerly Bruce Jenner. The couple has been dating since 2014.

How did Kris Jenner and Corey Gamble meet?

According to Cosmopolitan, Jenner and Gamble met at fashion designer Riccardo Tisci's 40th birthday party held in Ibiza in August of 2014.
By November of that year, Gamble attended family gatherings, namely Jenner's birthday party in November. Come March 2015, Jenner's kids were learning more about her relationship than they'd care to know.

During an episode of Keeping Up with the Kardashians, Jenner's daughter, Kim Kardashian, explained to her family that she heard mysterious sounds coming from her mom's bedroom.

"The bed, like, bangs up against the wall," Kim told her family. "And I was literally trying to pass out and I, like, woke up and I swear I thought I heard moaning."

Who is Corey Gamble?

Gamble is 38-year-old Atlanta, Georgia, native. He attended Morehouse College where he studied business marketing and went on to become a road manager with Scooter Braun, Justin Bieber's manager, and SB Projects.

Through his job with Braun, Gamble got close with Bieber, who he calls his "nephew." On Gamble's Instagram, he shared a screenshot of a tweet Bieber shared with his followers giving a special "shoutout" to Gamble.

He captioned the post, "We #15 on Billboard's and climbing… Helping this kid get his 1st #1 record was a goal I set in fall 2011… Let's see ….we close!!"

So, not only does he have experience as a road manager, he's got an ear for music too.
Gamble's 'technically peers' with Jenner's kids

Gamble hasn't always gotten along with Jenner's kids.
During a 2018 episode of Keeping Up with the Kardashians, the 38-year-old confronted his girlfriend's daughters saying, "I like all of y'all, but y'all are girls…I'm a dude and I know how that sh*t can go. I'm a young dude dating your mom. Y'all are not really my f*cking kids. We are technically peers."

Kanye West confronted Gamble about his family

In a recent episode of Keeping Up with the Kardashians, rapper and fashion designer Kanye West, who is married to Jenner's daughter Kim Kardashian, confronted Gamble with a text message asking him why no one from the family had met any of his relatives.
West's actions upset Jenner but left Khloe Kardashian and her sister, Kourtney Kardashian, defending their brother-in-law.

"Kanye's delivery wasn't great, but the essence of what he said is true," Khloe said in an interview on the show. "Corey does tend to be pretty secretive and that does have me pretty guarded…We don't know Corey like that," she added.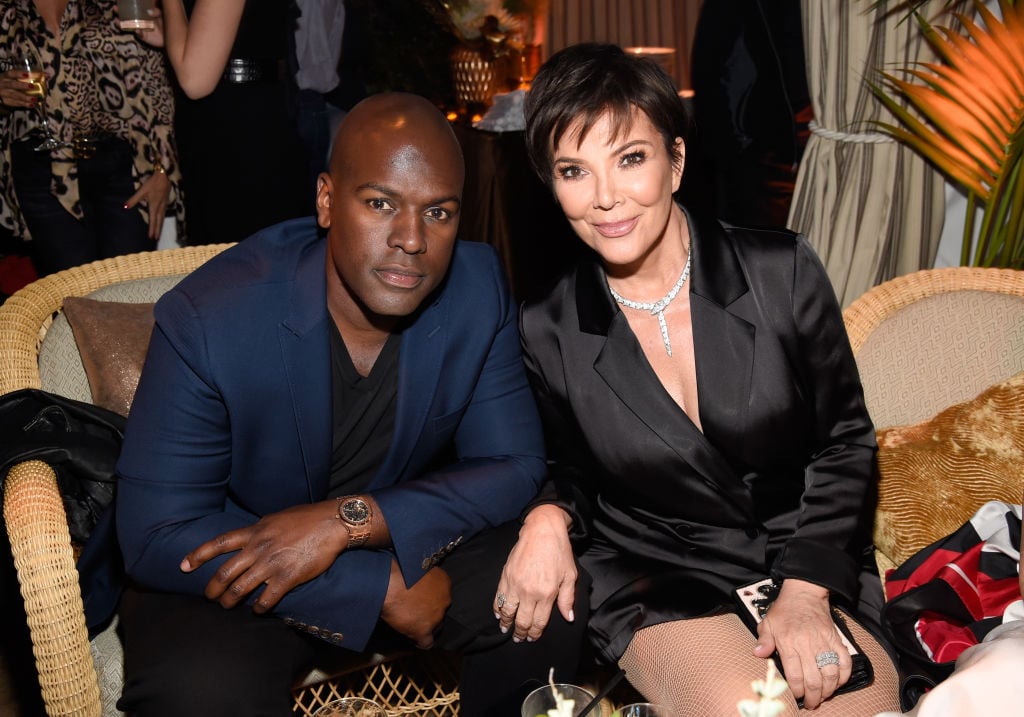 The situation ended with Khloe visiting her mom at her home in Palm Springs, California, to discuss what had transpired between Gamble and West.

Prior to the visit with her daughter, Jenner talked about her boyfriend getting the text from West. "I just wish I knew why [Kanye] has to bring bad energy into the field at 6 o'clock in the morning," she said. "I would never disrespect somebody and say that."

"I think it's really unfair to direct this attitude towards Corey," she added.

Jenner made it clear that she and Gamble aren't breaking up.

"It's really important for Khloe to understand that she really needs to get on my bandwagon because Corey is a part of the family, he isn't going anywhere and she needs to be nice," Jenner continued.
In the same episode, Khloe explained her feelings on the situation.
"After my mom got her divorce, I was like, 'OK, this probably isn't going to last,'" she said in an interview. "I just didn't feel the need to get that connected or attached."
But she soon realized the relationship was more than a fling.
"Then when I saw time progressing and the relationship was still there, we tried to get to know him, but he has not been receptive in this whole thing," Kardashian said.

When Khloe met up with her mom in Palm Springs, she learned how her mom felt.
"Nobody really slows down enough to take a look at it from a bird's eye view of my life," Jenner told her daughter.
"I want you to recognize that when you do question my relationship with Corey, it isn't OK and it hurts feelings. I think what you guys don't realize is Corey is really taking care of me like no one ever has in my entire life."

They ended the conversation on a positive note with Khloe saying she wanted her mom to be happy.

Why Kris Jenner and Corey Gamble likely won't get married

In a guest spot on the podcast Divorce Sucks with Laura Wasser, Jenner explained that marriage is something she's not very interested in doing again.

Here's what Jenner had to say about the possibility of marriage on the podcast:
"You know, you never say never, but I often say it's just not what I think I need to do again based on my past. I'm in a really great relationship right now, and I'm happy and I don't want to mess that up. I don't have the need to put on a long, white dress and walk down an aisle. I've done that. I've had the big wedding, I've had the babies and the kids—six of them, by the way. It's not like we need to do that again; my body wouldn't cooperate if I wanted it to. I think that I just feel really grateful and blessed for my past experiences and I'm looking forward to my future and I just don't think that I want to go there."


Kris Jenner talking about the possibility of marrying Corey Gamble
For now, Jenner and Gamble are enjoying their life together as boyfriend and girlfriend, so don't expect wedding bells to be in their future.