Kris Jenner and Ellen DeGeneres Just Revealed That They're Actually 'In-Laws'
Kris Jenner and Ellen DeGeneres are two of the most well-known women in the country — but for very different reasons. Jenner manages her six kids' thriving businesses as one-seventh of the famous Kardashian-Jenner family. Ellen DeGeneres is, of course, an incredibly popular talk-show host. And when Jenner appeared on DeGeneres' show, the two shared a little known fact about each other: They're "in-laws" — here's how.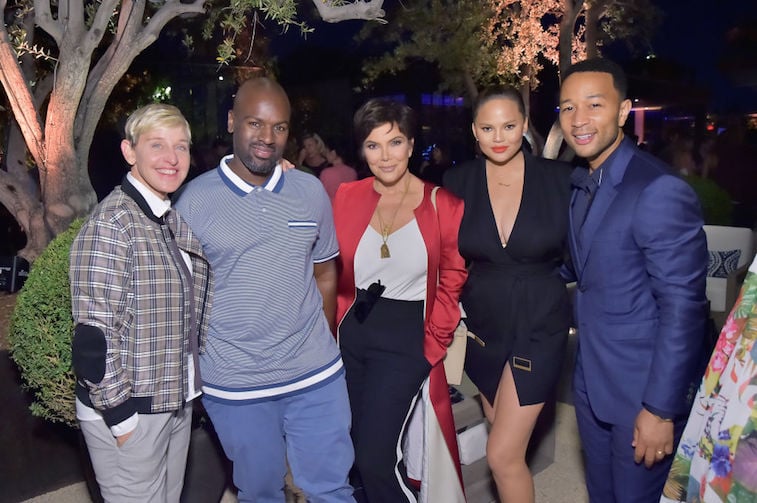 Kris Jenner recently appeared on 'Ellen' to discuss her life and family
On February 27, Jenner paid a visit to Ellen to discuss all things Kardashian. She said that the family is currently getting ready for season 19, and when DeGeneres asked her about her oldest daughter, Kourtney Kardashian, quitting the show, Jenner said her daughter simply needed a break and that she's fine with filming. She also noted that the women truly do enjoy filming the show.
Jenner later revealed that she was the mastermind behind marketing Kylie Jenner's "Rise and Shine" moment (which totally shouldn't surprise us, since the devil works hard, but Kris Jenner works harder).
The reality star revealed that she adopted a new puppy
During the interview, Jenner and DeGeneres started talking about their pets. Jenner said that she had recently adopted a puppy named Bridgette (Jenner joked that there is a silent 'K' in the name, but didn't reveal the true spelling). When Jenner adopted the puppy in January, we learned that Bridgette had actually come from the same litter as Chrissy Teigen's pup.
Of course, DeGeneres gave Jenner a hard time for having designer dog toys. DeGeneres showed a photo of the dog to the audience, and sure enough, her dog bed was filled with high-class toys. Jenner said Corey Gamble's mother had sent some toys when she learned the two had gotten a dog.
It turns out she and DeGeneres' dogs are related
Jenner and DeGeneres also revealed to the audience that their two pups are related. "We're in-laws," Jenner said. "Yes, I'm in the family money," DeGeneres said, which caused the audience to laugh. DeGeneres revealed that she and her wife had rescued a dog, and she's the one who connected Jenner to that specific litter. "The minute [the dog's owner] walked in with [Bridgette], I was in heaven," Jenner said. Of course, this would technically make them "in-laws" with Chrissy Teigen as well.
Interestingly, the L.A. rescue from where the celebs adopted the pups came under fire after posting about celebrity adoptions. Fans accused the rescue of giving celebrities access to the dogs first.
Jenner also revealed who she thinks will be the next one to give her a grandchild
Jenner touched on various subjects about her family, and DeGeneres asked her which child she thinks will be the next to have a baby. Though Jenner seems smitten with her current baby (Bridgette), she revealed that she thinks Kourtney Kardashian will be the next to have another kid. She then suggested it could be Kylie Jenner and later threw Kendall Jenner's name out there, too — interesting, since Kendall isn't dating anyone.
Right now, there's no telling who will have a baby next, but Jenner seems to think that her oldest daughter definitely isn't done having kids.