Kris Jenner Reveals What She Thinks Will Happen to Kylie Cosmetics Down the Road
Kris Jenner thinks she knows exactly what will happen to Kylie Jenner's billion-dollar cosmetics brand.
Kylie Jenner has quickly become a force in the cosmetics industry. Within just a few years of developing her first product, Kylie Lip Kits, the reality star turned into a beauty mogul with a billion-dollar-brand. Late last year, Jenner made waves again when she announced that she had sold 51% of her brand to Coty, a global cosmetics powerhouse. And Kris Jenner revealed where she thinks Kylie Cosmetics will be many years from now.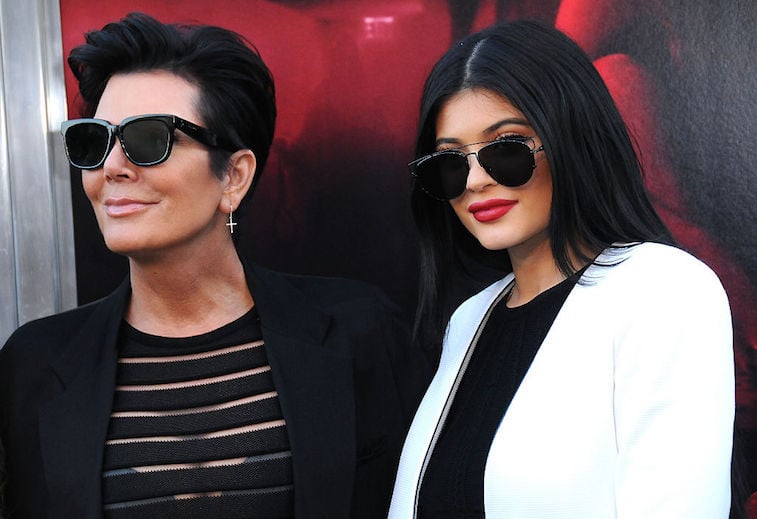 Kylie Jenner started Kylie Cosmetics back in 2015
When Kylie was growing up, she was often overshadowed by her older sisters. Her sister, Kendall Jenner, quickly took off in the modeling industry, and Kylie was still trying to find her place. With the help of her mother, Kris, she launched Kylie Lip Kits in 2015 — lip liner kits that essentially give women a plump pout. The kits took off, and Kris and Kylie worked to build Kylie's future through the makeup business. The brand was officially named Kylie Cosmetics in 2016, and since then, it hasn't stopped growing.
Kylie has continued to build the brand into more than just lip kits
Kylie credits her mother for helping her go so far in the cosmetics industry, and the two have worked closely to take her company to another level. Now, Kylie sells far more than just lip kits; she has multiple makeup lines, and last year, she launched Kylie Skin. Her skincare brand continues to sell out pretty much as soon as it hits shelves, though her billionaire status happened before Kylie Skin even launched. Within about four years of Jenner's makeup business endeavor, Forbes named her the world's youngest self-made billionaire.
Kris Jenner thinks Stormi will eventually inherit the company
Kris plays a large role in Kylie's company; Khloé Kardashian joked on Keeping Up With the Kardashians that Kylie is Kris' favorite. And when Kylie sold 51% of her brand to Coty late last year, Kris spoke up about the change and where Kylie's focus is. "I think the goal is to just keep building Kylie's existing beauty business into a global powerhouse brand. That's the vision," Kris said in an interview with CNBC's Squawk Box.
Kris also revealed where she and Kylie see the company going many years from now. "This is what she wants to do for the rest of her life," Kris said. "Twenty years from now she sees herself doing this and maybe passing it down to her daughter." Kylie's daughter, Stormi, has already shown a strong interest in makeup, and Kylie loves to post videos of Stormi playing with the products.
Kylie is forcing people to take her seriously
Though she has the Kardashian-Jenner name attached to her, Kylie is still proving that she deserves to be taken seriously as a business woman. No, she didn't exactly build her brand from nothing, but it's an incredible feat to turn anything into $1 billion — it's an almost unfathomable amount of money. Kylie has proven that she has business skills that are worth even more than her older sister, Kim Kardashian West's skills, and she continues to be a driving force in the cosmetics industry.