Kristen Bell Credits 'Frozen' For Earning Her Hollywood Walk of Fame Star
The girl has an angelic voice, an enviable marriage, and stars on her own hit TV series The Good Place. If that's not enough, Kristen Bell is having a particularly good year as Disney's Frozen 2 hits theaters, in which she voices the ever-optimistic Princess Anna.
In fact, Bell credits her role in Frozen as the stepping stone to earning her very own star on Hollywood's Walk of Fame.
Kristen Bell says she is 'suspiciously lucky'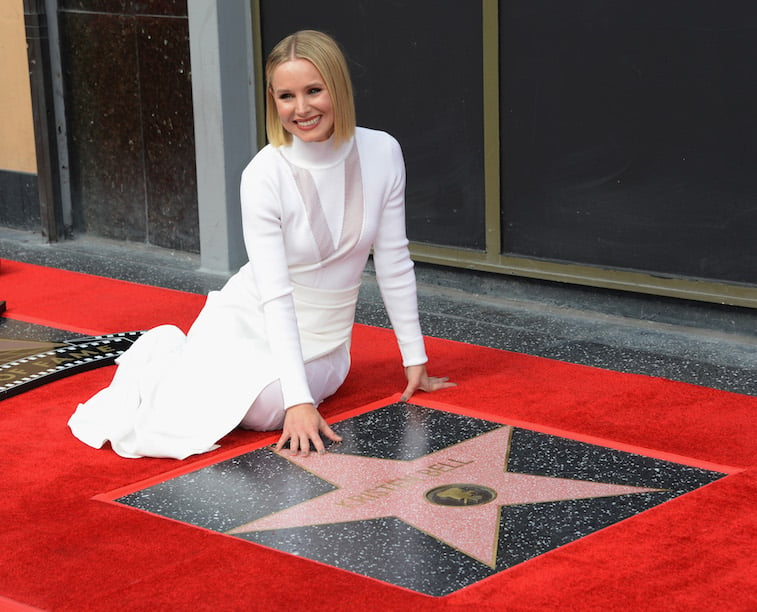 Kristen Bell received her star alongside her "Frozen 2" co-star Idina Menzel on Tuesday during a dual ceremony. In her funny and poignant acceptance speech on November 19, the actress shared some truths with the crowd.
The first being that she has been "suspiciously lucky" in her life, not necessarily in her career but in the people she has been blessed to surround herself with. 
"I am suspiciously lucky," Bell claimed. "…and not because I have a career worthy of this star, but because of all the people I've been able to orbit along the way."
Fans were not surprised that Bell chose to approach the event with her signature humor and wit. She closed out with some heartfelt platitudes about how these moments fall into two categories: those that make a real career and those that make a real life.
Bell joked that her "star will only really know its true value when inevitably someone is mugged in that very spot and as they clutch their purse the assailant screams 'let it go.;" Bell told crowds. "And the victim will look up and say that's not even her song you son of a b***h. Only then will I know I truly made it."
Kristen Bell is leading a charmed life
Bell has been making both a real career and a real life. She can sing, she can act, she has even directed some things. Bell continues to wow critics and win over hearts through her multifaceted endeavors from reprising her role as teenage super-sleuth Veronica Mars to melting Frozen hearts with catchy song lyrics.
Her career goes far beyond her Frozen kingdom of Arendelle.
Her current TV show The Good Place has been wildly successful. It's currently in its 4th and final season which airs on NBC. Kristen Bell, who plays Eleanor Shellstrop in the show, has been having a hard time preparing for the series to end.
Fans have really embraced the series and Bell has recently said that the ending is more emotional than she was expecting, for both the cast and the audience.  The series will air its final episode in January 2020. 
In addition to her successful TV series, together with husband Dax Shepard, Kristen Bell just launched a baby product line. The stars are relying on their own parenting experience to help them create and market products that will appeal to their fans and help make parenting just a little bit easier.
Although all these other accomplishments help to make Bell the awe-inspiring star she is, they still pale in comparison to the success she's felt from the Frozen franchise.
Starring in Frozen pushed her toward earning her Hollywood Walk of Fame Star
Despite all of her other recent successes, Kristen Bell still credits earning her Hollywood Star to her role in Frozen. In fact, in interviews before the ceremony, Bell indicated she only has made it to where she is today because she landed the coveted role of Princess Anna.
Bell calls the honor "extra special" because she gets to share it with Idina, and indicates that the whole process might have been spurred forward, at least in part, because of her role in Frozen.
'Frozen 2' is in theaters now
The long-awaited sequel hits theaters this weekend. Frozen 2 has already been predicted to win this weekend's box office race, with guesses of weekend revenue climbing over $100 million.
Fans have been eagerly awaiting the return of the royal sisters and the sequel is expected to exceed Frozen's opening revenue by nearly double its earnings.