Kristen Bell and Dax Shepard Forgot to Bathe Their Kids and Now 'Wait for the Stink'
Just last week, Mila Kunis and Ashton Kutcher made headlines after revealing that they didn't wash their kids, or themselves, on a regular basis. Now, Kristen Bell is throwing her two cents in and revealed that she and her husband, Dax Shepard, also don't wash their children daily. But what is the reason behind this polarizing choice?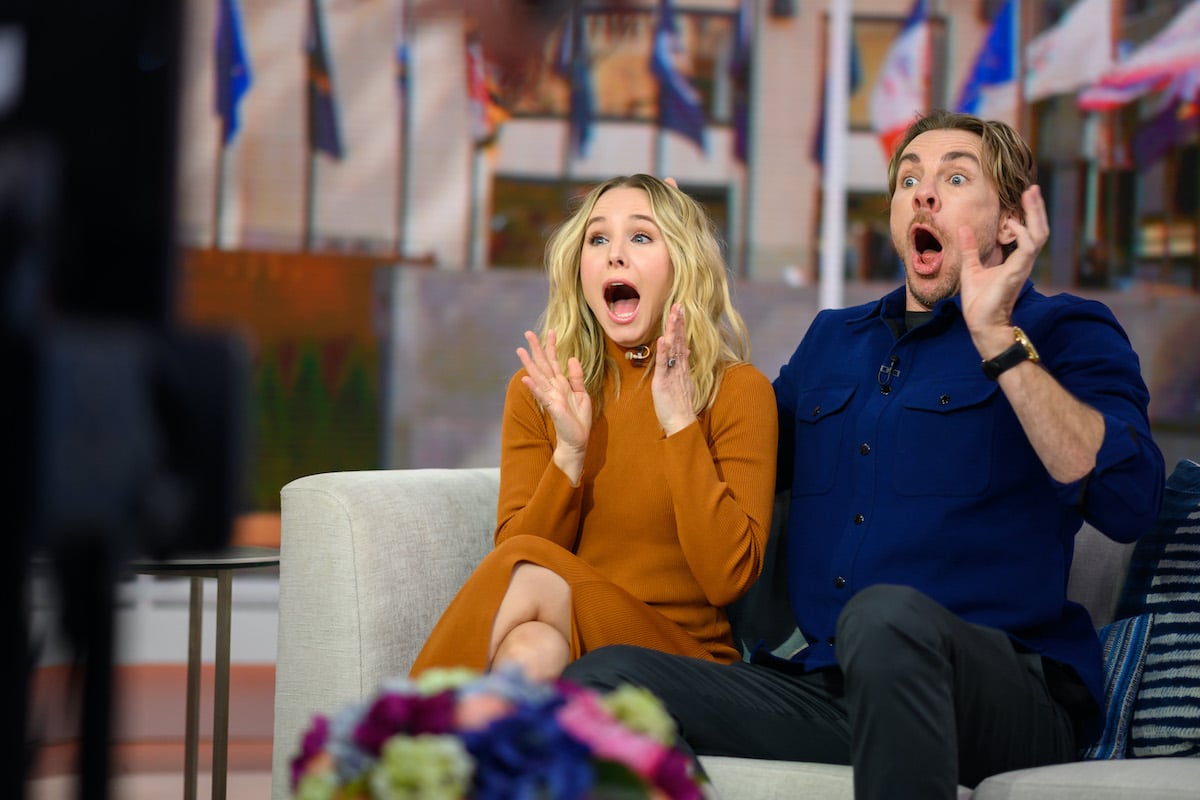 Though Shepard and Bell have proclaimed that they like to shield their kids from the public eye, it hasn't stopped the pair from sharing anecdotes about their children and their family life. The couple, who have been married since 2013, have two daughters together: Delta Shepard, who is six, and Lincoln Shepard, who is eight. And, according to Bell, she and her husband have gone up to six days before they've bathed their children.
Kristen Bell and her husband, Dax Shepard, forgot to bathe their kids on a daily basis
Shepard actually hinted that he and his wife didn't wash their children daily on an episode of his podcast, Armchair Expert. When Kunis and Kutcher shared that they didn't bathe their young children regularly, Shepard shared that he and his wife took a similar approach. Unlike Kunis, who didn't have access to hot water growing up, Bell and her husband simply forgot to bathe their children on a daily basis and it eventually became a habit.
Bell was recently a guest on The View and she got candid about how she first adopted a lack of bathing routine for her kids. "We bathed our children every single night prior to bed as their routine, then somehow they just started going to sleep on their own without their routine and we had to start saying [to each other] like, 'Hey, when was the last time you bathed them?'" the Gossip Girl alum shared about her husband before saying, "Yeah, we'd forget."
The 'Gossip Girl' star waits for her daughters to smell before washing them
The Good Place alum also added that her kids would sometimes develop a less than pleasant odor and that is when she and her husband would finally bathe them. "I'm a big fan of waiting for the stink," Bell explained. "Once you catch a whiff, that's biology's way of letting you know you need to clean it up. There's a red flag. Honestly, it's just bacteria; once you get bacteria you gotta be like, 'Get in the tub or the shower.'"
Bell and Shepard support Ashton Kutcher and Mila Kunis' approach to bathing their kids
Finally, Bell shared that she understood Kunis and Kutcher's unorthodox rule of waiting to see the dirt on their kids before giving them a bath. And added that she has a similar rule, based on smell rather than sight. "So I don't hate what [Kunis and Kutcher] are doing," Bell added. "I wait for the stink." Clearly, some celebrities have some less than common approaches to child-rearing. But hopefully, Bell and Shepard's daughters are happy and healthy.