Kristen Bell Defends Daughters Drinking Non-Alcoholic Beer — They Want To 'Feel Close To' Dax Shepard
Kristen Bell's getting real about parenting once again. She and her husband, fellow actor (and podcast host) Dax Shepard, share parenting advice that's equal parts helpful and hilarious.
This time, Bell's opening up about an awkward remote learning moment that involved her daughters drinking Shepard's non-alcoholic beer. 
Kristen Bell and Dax Shepard have 2 kids together
RELATED: Kristen Bell Reveals Her Daughter Asked About Sex, and Dax Shepard Gave a Hilarious Response
Bell and Shepard have long been entertaining fans with their parenting stories. Whether they're promoting a project on a late night talk show or recording an episode of Armchair Expert, they don't hold back.
Shepard and Bell have two kids together. They became parents in 2013. The Michigan natives welcomed their first daughter, now-7-year-old Lincoln Bell Shepard, on March 28, 2013. 
The family of three soon grew to be a family of four. Bell gave birth to her second daughter, now-5-year- old Delta Bell Shepard, on Dec. 19, 2014.
Kristen Bell says she found her daughters drinking O'Doul's during school 
Bell opened up about the struggles of remote learning during a September 2020 episode of the Say Yes! With Carla Hall podcast. She explained how she came to find her daughters drinking O'Doul's, a non-alcoholic beer, on a break. 
"They have 15-minute breaks where they're allowed to jump around and grab a snack and wiggle it out," Bell said. "I walk in to check on them at 9:30 and both of them are drinking an O'Doul's on their Zooms. They're both just sipping their Doulies."
RELATED: Dax Shepard Would Allow Daughters to Dabble In Psychedelic Drugs
Bell continued, saying she doubted her parenting skills for a brief moment. 
"And I'm like, 'What must these other parents and teachers think of me?' she told herself before dismissing the thought. "You're welcome to tell me I'm a terrible parent. I don't care," Bell said. "I'm a great parent, I think. I'm learning every day."
Kristen Bell's totally OK with her daughters drinking O'Doul's, says it's part of them learning about 'sobriety'
Shepard doesn't drink alcohol or use drugs. He gave them up in 2004. The actor later  admitted he "loved to get f*cked-up—drinking, cocaine, opiates, marijuana, diet pills, pain pills, everything." But it became an addiction so he's since abstained.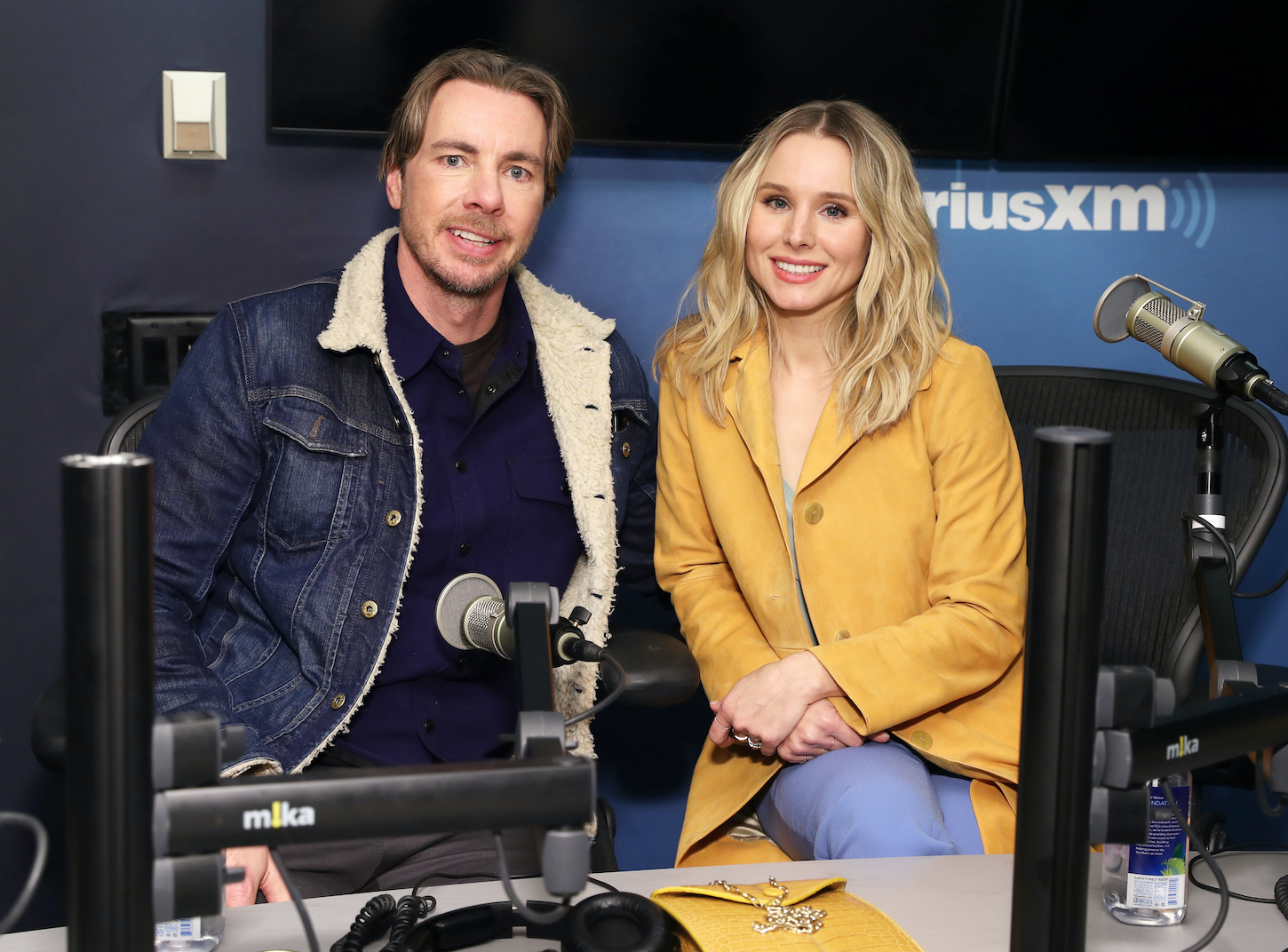 RELATED: Why Dax Shepard Can't Stand Watching Movies With Kristen Bell
Now, when Shepard wants a cold one he reaches for O'Doul's, a non-alcoholic beer. As Bell sees it, her daughters drinking O'Doul's helps them learn about "sobriety and the importance of it and why Daddy can't drink."
"If anything, it opens up the discussion for why Daddy has to drink nonalcoholic beer because some people lose their privileges with drinking," Bell said. "Drinking's not always safe."
As of September 2020, Shepard's been sober for 16 years.
More than that, it's what Bell describes as "a sentimental thing." O'Doul's reminds the Lincoln and Delta of Shepard. 
"When we first had our child and … we'd walk around the neighborhood, he'd pop a nonalcoholic beer in his hand and the baby would paw at it and put the rim in her mouth," Bell said. "It's a sentimental thing for my girls."
RELATED: The 1 Time Each Year Dax Shepard Gets a Special Gift From Kristen Bell — and It's Not For His Birthday