Kristen Stewart and Vanessa Bayer Were 'Kissing for a Long Time' During Totino's Sketch on 'SNL'
Kristen Stewart appeared in the infamous "Totino's" Saturday Night Live "Big Game" sketch and was lip-locked with Vanessa Bayer for quite some time.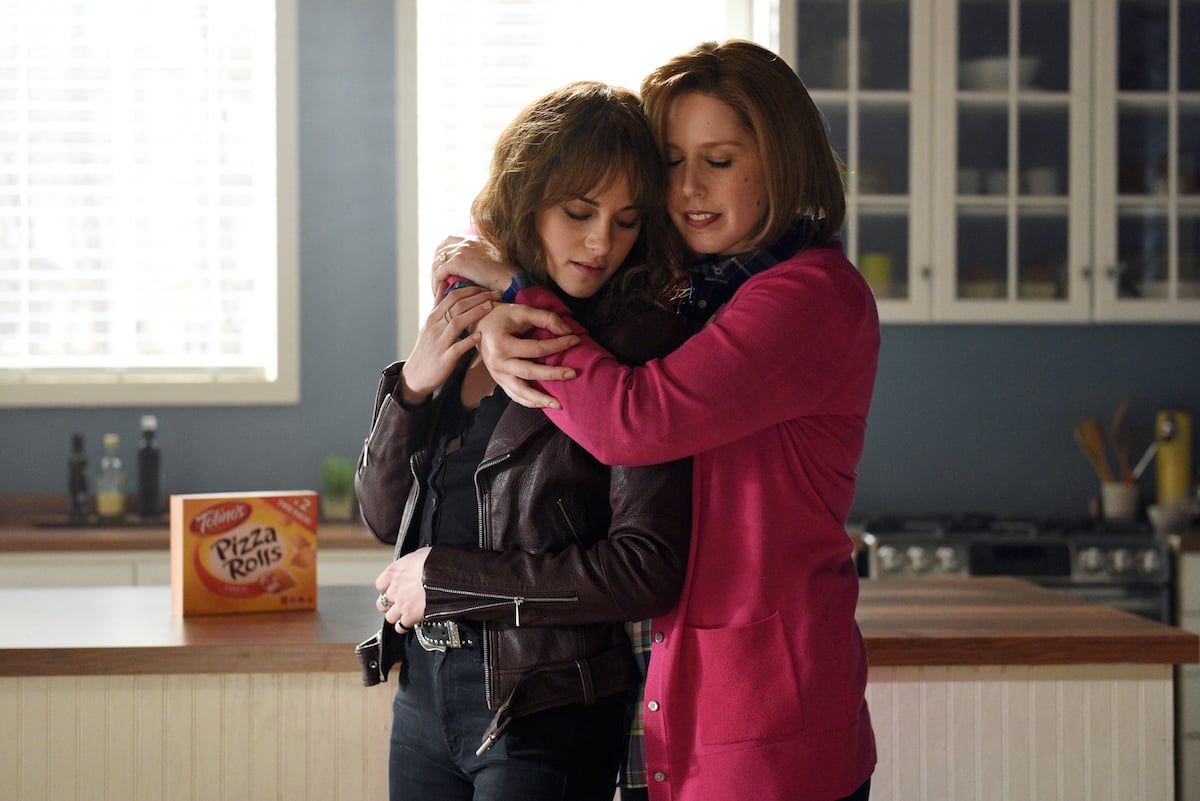 Bayer played an ignored housewife serving her husband and friends Totino's Pizza Rolls. But when one of the guys brings his hot sister along (Stewart), Bayer and the sister fall for each other. The two fall in love while the guys continue to mindlessly watch football.
Vanessa Bayer reveals what it was like to kiss a few A-list actors on 'SNL'
Bayer recalled the sketch and other A-list actors she's kissed on SNL.
"With Kristen Stewart, we were really kissing for a long time. With Ryan Gosling, it was more in-character cuddling a lot," Bayer said on Watch What Happens Live with Andy Cohen. "And I was nervous about it, but then he was so funny during the sketch — he improvised so much stuff."
RELATED: 'Happiest Season' Is Groundbreaking as the First Same-Sex Christmas Rom-Com
"There's a point when he starts yelling and we didn't know he was gonna start yelling that," she remarked. "I think I was just having so much fun because he's so funny."
The Totinos sketch with Stewart wasn't the first for SNL. In fact, the sketch was Bayer's idea. "I think 'Totino's; started because Vanessa [Bayer] pitched a version of this character as a live sketch," SNL writer Chris Kelly told Vulture.
The Totino's sketch became a love story for Vanessa Bayer's character
Kelly, along with SNL writer, Sarah Schneider said they wanted Bayer's character in the sketch to finally find love. They felt that falling in love with a woman was the perfect fit.
"We had known what the idea was going to be for a while," Kelly told Vulture. "We talked about the idea of this lesbian love affair, and this indie movie. When we found out who the host was, we were like, 'This is so comically perfect, it's insane.'"
RELATED: 'Curb Your Enthusiasm': Larry David and Richard Lewis Hated Each Other When They First Met
Schneider added that since it was Bayer's last year on the show, they were determined for the Totino's character to "find her truth." Plus, Kelly added, "As stupid as that sounds, we wanted her to find happiness at the end of it."
'SNL' writers recall Kristen Stewart being warm and personable
The writers remembered Stewart being warm and personable. "While we shot this, I developed a crush on Kristen Stewart," Schneider recalled. "She was super personable. Sometimes hosts are very separate, and that's fine. I was sitting, she came over and crouched and put her elbow on my knee to just, like, talk. And I was like, 'I'm gonna leave my boyfriend.'"
RELATED: 'SNL' Gives Morgan Wallen Another Shot To Perform After Canceling Him in October
Kelly said one of the main comedic parts of the Stewart sketch was when the husband jokes if Bayer and Stewart are making. "Well, that's a joke in straight commercials or TV shows, right? 'You guys making out?' That's a joke you hear all the time, and we like that, yes, they are making out," he said.
"He truly has not looked at her for three years, and if he just looked, he would know," Kelly joked.