Kristen Wiig Was the Reason Maya Rudolph Returned to 'SNL'
These days, both Kristen Wiig and Maya Rudolph have risen to mainstream success in television and films. Their performance in the 2011 film Bridesmaids went down in history as comedic gold. While that film showcased just how well the two women could play off one another's on-screen chemistry, that relationship was a long time in the making. 
Rudolph and Wiig have a long history of performing together, and recently Rudolph appeared on The Ellen DeGeneres Show. She was supposed to do an interview with Wiig by her side, but Wiig had to cancel because she wasn't feeling well.
Rudolph pantomimed putting her arm around an invisible Wiig perched on the side of her chair before opening up and gushing about their friendship and past work together. 
The hilarious pair met at a friend's baby shower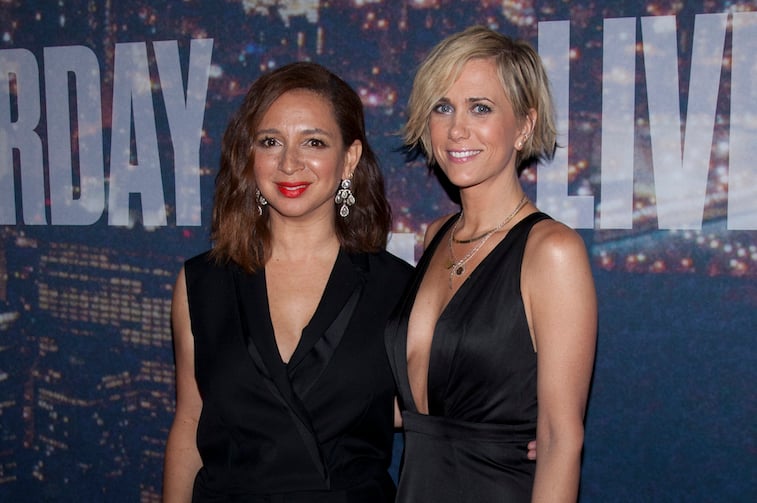 During the interview, Rudolph revealed that she and Wiig met years ago even before they appeared on Saturday Night Live together. They met at a friend's baby shower that was hosted by fellow funny gal (and Bridesmaids co-star) Melissa McCarthy. They were all part of the Groundlings theater, a Los Angeles-based improv and sketch comedy group.
The Groundlings theater has served as the start for many famous comedians including Will Ferrell, Jimmy Fallon, Rita Wilson, and Dax Shepherd. Even though Rudolph and Wiig share these long ago stomping grounds, they didn't work together at the theater. It wasn't until SNL that they got a chance to combine their comedic talents.
Rudolph was on maternity leave when she saw Wiig performing
Rudolph revealed to DeGeneres that she was on maternity leave from the show when she watched Wiig performing on SNL alongside Jason Sudeikis. The sketch was a Christmas show that featured a version of the "Two A-Holes" sketch, a recurring character sketch that portrayed Sudeikis and Wiig's characters as selfish and aloof jerks tossed into different situations.
Rudolph says that as she watched Wiig on screen, she was struck with the strong desire to return to the show. 
"I want to go back. I want to play with her. It looked so fun," Rudolph explained. 
Rudolph also revealed her favorite sketch with Wiig
DeGeneres followed up by asking Rudolph about her favorite sketch with Wiig, and they both pointed to the same hilarious moment. In the "Super Showcase Spokesmodels" sketch, a spoof on The Price is Right, the pair play game show showcase models with outrageous accents and matching outfits.
Rudolph reveals that, while practicing the sketch, the pair couldn't keep it together and stay in character, but she assumed once they got on stage that they had "gotten the giggles out." Instead, the duo comes riding out on stage in a golf cart, and Wiig can't keep from snickering as she tries to deliver her lines.
The moment of silliness obviously spreads as Rudolph starts struggling to speak without laughing as well. When the camera pans back to the show host (played by Bill Hader), he's also covering his mouth to try to stifle a snicker. 
The sketch gets even more absurd as the showcase models bring out a frozen chicken to show the losing contestant what she missed with her poor guess. As Rudolph tickles the chicken, Wiig once again laughs through her lines.
Rudolph told DeGeneres that it was the voices they were using that made it so hard for them to keep a straight face. Their friendship is so well-developed and full of inside jokes that these voices—which Rudolph called "so stupid"—are a sure way to crack each other up.
Each of these women is so incredibly talented on their own, but when they're together, the real fun and enjoyment of their friendship comes to life in a way that's contagious for viewers.