Kristi Yamaguchi Can Thank the Olympics for Her Marriage to NHL Player Bret Hedican
The purpose of the Olympics is to unite athletes from around the world to create a mutual playing field built in the spirit of friendship and solidarity. In 1992, two American competitors came together, developing a lasting relationship that eventually led to marriage.
Gold medalist figure skater Kristi Yamaguchi, and ice hockey player Bret Hedican built an unbreakable bond that is as strong today as it was so many years ago.
Kristi Yamaguchi's early career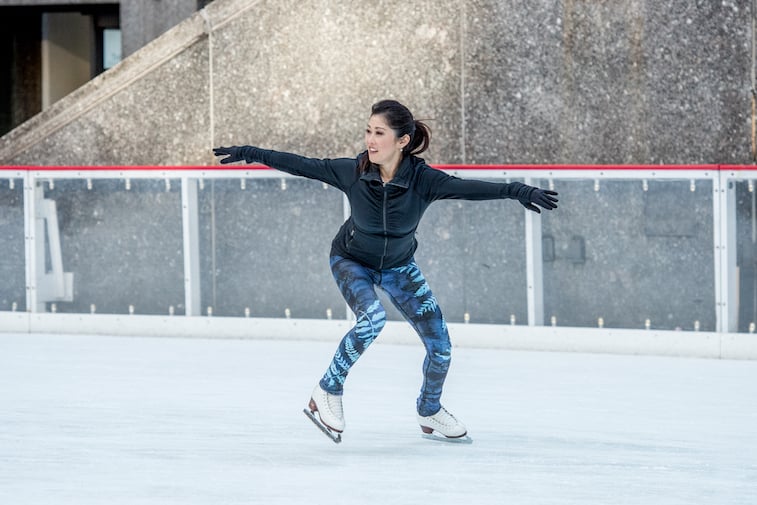 RELATED: The Surprising Way This Olympic Figure Skater Earned Money Before Winning Her Medal
Yamaguchi is a two-time world champion figure skater. In 1992, she won the hearts of the country by winning an Olympic gold medal. No American had taken home gold in the Ladies' Singles division since 1976 when Dorothy Hamill captivated our hearts.
Born with clubbed feet, Yamaguchi started ice skating at the age of 6 as a form of physical therapy. She quickly progressed in the sport, and in 1988 won in both the singles and pairs division at the Junior World Championships.
The figure skating community took notice of the 5-foot, 93-pound skater and in 1989 she moved away from her hometown of California to train in Canada.
According to Biography.com, Christy Ness coached the fourth-generation Japanese-American ice dancer to gold medal victory in 1992. Shortly thereafter, Yamaguchi decided to stop competing and spent the next ten years touring professionally with Stars on Ice.
Kristi Yamaguchi's success off the ice
Yamaguchi revealed in an interview with Working Mother magazine that ice skating was an emotional outlet for her, referring to it as her "safe haven" where she could freely express herself. Off the ice, Yamaguchi has worked hard to find creative forms of self-expression.
She has written four books, produced a fitness video, and tried her hand at acting. In 1996, Yamaguchi established the Always Dream Foundation, a non-profit that supports underprivileged kids. The Hall of Fame inductee has stayed connected to the Olympic community, working as a Goodwill Ambassador at the 2002 Winter Games and again in 2010 as a special NBC Today correspondent during the Vancouver games. 
In 2008, she competed on Dancing With the Stars and took home the Season 6 mirror ball trophy with partner Mark Ballas.
The former gold medalist told Working Mother magazine: "I learned to put 100 percent into what you're doing. I learned about setting goals for yourself, knowing where you want to be, and taking small steps towards those goals."
NHL player Bret Hedican
Hedican was part of the US Men's Olympic Hockey Team, competing in both the 1992 and 2006 winter games. The St. Paul, Minnesota native started playing professional hockey in 1991 for the St. Louis Blues. He then went on to play for the Vancouver Canucks, Florida Panthers, and Carolina Hurricanes.
He ended his successful 17-year NHL career with the Anaheim Ducks in 2009, when he officially announced his retirement after playing 1,039 games in the league. The defenseman, who won the Stanley Cup with the Hurricanes in 2006, went on to broadcasting where he became an analyst for the San Jose Sharks.
From 2010 to 2014, Hedican worked with the USA Women's National Team helping to develop future Olympians. In 2014, Hedican invested one million dollars in RosterBot, a start-up online sports management company. 
The couple first met in 1992 on a cold night in Albertville, France. They were both representing their American teams in the Olympic Winter Games. Yamaguchi told USA Today that she and teammate Nancy Kerrigan were introducing themselves to other athletes as they waited for the opening ceremonies to start.
She briefly talked with Hedican and then redirected her focus on winning the gold. Several years later, the couple met again at an opening for a new Vancouver ice arena. Shortly after that, Yamaguchi attended one of his hockey games with the San Jose Sharks.
According to the Working Mother interview, their first date was for ice cream after that game. They started dating amidst their busy travel schedules and in 2000, the couple married. Yamaguchi told USA Today, "I guess you could say that 1992 in Albertville was a pretty good experience for me."
Kristi Yamaguchi: Love and marriage
RELATED: The Most Controversial Moments From the 2018 Winter Olympics
Yamaguchi and Hedican made their long-distance relationship work and are getting ready to celebrate their 20th wedding anniversary. They have two children, Keara (2003) and Emma (2005).
The family now lives in Northern California, spending a majority of their time in Hawaii. They will always identify as an Olympic family, and in 2012 had the honor of lighting the Olympic torch to signal the start of the games in America. 
Hedican turns 50 this year. He is still involved with the San Jose Sharks, working as a color commentator. Hedican maintains a relationship with NBC and continues to be involved with the Olympics, providing commentary for both the 2010 and 2014 Winter Games.
Closing in on 49 years of age, Yamaguchi is keeping active running her charitable foundation. She has initiated an online children's story hour and focuses most of her attention on her teenage daughters.