Kristin Chenoweth Says Playing Dolly Parton is Her 'Dream Role'
Country superstar Dolly Parton has been talking about creating a musical about her life for the past several years. She's said before that Kristin Chenoweth might be a good casting option to play herself. Recently, Chenoweth took to Twitter to say playing Parton, in fact, is a dream role for her.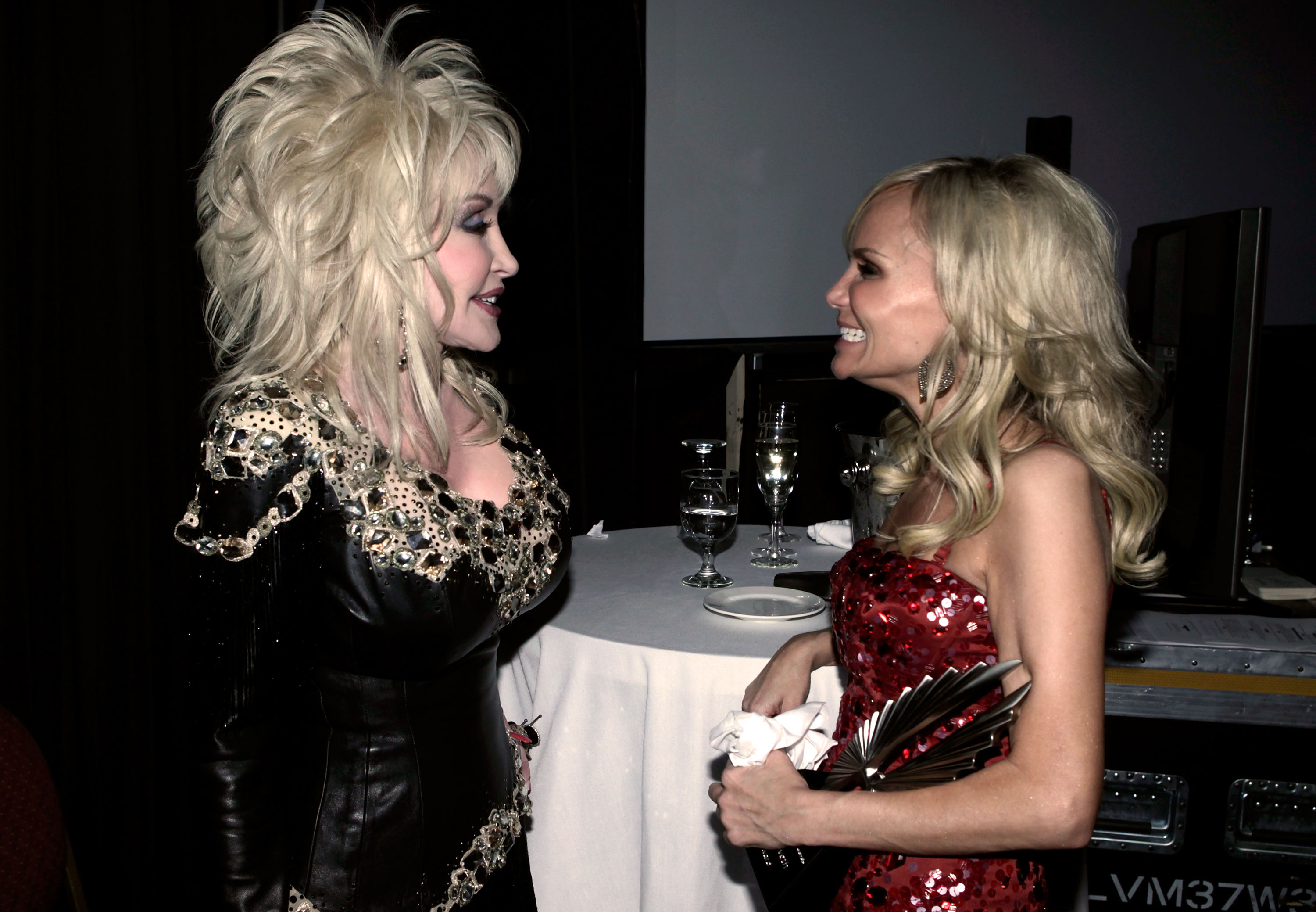 Kristin Chenoweth is putting it out there that she wants to play Dolly Parton
On May 12, on Twitter, a fan asked Chenoweth what her dream role is. The performer replied with only a name: Dolly Parton.
In another tweet, Chenoweth told the inspiration of her dream role, "Dolly I'm learning steel guitar!"
And Dolly likes the idea, too. In a Feb. 2022 interview with "Mr. Nashville Talks," Parton named Chenoweth as someone she's thought of to portray her in the musical of her life.
"I love Kristin Chenoweth," she said. "She's just absolutely fantastic."
The country singer also sung Chenoweth's praises to Marie Claire in 2020. It was then she mentioned the idea of having multiple actors playing the role of Dolly, so as to capture the different eras of the singer's life.
"I thought she'd be an ideal person to do that," said Parton at the time. "But we're all getting older now, so if we tell the parts…we may be able to have different Dollys. We'd probably have to have—as long as my career has been—like a little Dolly, and a middle Dolly, and then the older one. And she'd still be great for that."
In the 2022 interview with "Mr. Nashville Talks," Parton joked she may just end up playing the "old version" of herself.
Dolly Parton initially wanted her life's story to be a Broadway musical
In Parton's 2020 book, Dolly Parton, Songteller: My Life in Lyrics, she wrote that she was working on a Broadway musical about her life, 13 years after her Broadway success, 9 to 5: The Musical. But in her Marie Claire interview that same year, Parton said she was debating between a show on Broadway and a film, perhaps to debut on Netflix. The Queen of country has a solid relationship with the streaming service after several deals, such as 2019's anthology series Dolly Parton's Heartstrings and 2020's Christmas on the Square.
"I'm still working on my life story as a musical, and so I'm not sure if I want to do it as a feature-film musical or if I do want to go ahead and do it on Broadway," she said. "But I do think that would make a good series."
Now, the singer is set on a feature film
In her 2022 interview with "Mr. Nashville Talks," Parton said, before the COVID-19 pandemic, she had plans to turn her life story into a Broadway show. But when the pandemic delayed the project, she ultimately changed her mind.
"We were talking about doing my Broadway musical, and we were really, really far out ahead of that, and then the COVID hit and that changed my mind about a whole lot of things," she said. "I do intend someday to be on Broadway, but I'm thinking now that I might do my life story as a feature. Maybe possibly even a musical feature. So we're in talks about that."
RELATED: If Dolly Parton Took the Worst Career Advice She Ever Received She'd Be an Entirely Different Performer