Kristoff St. John's Ex-Wife Mia Reveals Struggle With Mental Health and Sobriety Following the 'Y&R' Actor's Death
In Feb. 2019, longtime The Young and the Restless actor, Kristoff St. John, died as a result of hypertrophic heart disease. His death shook daytime soap fans to the core, as it came just fours years after the death of Kristoff's son, Julian.
Many still grieve the late actor, including his ex-wife, Mia St. John. The 5-time World Boxing Champion recently paid tribute to the man known as Neil Winters for 28 years and opened up about her own struggle since the loss.
'The Young and the Restless' became Kristoff St. John's legacy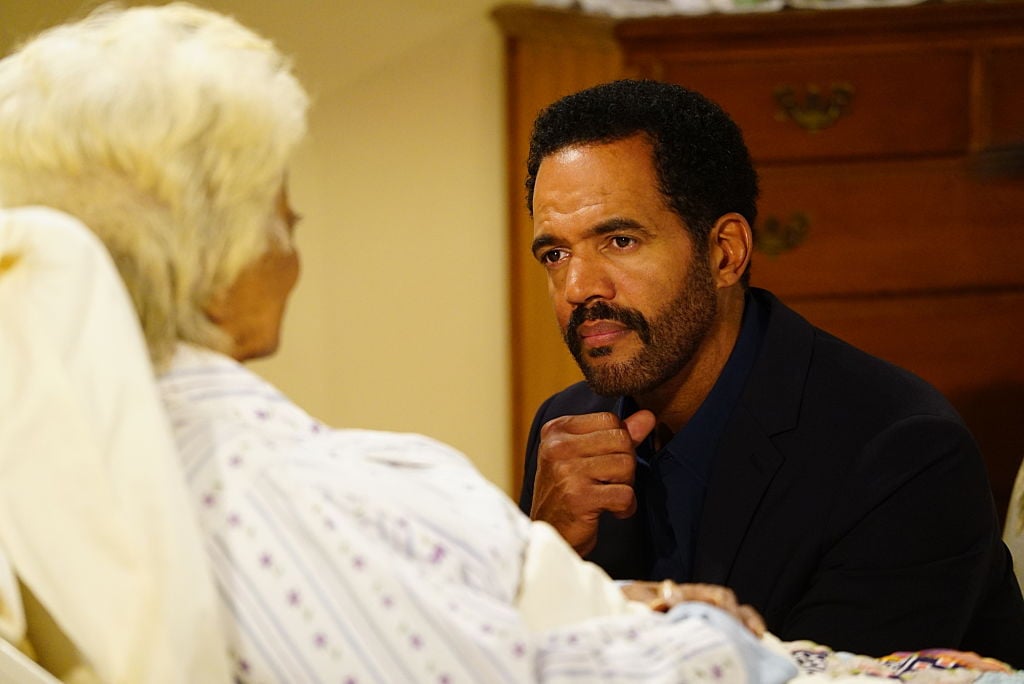 While The Young and the Restless is what Kristoff St. John became most known for, the star had an onslaught of roles before landing the iconic daytime soap role.
Since 1975, Kristoff took on projects like Happy Days, Roots: The Next Generations, The Bad News Bears TV series and more. Kristoff appeared in dozens of movies and TV shows, but it's his iconic role in The Young and the Restless that made him a household name.
In 1991, Kristoff was cast as Jabot cosmetics executive, Neil Winters, in Genoa City. He's had marriage succeed and fail, paternity concerns with his brother, Malcolm (Shemar Moore) over daughter Lily (Christel Khalil), and adopted a son, Devon (Bryton James) (plus so much more).
Throughout 1,742 episodes and 28 years on the show, Kristoff became cemented in The Young and the Restless legacy. Neil Winters died in his sleep during an April 2019 episode. His sudden death, both on the show and in real life, shocked all who knew and loved him, including his ex-wife, Mia St. John.
St. John experienced intense grief before his death
Long before the passing of Kristoff, the actor openly struggled with the loss of his son, Julian, who died Nov. 23, 2014. The 24-year-old was found unresponsive in a Long Beach, California facility, according to earlier reports. The cause of death was ruled an apparent suicide.
"Our son was the light of our lives, an artist with a beautiful mind and spirit." Mia wrote in a statement posted on Sqor Sports at the time. "He fought long and hard against an illness for which there is no cure."
She continued: "Unfortunately, the pain became too great for him and I dare not say he lost the battle – he simply chose to set himself free. My fight for mental health will continue. They may not find a cure in my lifetime, but we can try and prevent the loss of another beautiful soul."
The loss of Julian became too much
Services were held on, what would've been, the day of Julian's 25th birthday. Kristoff was buried next to Julian in Westlake, California.
In the days and weeks before Kristoff's death, he retweeted a post about losing a child that said, per People, "Grieving the loss of a child is a process. It begins on the day your child passes, and ends the day the parent joins them." He commented with the post saying, "Never a truer word was spoke. Thanks for posting this."
Mia previously told People Kristoff "changed drastically" after Julian's death.
"Our son had schizophrenia, both him and Kristoff suffered from addiction. It was a very difficult, and a sometimes painful life. Kristoff was always working on himself, and trying to get better," she said.
"He kind of had like these two separate lives, and not very many people knew about, the darker side. But, that's what I have been trying to speak out about, because I feel like if we don't, then the harder it is for anyone to ever get help."
She continued: "I always felt like I was the one that was struggling the most," she added. "But what I realized later was that wasn't the case, it was just that I was more vocal about it. And Kristoff held it all inside. So like I said, he would just break down and he would go back to drinking and taking pills and that's how he dealt with it. I think that is what lead to the downfall."
Mia struggles with two losses
Mia revealed that conversations prior to the Y&R star's death happened "as he was dying." She said she pleaded with him to hold on. The two spoke on the phone at the time, but she had no way of knowing what would become of Kristoff after.
"He kept saying, 'I just don't want to live anymore, I don't want to live anymore,'" she said. "All of a sudden he says, 'One second, one second, Mia, Julian's at the door. Julian's here.' And I started screaming, 'No!' Julian wants to see you but not today, this is not the day! And I start to panic. And he said, 'It's okay, it's okay, we're just going for a walk.'"
She added that looking back, "the timeline of when he passed and when the paramedics got there — I believe he was already dying while we were on the phone."
Those haunting moments are forever ingrained in Mia, but she's speaking out in memory of Kristoff and Julian, and also for those living with the pain of loss just like her.
Mia paid tribute on Instagram, opening up about her own struggles
One year after Kristoff's death, Mia took to Instagram to honor the late actor.
"I've died twice in my life already," she captioned the series of photos. "The day my son passed and the day #superbowlsunday last year when his father passed2020 will be my rebirth For them and all the others that continue to suffer #mentalillness #addiction #depression #anxiety #ptsd awareness ."
She and the couple's daughter, Paris, held a private vigil that evening.
"Paris's vigil tonight for her dad at his old home," she captioned a memorial photo. "One year ago today on #superbowl he left this dimension He loved football so much and was looking forward to watching the game that day with his good friend [filmmaker Marc Clebanoff]. He passed before that would happen."
Her mission is to prevent others from going through similar experiences
Mia is speaking out about mental health awareness after enduring her own hospitalization twice over following Kristoff's death.
"I'm out of the hospital. I'm sorry if I scared anyone," she wrote. "Let's plz focus on the wellness of his precious girls Lols & Paris. They love their father so much, the beautiful, loving, funny soul that he was/is," she continued. "#MentalHealth is all we have, nothing else is important."
She continued: "Never be ashamed because every one of us suffers from some mental health issue," she said. "I'm not going to stop talking about it. I'm going to continue to fight in the honor of my boys that I lost."
After losing 30 years of sobriety following Kristoff's death, Mia's working on her grief from the inside out. She received a new 30-days of sobriety chip in Sept. 2019. She captioned the photo, It was nothing short of a miracle and I hang on to this for dear life. By the grace of this almighty universe, I am #sober For those that are still suffering, my [heart emoji] is with you #NeverGiveUp."
Currently, Mia's fighting for mental health reform, where she documented her experiences in a tell-all book, Fight For My Life, so no other loved one has to go through the pain she, Kristoff, and Kristoff's children have.
How to get help: In the U.S., call the National Suicide Prevention Lifeline at 1-800-273-8255. Or text HOME to 741-741 to connect with a trained crisis counselor at the free Crisis Text Line.