'KUWTK' Fan Theory: Kim Kardashian is Jealous That She's No Longer the Beautiful Sister
Even people who don't follow the Kardashians know that Kim and Kourtney Kardashian are fighting. Their rocky relationship was in the news a lot, even before an episode of Keeping Up with the Kardashians revealed that their fight got physical.
Hardcore fans have seen the whole thing play out on TV, social media, and in the tabloids. They have their own theories about Kim and Kourtney's relationship.
Kim Kardashian and her sister Kourtney Kardashian are fighting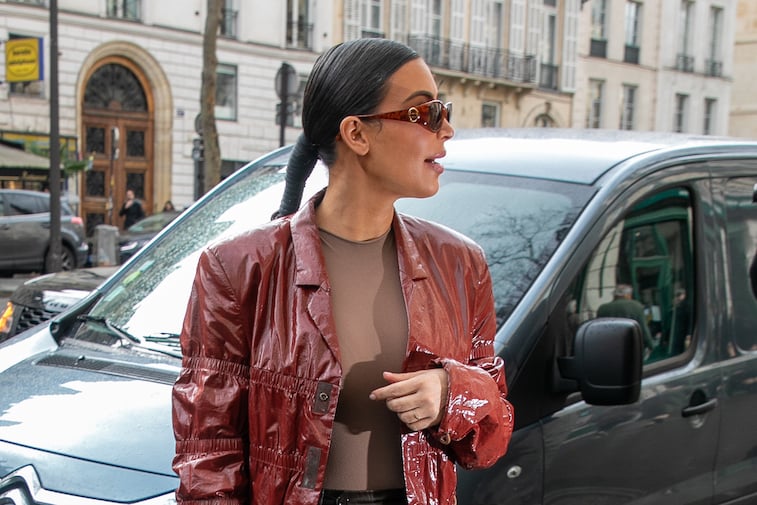 Kim has blown up at Kourtney before. She said some hurtful things a few years ago while trying to schedule a photo shoot for the annual Kardashian Christmas card. She famously said her sister is "the most boring," as well as other hurtful things. 
It turns out the Christmas card fight was a precursor for what was to come. Kim and Kourtney are involved in a much bigger feud. Kourtney had cut back on filming for KUWTK, which is infuriating Kim.
Both sides have a point. Kourtney is contractually obligated to film for the show, and it must be frustrating for Kim when she doesn't pull her weight. Kim is very hard working, and it makes her angry that her older sister doesn't have the same drive.
For Kourtney's part, the show was never really her project the way it was Kim's. Now Kourtney is tired of all the intrusion in her life, and she wants to take time off to be with her family.
However, fans think that this fight might not be about the show at all. There's another theory out there about why Kim is angry at Kourtney.
Do the Mexico pictures have something to do with it?
Back in 2017, Kim and Kourtney were photographed together on a beach in Mexico. Kim is younger, and more famous than her older sister, but a lot of people thought that Kourtney looked better in the Mexico beach pictures.
Fans think that was a turning point for Kim. When the show started filming, Kim was the de-facto star. She was always hailed as the most beautiful. If anything, Kourtney was an afterthought on the show. Her main storyline revolved around her on-again, off-again relationship with Scott Disick. 
Now, Kourtney is praised as the more naturally beautiful sister, while Kim is plagued by rumors of plastic surgery.
Fans think Kim Kardashian overdid it with surgery
Kim has always been tight-lipped about getting plastic surgery. She and her sisters are famous for denying that they've had work done. Fans are pretty sure that they've all gone under the knife. The only one to admit it has been Kourtney, who owned up to getting a boob job. 
It's possible that Kourtney hasn't had any other surgeries. That may be why she looks more natural, while Kim looks overworked. She's still beautiful, but her face doesn't quite look the way she did when she was younger.
Fans think that Kim has been jealous of Kourtney ever since the Mexico pictures. One of their theories is that all the current drama is really a byproduct of that jealousy.
Fans also think that Kim is jealous of Kourtney's relationships. Kourtney is single and seemingly loving it. Kim is married to Kanye West, but recent episodes make it seem like their relationship is more strained than Kim would like to admit. Last season, Kanye blew up at Kim for wearing a tight dress to the Met Gala.
Fans think that Kim and Khloe are both jealous of Kourtney's relationship status, and that's what's driven a wedge between them. The theory makes sense. Kourtney used to be the one with the rocky relationship. Now that she and Disick are co-parenting happily, Kim and Khloe are finding reasons to attack Kourtney.