'KUWTK' Fans Think Kim Kardashian Ignored Red Flags with Kanye West
The saga of Kim Kardashian's relationship with Kanye West has consumed entertainment news for nearly a decade now.
From their start out of the ashes of Kim's infamous 72-day marriage to Kris Humphries, to their lavish wedding, to their children, architectural choices, and recent divorce, fans have been fascinated by this romance between two of the biggest celebrities on the planet. However, not every fan had the same rosy view of the two at the beginning. Even some of the people who otherwise liked West and the Kardashians saw some things in the relationship that made them skeptical, and perhaps led them to predict the divorce that would come in 2021. What made these fans so skeptical?
Kim Kardashian and Kanye West made headlines as "Kimye"
In 2012, rapper Kanye West and socialite Kim Kardashian started dating. By 2013 they were engaged and already had their first child, daughter North West, and in 2014 they married in a glamorous Florence ceremony. Even before they were together, West and Kardashian were some of the biggest names in celebrity culture, and their marriage compounded their fame. They had three more children together: Saint, Chicago, and Psalm West, and Kardashian was open about the health issues she faced with these pregnancies.
The couple's minimalist-designed home in Calabasas was also frequently featured in profiles, and at times Kardashian seemed like West's muse. She stood with him through several controversies, and West frequently featured on Keeping Up With the Kardashians. For nearly a decade, the two seemed indestructible.
The couple officially separated following several controversies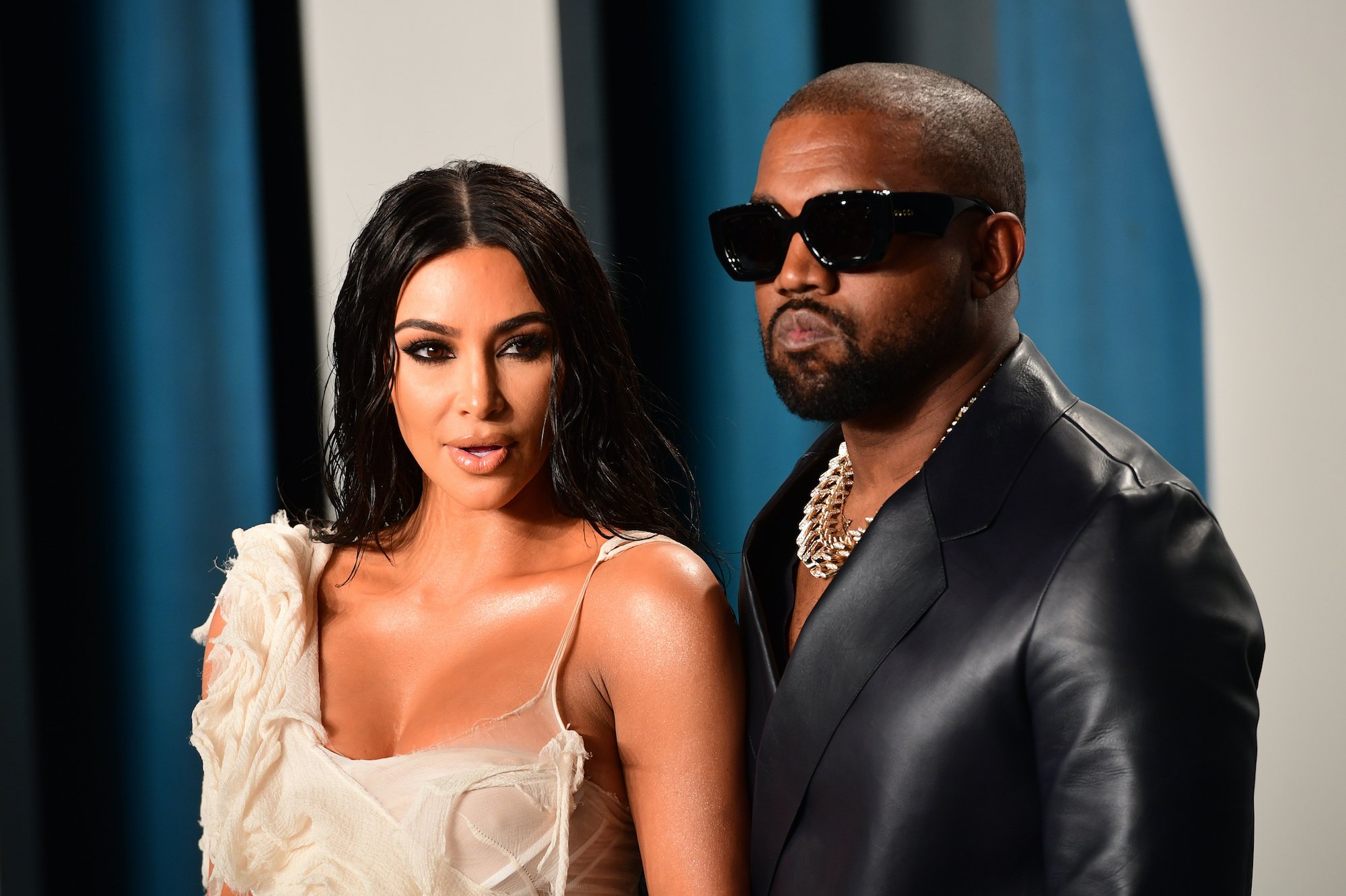 Both Kardashian and West have dealt with controversy throughout their time in the public eye. However, West's controversies in recent years have been especially intense, and much more political. In 2018 he confirmed his support for hardline right-wing figures, including commentator Candace Owens and then-president Donald Trump. This earned him a lot of criticism, but West went further with his turn to evangelical Christianity and his own run for president in 2020. This coincided with erratic behavior, especially on West's social media, and West also began making claims that the Kardashian family were conspiring against him.
During this time, it seemed as if Kim Kardashian was staying with him. However, by the end of the year, it was clear that this relationship could not last much longer. In January, 2021, the world learned that Kardashian was in fact going to divorce West, and by April, the two had reached agreements regarding alimony and custody. The saga of Kimye was officially over.
Some fans thought Kanye was problematic from the start
On the Kardashian fan subreddit, many fans expressed their sympathy for Kardashian. After all, West's erratic behavior has to have taken a toll on her, while Kardashian herself has been relatively quiet. Many pointed out the controversies of the past few years, describing him as having "jumped off the deep end" and asking "what else is there for [Kardashian] to do?" Others expressed a longer-lasting skepticism, however. One asked:
Do you guys think they would have gotten married if Kim hadn't become pregnant? Or would this have been another one of her semi-long term relationships that eventually ended? I kind of always felt like Kim's endgame goal was to get married and have kids specially with Kanye
Another fan noticed that this behavior perhaps follows a pattern of red flags:
I think she ignored all the red flags from the beginning. The control. The God/Jesus complex. His debt. Then add all of the other shit. I think she lost herself and the only distractions were her businesses and other endeavors.
This comment received support in the subreddit. Perhaps it's a good thing that fans are identifying these red flags, as red flags like these aren't necessarily unique to celebrity relationships. While none of us can know the exact dynamics of the relationship, what we have seen clearly gave some fans trepidation.