'KUWTK': How Did Khloé Kardashian and Her Best Friend, Malika Haqq, Meet?
Khloé Kardashian has been through a lot in her life. She lost her father at a young age; her family got a reality show and she was thrust into the spotlight as the "heavy" sister; she married Lamar Odom, only to have his unfaithfulness and addiction break them apart; she had a baby with Tristan Thompson, who cheated twice — the list goes on. But through everything, Kardashian has continued to stand on her own two feet, though she leaned a lot on her family and one best friend: Malika Haqq. Kardashian and Haqq have been to hell and back together. Here's how they met and formed such a close bond.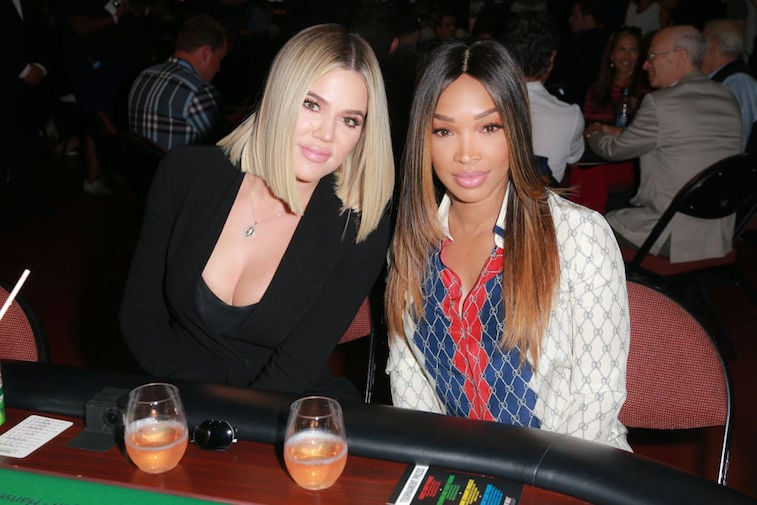 Kardashian and Haqq first met when Haqq dated Kardashian's friend
Since Keeping Up With the Kardashians premiered back in 2007, Haqq has been Kardashian's right-hand woman. It turns out, the two have known each other for more than 20 years. They met somewhere around 1999 (it's unclear exactly when) after Haqq started dating one of Kardashian's close male friends. Kardashian wrote on her blog that once she met Haqq (and her twin sister, Kadijah), it was the start of a friendship they both knew would be forever. Although Haqq's relationship didn't last, her friendship with Kardashian clearly did.
They've helped each other through incredibly hard times
Since becoming close friends, Kardashian and Haqq have been through it all. Haqq was there when Kardashian's father died back in 2003. She's also been there for Kardashian through all of the drama that has occurred between her and her first husband, Lamar Odom, and her baby girl's father, Tristan Thompson. Kardashian and Odom finalized their divorce in 2016 after Odom admitted to cheating on her and having problems with drug addiction. When Tristan Thompson was caught cheating on Kardashian twice, Haqq was still by her side. And back in 2015, Haqq's ex-boyfriend was murdered in an apparent drive-by shooting; it was hard for Haqq to handle, but Kardashian helped her through it.   
They've done professional business together as well
When Kardashian first started her rise to fame after KUWTK premiered, Haqq agreed to be her personal assistant. Haqq worked for Kardashian for several years before leaving the position in 2012, though there were reportedly no hard feelings about the professional split. The two then collaborated on a makeup line. The line, known as Becca BFFS, launched back in January 2019. Kardashian said that neither of them "come from a place of ego," which made working together go extremely smoothly.
Kardashian said she'd be nowhere without her best friend
Anyone with any sort of fame knows that Instagram trolls can be relentless. And though Haqq doesn't get a ton of criticism on Instagram, she's still subjected to it just like anyone else. When a troll suggested she'd be nowhere without Kardashian, Kardashian actually chimed in to say that she's the one who would be nowhere without Haqq. "Fame is fleeting. Malika is not," Kardashian added in the comment. It's clear these women are thick as thieves and will truly be friends forever.