'KUWTK': Khloé Kardashian Cheers Up Kim Kardashian West by Grilling Kourtney About Her Sex Life
When Kim Kardashian West required a bit of a distraction from her real-life drama with husband Kanye West, her sisters were there for her, the latest Keeping Up With the Kardashians teaser shows. In fact, Kourtney graciously gave one up for the team by allowing Khloé to grill her about her sex life just to cheer Kim up.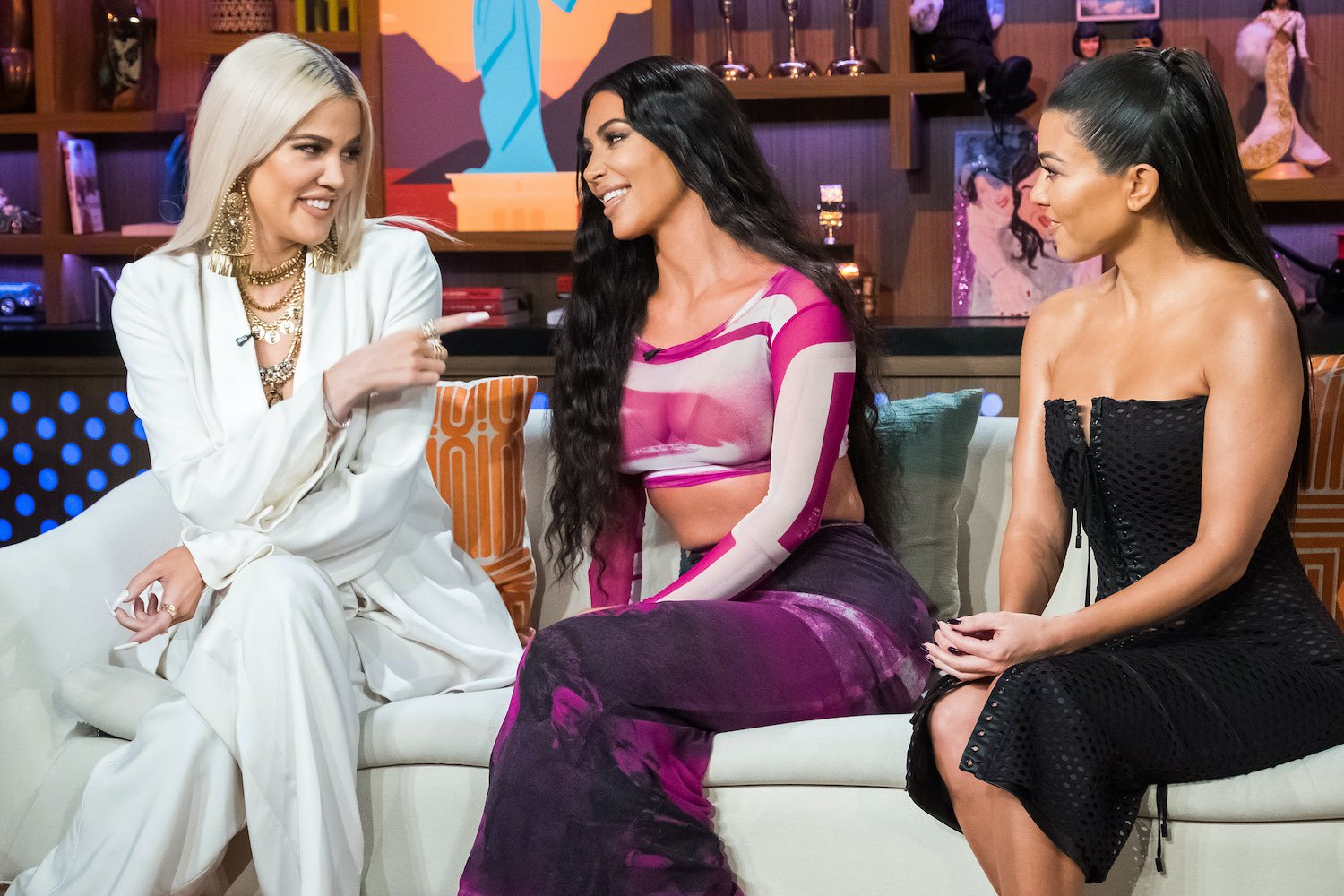 The Kardashian sisters hangout to cheer up Kim Kardashian West
While hanging at their Malibu vacation home to have some girl time together, Kourtney and Khloé planned a night for their sister. It's just what Kim needed.
"We're going to have a romantic dinner outside," Khloé explained and Kourtney added, "This is a chill night just for your enjoyment."
"Just the three of us," they added.
In a confessional, Kim shared how much she needed the distraction. "It's really sweet that my sisters planned this little getaway night just to hang out and escape reality for two seconds," she explained. "There's so many f*cking stressful things going on that I needed this the most."
The sisters questioned Kourtney about her love life
While eating their dinner outside, Khloé began asking Kourtney about her love life. "Are you dating anyone?" she asked.
"No, who would I be dating?" Kourtney answered.
Khloé followed up by asking, "Do you want to date anyone?" and Kourtney assured her, "I don't. I really don't."
Khloé wasn't done with the line of questioning, however, asking Kourtney how many people DM her. The answer? "Hundreds."
Kim said it would be entertaining to dig into those DMs. "We can get drunk and go through your DMs. That's like the most fun," she told her sister.
Khloé also wondered, "Do you still talk to what's his name?" and Kourtney answered, "No. Never."
When Khloé asked, "Do you look back and think he might have been a little negative for you?" Kourtney said, "Yeah. He'll text me once and a while."
In her confessional, Khloé shared more about the sisterly conversation, "It's our job to distract Kim and take away all of her worries for the night, so if that means me going after Kourtney's sex life a little bit, she's going to have to take one for the team," she shared. "Kim lives for the gossip and we're here to make Kim happy."
Kris Jenner gave a Kim Kardashian update
Mom Kris Jenner provided the latest Kim Kardashian West update after she filed for divorce from Kanye West.
During the March 25 episode of The Ellen DeGeneres Show, Jenner shared, "Kim's good. She's good. She's really really busy, working on all of her different projects that she's doing, and I don't know how she does it, with all [my] grandbabies. She's got a lot of energy, that kid." 
"She's so focused and she's so, like, she's just passionate about the whole thing and everything she stands for, and I see her studying… it's in her schedule every single day, when I get all the schedules for the kids," Kris continued.
"Her study time is all blocked out, so nothing else can get in the way. I'm so proud of her," she added.