'KUWTK': Khloé Kardashian Says She and Tristan Thompson Watched Season 18 Premiere Together and Fans Aren't Having It
Khloé Kardashian said during a live tweet on March 26, 2020, she watched the Season 18 premiere of 'Keeping Up with the Kardashians' alongside her ex, Tristan Thompson. Fans tweeted their reactions, saying they didn't want them to get back together. Others liked that they were making co-parenting work.
New episodes of Keeping Up with the Kardashians (KUWTK) are back! That means more drama from the Kardashian-Jenner family both on and off-screen.
The latest turn of events happened when Season 18 of the reality series debuted on March 26, 2020. Like many times before, Khloé Kardashian live tweeted the episode. Except this time, the 35-year-old host of Revenge Body shared she and her ex, NBA player Tristan Thompson, watched the Season 18 premiere together. Fans, of course, were quick to voice their concerns on Twitter. 
Their breakup played out in 'KUWTK' Season 17
KUWTK viewers remember the drama from Season 17 that involved Thompson's infidelity playing out on-screen. It included photos of the 29-year-old with other women and a majorly publicized kiss with Jordyn Woods, a former family friend and Kylie Jenner's one-time best friend.
In the wake of their painful breakup, audiences have seen how Kardashian and Thompson have put their differences aside to focus on co-parenting their one-year-old daughter, True Thompson.
Fans don't like that Khloé Kardashian watched 'KUWTK' with Tristan Thompson: 'This man no'
Watching the March 26 episode, Kardashian shared a tweet with her 27.8 million followers about Thompson watching the premiere with her and learning what her family says about him. 
"I love that tristan is watching this premiere with me and he is now seeing what they say when he's not around lol AWKWARD!! #KUWTK," Kardashian tweeted. 
What the Good American founder probably meant as light-hearted, had fans replying with messages of concern.
"Girl i thought we went over this," one person tweeted in response. "Oh no khloe!!! this man no #KUWTK,"  read another reply. "Is she serious," another said. 
Others asked if Woods had been welcomed back in the family too.
"Is Jordyn back in the family too .. I mean if you can forgive him and welcome him back with open arms then I'm sure she's welcomed back as well," one person tweeted before adding, "How adorably toxic this all is. You're raising True to think it's ok to let a man cheat on her and take him back cuz mommy allowed it."
While many felt Kardashian watching KUWTK with Thompson had been a bad move, others were fine with it.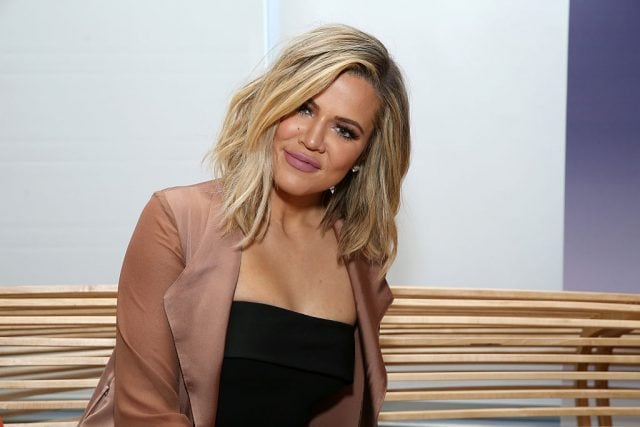 "Your happiness and bringing stability to True is what matters," one person tweeted. Another said they "could have all been watching it together as a family," adding "they're gonna have to do activities together."
Khloé Kardashian says Tristan Thompson 'visits to see his daughter'
According to reports, Kardashian and Thompson have been quarantining together during the Coronavirus pandemic, which means they may have watched the show simply because they were in the same house. However, during the live tweet in response to a fan, Kardashian said Thompson "visits to see his daughter."
Food God aka Jonathan Cheban, tweeted Kardashian he had a "great dinner" with Thompson. So, while Thompson may not be staying at Kardashian's house right now, he stops by to spend time with True and sticks around for dinner and KUWTK. 
Throughout the rest of the live tweet, Kardashian responded to fans' comments about putting past grievances aside to focus on coparenting True, suggesting that watching KUWTK together didn't mean she and Thompson were on their way to being a couple once again.
No matter what the status of Kardashian's relationship with Thompson, we'll have to watch KUWTK to see how they've come to a place where they can spend together sans drama.
KUWTK airs Thursday nights on E! at 8 p.m. EST.