'KUWTK': Kim Kardashian West Once Said Caitlyn Jenner's Transition Had Been 'the Most Difficult Thing' to Film
Keeping Up with the Kardashians is a reality TV mainstay. It has been ever since it first aired in 2007. After 18 seasons, fans of the reality series have seen the Kardashian-Jenner family through sibling drama, breakups, marriages, and pregnancies. But among the hours and hours of footage the family's filmed for the program, Kim Kardashian West says the most challenging time to be in front of the camera came when Caitlyn Jenner opened up about her transition.
Caitlyn Jenner publicly announced her transition in April 2015
In April 2015, during a 20/20 interview with Diane Sawyer, Jenner (formerly Bruce Jenner) announced she identified as a woman. 
"For all intents and purposes I'm a woman," she told Sawyer. 
RELATED: The 1 Thing That's Keeping Khloé Kardashian from Lashing Out at Caitlyn Jenner
She continued, saying she needed to be true to herself and stop living a lie as Bruce. 
"My brain is much more female than it is male," Jenner said. "It's hard for people to understand that, but that's what my soul is."
Her interview took place a year after she and Kris Jenner finalized their divorce. It also acted as a precursor to a KUWTK two-part special all about her transition and the Kardashian-Jenner family's reaction.
Her transition aired on 'KUWTK' in May 2015
The KUWTK special all about Jenner's transition originally debuted in May 2015 and spanned four hours. The episodes involved conversations with nearly every member of the Kardashian-Jenner family.
RELATED: What Caitlyn Jenner's Family Really Thinks of Her
Jenner sat down with Kendall and Kylie Jenner, the daughters she shares with her ex-wife, Kris. She also talked with Kardashian West and Khloé Kardashian. Needless to say, the conversations were at times tense.
Kim Kardashian West says it had been difficult watching her family have 'such a hard time'
During a 2017 interview with The Hollywood Reporter, Kris and her daughters reflected on a decade of the reality series. They touched on what it had been like to film private family moments, namely Jenner's transition. Kardashian West recalled it being a particularly challenging experience. 
"The most difficult thing [to film] was probably Caitlyn's transition and just seeing my mom and Khloé having such a hard time," she said.
The mother of four continued, saying her sister's response to Jenner's news had to be edited, something that hadn't been done previously. 
"We never really edited content before, but we did edit a bit of Khloé's reaction just because she was so upset," Kardashian West said.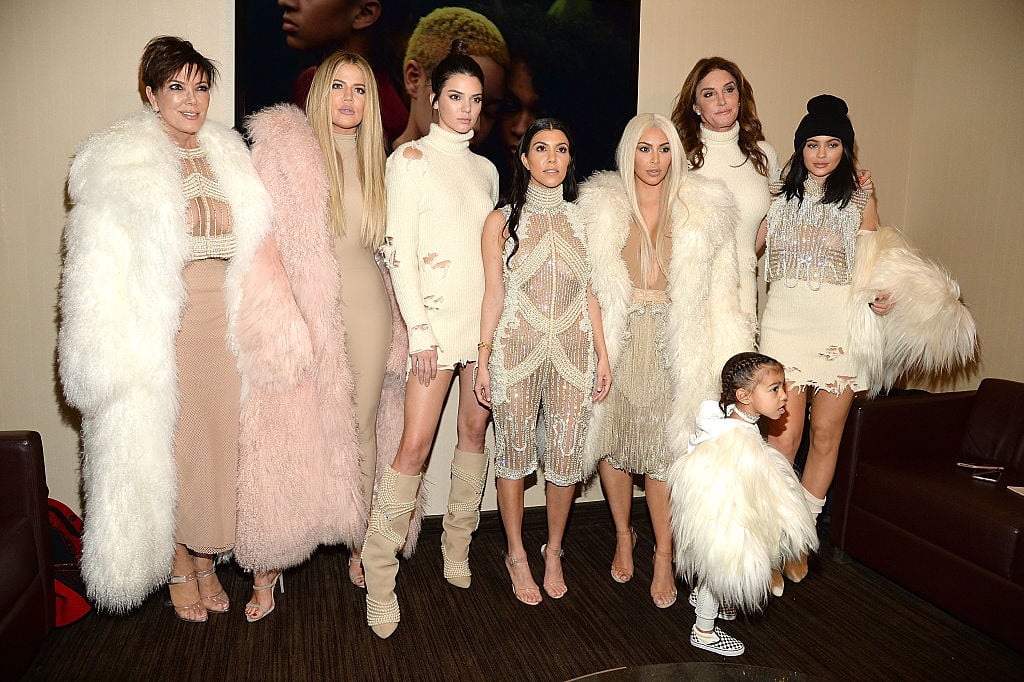 RELATED: Here's What Caitlyn Jenner Is Doing to 'Gain Respect' From the Kardashians
At the time, Khloé had been upset with Jenner because she felt blindsided by the news. The founder of Good American later said she found out from producers at E! about Jenner's transition. So, when the two had their talk in front of KUWTK cameras Khloé had a lot to say. 
In the same interview with The Hollywood Reporter, Khloé explained her behavior. She asked Jenner so many questions had been because she kept thinking in the back of her mind "this needed to be a four-hour episode." But also, Khloé wanted to get it all out there. 
"This is so real, and I want to ask every question I have, but also I want honest answers," she said. 
Today, Jenner's relationships with Kris, Kardashian West, and Khloé are strained. After Jenner transitioned she made controversial statements in her memoir that led to feuds. Since then, things have been rocky for the family.
RELATED: 'Keeping Up with the Kardashians': 11 Spinoffs and How to Watch Them