'KUWTK': Kris Jenner Wants Kourtney Kardashian and Scott Disick to 'Grow Old' Together
Kourtney Kardashian and Scott Disick were in an on-and-off relationship for many years. The two of them have since broken up, but onlookers still wonder if they will ever get back together again. 
It seems Kardashian's mother, Kris Jenner, is still holding out hope that Kardashian and Disick will reunite one day. In fact, Jenner recently admitted she wants Kardashian and Disick to "grow old" together.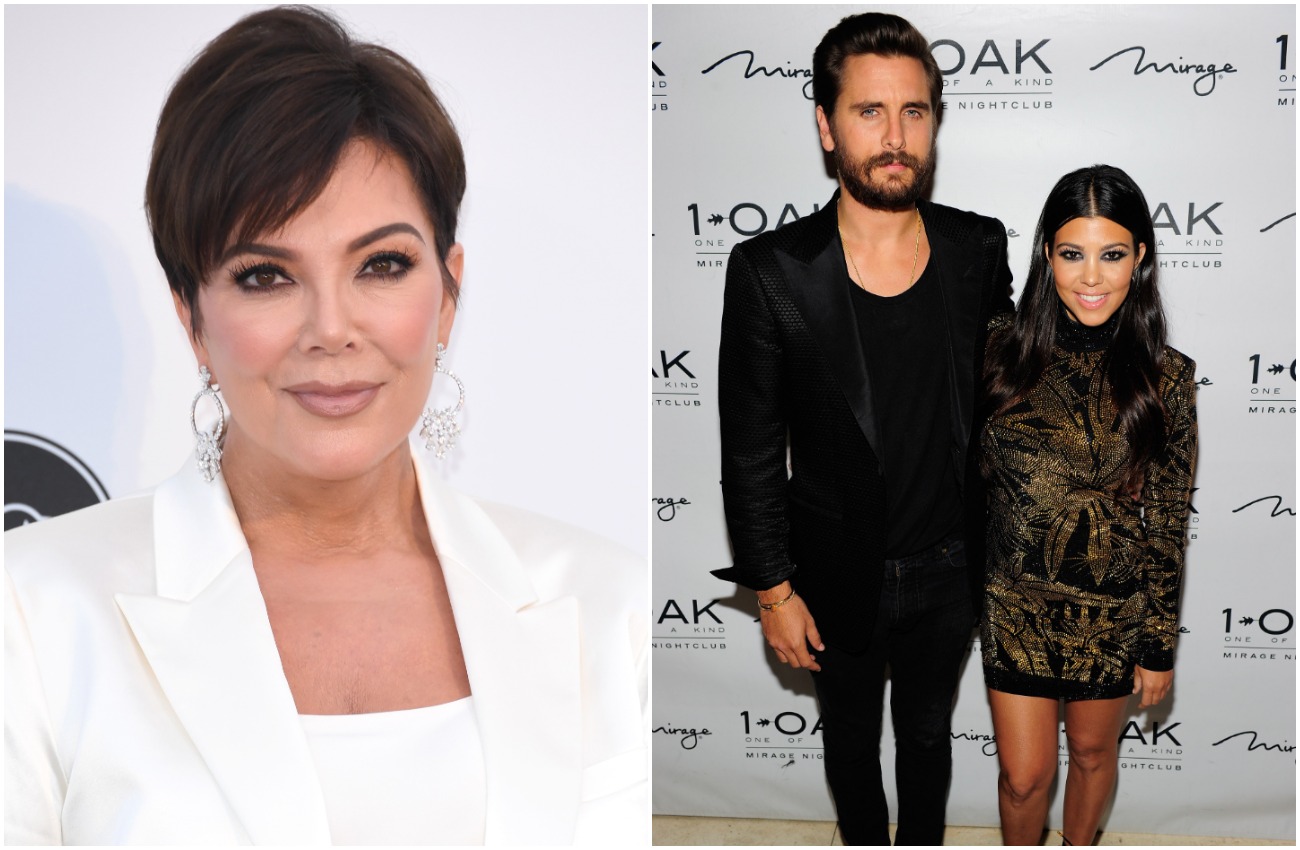 Kourtney Kardashian and Scott Disick are still close after their breakup
Kardashian and Disick may be broken up, but they are still close. For one thing, they have three kids together and are co-parenting.
Additionally, after spending years with the Kardashian-Jenner family, Disick has become an honorary member of the famous clan. He still appears on Keeping Up With the Kardashians regularly and continues to be close with Kardashian's siblings.
Kris Jenner wants Kourtney Kardashian and Scott Disick to 'grow old' together
Kardashian and Disick still see each other often, so it's not surprising that many onlookers wonder if they will reconcile. Even Kardashian's own family members wonder this as well.
In a new teaser clip for KUWTK, Jenner asks Kardashian about her future with Disick after the two women looked at an old picture of Kardashian and Disick together.
"Listen, there's nothing that I would love more than to see you live your life and grow old with someone, be happy and content and peaceful," Jenner tells her daughter. "And it would always be so fabulous if it was the dad of your children, you know?"
Kardashian responds, "Wouldn't that be a dream?"
Jenner continues, "He fits well with all of us because we've all been around each other for so long. I think at this stage, from what he tells me, he would love for it to be you and him."
However, Kardashian doesn't seem to be into the conversation. He tells Jenner that Disick is "a talker" and shares with viewers that it's "frustrating" whenever her family members bring up the idea of her getting back together with Disick.
Nonetheless, Kardashian isn't dismissing the possibility entirely. She tells Jenner, "I don't think we've really given ourselves the time of one of us not being with someone else."
Kourtney Kardashian and Scott Disick are currently dating other people
Kardashian and Disick are both dating other people at the moment, so for now, reconciliation might not be a priority for them.
Kardashian is currently in a relationship with musician Travis Barker. The two of them have been friends for a long time, and they reportedly started dating in early 2021.
Meanwhile, Disick is dating Amelia Hamlin, who is the daughter of actor/reality star Lisa Rinna. Disick and Hamlin's relationship have attracted criticism because of their 18-year age difference. However, the couple seems to continue getting more serious. According to a report from ET in March, they were even planning on moving in together.