'KUWTK': Kylie and Travis' Will They/Won't They Shenanigans Are Getting 'Old,' Fans Complain
While Keeping Up with the Kardashians might have ended, the Kardashian-Jenner family is far from being out of the spotlight. Kylie Jenner, the youngest daughter of the Kardashian-Jenner clan, has been in the spotlight since she was 13-years-old, and it doesn't seem like she is looking to give it up any time soon. Luckily for Kylie, fans can't seem to get enough of her and her three-year-old daughter, Stormi. However, while KUWTK fans love Kylie and Stormi, they seem to be over the on-again, off-again nature of Kylie's relationship with Stormi's father, Travis Scott. Read on to discover more about the Kylie/Travis drama and what fans have to say about it.
Sparks fly between Kylie Jenner and Travis Scott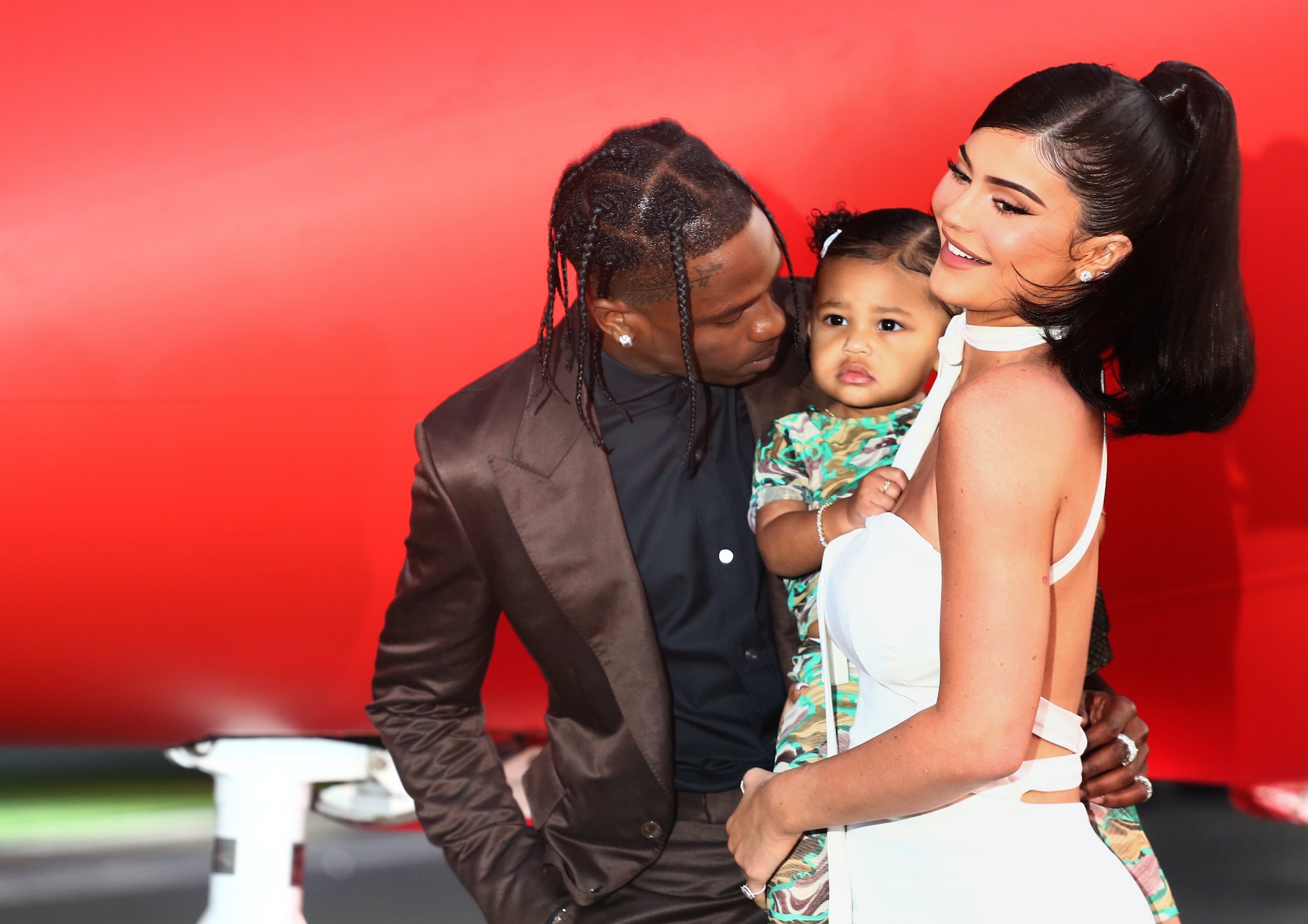 According to Insider, in early 2017, Jenner was still in a relationship with rapper Tyga. The youngest Kardashian-Jenner began dating Tyga sometime during 2014 when she was just 17 years old. Tyga, then 25, already had a 2-year-old son King Stevenson with his former girlfriend, Blac Chyna. The age difference and Tyga's son certainly complicated their relationship. However, things became increasingly complicated for Tyga and Jenner when her brother, Rob Kardashian, began dating Tyga's ex, Blac Chyna. Rob and Chyna began dating in January 2016, and in November 2016, they welcomed their daughter, Dream Kardashian, into the world.
This whole situation was quite complicated for the Kardashian-Jenner family, and the complexities seemed to wear heavily on Jenner and Tyga's relationship. By March 2017, a few months after the birth of Rob's daughter with Blac Chyna, Jenner and Tyga officially ended their long-term relationship. After splitting from Tyga, Jenner wasted no time in finding someone new. The following month, she was spotted holding hands with rapper Travis Scott at Coachella. Sparks seemed to fly between Jenner and Scott at Coachella, with Jenner deciding to join Scott on his tour in the months following.
Kylie Jenner, Travis Scott, and baby make three
After ending her three-year relationship with Tyga, Jenner wasted little time moving on and starting a family with someone new. While Travis and Kylie had met before, Coachella was their first official "hang out" together. The pair seemed to hit it off and began dating almost immediately. Just a month after starting their relationship, Jenner fell pregnant in May 2017. The couple's daughter, Stormi Webster, was born on Feb. 1, 2018. At 3 years old, Stormi is now a ball of energy that KUWTK fans can't seem to get enough of.
While fans can't get enough of little Stormi, they have been very vocal about being fed up with the continued Kylie/Travis drama. After first getting together, the couple remained strong for the first two years of their relationship, but things seemed to sour in mid-2019. The couple publicly announced their breakup in October 2019. However, within six months, the couple was spotted out together again. Now, for the last year and a half, Jenner and Scott have been dancing around their relationship status — and KUWTK fans are sick of it.
'KUWTK' fans are tired of the Kylie and Travis relationship drama
A number of disgruntled fans took to Reddit to discuss the saga of Scott and Jenner's relationship. The thread started out by discussing the E! Online article titled "Travis Scott Says He Still Loves 'Wifey' Kylie Jenner as They Attend Gala With Stormi Webster." In response to the article, fans seemed to have mixed reactions. One fan wrote, "This never ending will they won't they deal they got going on is starting to get so old omg."
Another fan took a different stance, writing, "Aw, they look cute together. At the very least, it's nice that they can co-parent and spend time with Stormi together." To this comment, a third fan responded, "I agree! Hopefully, it isn't confusing for her, their back and forth."
While it seems that fans are tired of the will-they-or-won't-they shenanigans, they mostly care that little Stormi doesn't end up getting caught in the crossfire. For now, it seems only time will tell what's next for Kylie and Travis.
Related: 'KUWTK' Fans Share the Advice They Got From the Kardashians That Has Actually Changed Their Lives for the Better