'KUWTK': How Long Was Khloé Kardashian and James Harden Together?
During the Keeping Up With the Kardashians' first-ever reunion, the family will discuss some of the biggest scandals, moments, and relationships from their 20-season run. One of the relationships that occurred on the show was between Khloé Kardashian and James Harden.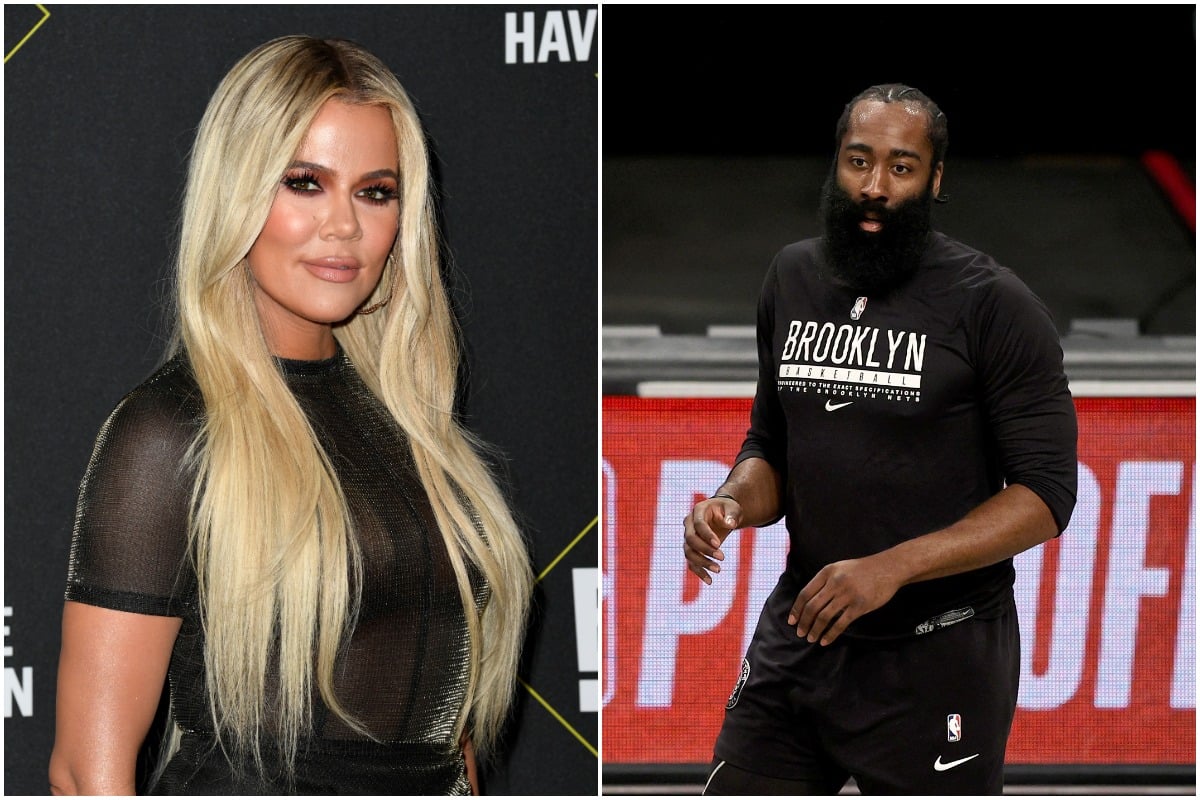 How did Khloé Kardashian meet James Harden?
RELATED: 'KUWTK' Fans Frustrated Khloé Kardashian Won't Leave Tristan Thompson – But Have a Theory About Why
Throughout the years, Kardashian has shared the ups and downs of her love life on KUWTK. In Sept. 2009, she married her first love, Lamar Odom. The pair got married in Los Angeles after knowing each other for 30 days. After a spinoff, Khloé and Lamar, and several business ventures, the couple faced many issues within their marriage. In 2013, Kardashian eventually filed for divorce from Odom, citing "irreconcilable differences."
Amid their split, Kardashian met Harden at Kanye West's birthday party at the Staples Center in 2015. Although the Revenge Body host was still legally married to Odom, she decided to pursue a relationship with Harden. However, the relationship caused a small beef between Kardashian and rapper Trina. In July 2015, shortly after being spotted together, the "Pull Over" artist tweeted "sloppy seconds." Despite the tweet, though, Trina shared with The Breakfast Club that she and Harden were just friends when he started dating Kardashian.
The length James Harden and Khloé Kardashian were together
In addition to Harden and Kardashian's relationship affecting the reality star's social life, they soon faced another blow in Oct. 2015. At the time, Odom had an overdose while visiting a Nevada brothel. Since he and Kardashian were still married, she was in charge of his medical decisions. She also halted the divorce until Odom made a full recovery the following year.
RELATED: 'KUWTK': Khloé Kardashian Keeps Making Awkward Cheating Jokes to Tristan Thompson
While taking care of Odom, Kardashian tried to make her relationship with Harden work. But, unfortunately, the pair broke up in Feb. 2016 after eight months together. On Kardashian's late-night show, Kocktails With Khloé, she opened up about the breakup. According to her, Harden had trouble with being in a "monogamous" relationship, which caused their split via ET.  
"I've always said, 'We don't need to be monogamous,'" Kardashian said. "''There's a lot of s— going on in both of our lives. You live in Houston; I live in LA.  Let's just see each other when we see each other.' Why wouldn't you say, 'OK, that's great'? He sought me out, wanted to be committed, then wasn't committed."
Who are Kardashian and Harden dating now?
Since their breakup, neither Kardashian nor Harden have spoken to each other publicly. However, the Brooklyn Nets player discussed his relationship with the KUWTK star in 2017. In an interview with Sports Illustrated, Harden said he felt like he and Kardashian dated "for no reason." However, he also said the added publicity didn't faze the former Houston Rockets star.
RELATED: Khloé Kardashian Doesn't Care If Someone Cheats on Her But 'Cares When Other People Know'
"I wasn't getting anything out of it except my name out there and my face out there, and I don't need that," Harden quipped. "It wasn't uncomfortable, but it wasn't me."
Following her breakup from Harden, Kardashian accepted a blind date with Tristan Thompson. After their meeting, they dated for two years. In April 2018, the pair welcomed their daughter, True Thompson. However, the couple broke up when Thompson allegedly kissed Jordyn Woods in Feb. 2019. Last year, though, they reunited and were reportedly planning on expanding their family.
Although Harden has allegedly dated many famous women, the athlete rarely speaks on his personal life. But, he defended himself against a rumor from 50 Cent on Instagram. After 50 accused Harden of dating Saweetie, the athlete denied the claims via Instagram Stories.