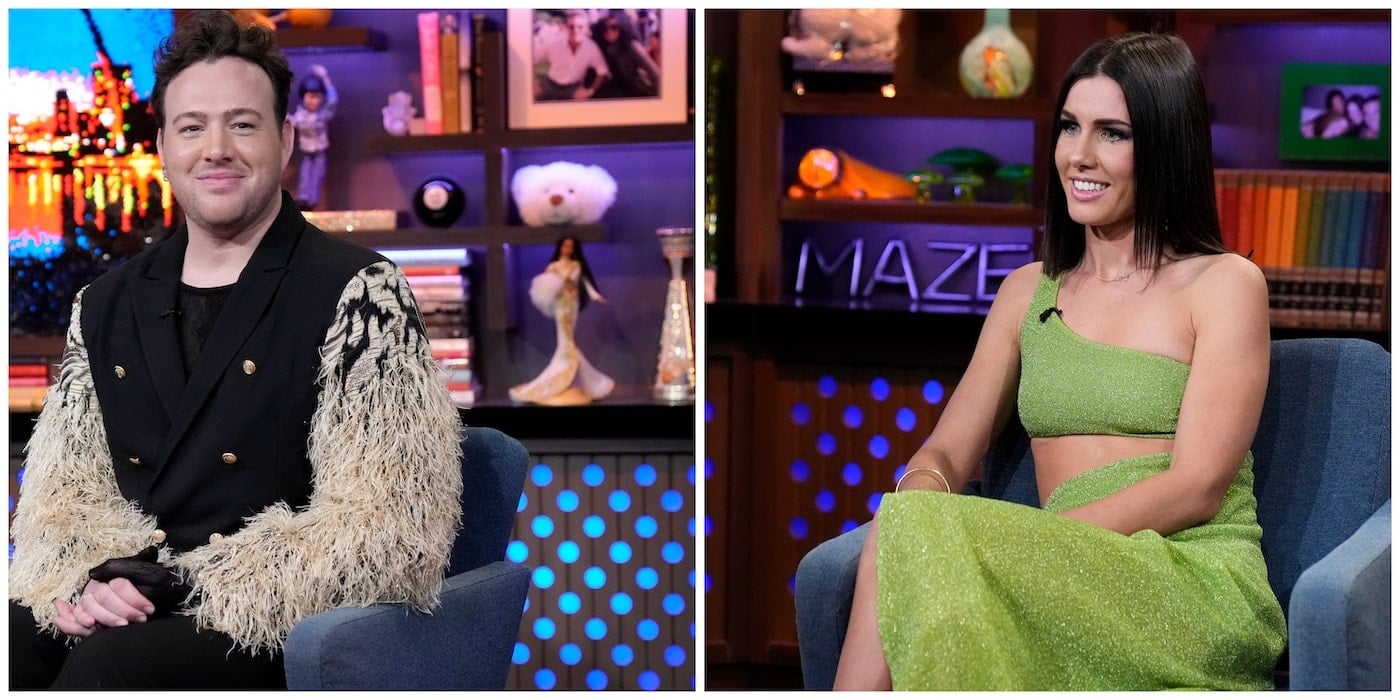 Exclusives / Thanks, I Hate It
Kyle Viljoen and Natalya Scudder Battle on 'Below Deck Med' Season 8? Maybe … [Exclusive]
Natalya Scudder and Kyle Viljoen return to 'Below Deck Med' for season 8, but do they reunite as friends and foes?
Back to besties or sworn enemies? After Below Deck Mediterranean Season 7, stews Natalya Scudder and Kyle Vilojoen's brother-sister relationship cooled considerably and they left with hurt feelings and a little anger toward one another.
Viljoen and Scudder return for Below Deck Med Season 8, which could mean an explosive reunion or a return to the fun, harmonious friendship they began last season.
"I was actually very excited hearing Kyle was coming back and was happy to have a familiar face on board," Scudder told Showbiz Cheat Sheet. "I was dealing with some things in my personal life, so just having someone on board that I feel like I could confide in at the end of the day and kind of have a little bit of a laugh, I was actually very excited for him to come back and to be sharing a cabin. So positive, positive, I felt."
Sharing a cabin this season? Oh boy …
Natasha explained why she and Kyle clashed so often on 'Below Deck Med' Season 7
After Below Deck Med Season 7 wrapped, Viljoen told Showbiz Cheat Sheet he felt as though Scudder didn't put in the effort to get to know him. So he left the boat feeling pretty disappointed.
Scudder explained why she and Viljoen bickered toward the end of the season. "We kind of were laughing at each other on social media as the show was airing last year," she said. "We were like, 'Oh my God, we were so crazy.' But we both, I think, knew in the back of our heads, that we started off really good, but the stress of the season and being so tired, we just kept clashing. Such similar personalities end up clashing quite often."
A good amount of angst stemmed from how often Viljoen would stop working to comfort chief stew, Natasha Webb. Webb's love life problems often left her in tears and, being a good friend, Viljoen would check on her. But that meant that Scudder was left doing most of the work, which didn't sit well with her.
Will the 'Below Deck' stews be allies or foes this season?
Scudder and Viljoen didn't arrive as mortal enemies, but that doesn't mean old habits won't rear their ugly heads. Viljoen arrived on board M/Y Mustique late due to immigration issues. But Scudder said, "We start as brother-sister [type relationship]. I don't want to say much. But at this point, brother-sister."
Some upcoming conflicts may stem from rank (again). Because chief stew Tumi Mhlongo was also held up in immigration, Scudder temporarily stepped into the position. But once Mhlongo and Viljoen arrive, Scudder steps down to second stew.
"Kyle was originally supposed to come in as second," Scudder shared. "I was actually just in Miami, and I got the call from the captain saying, like, can you come, there's a visa issue. So I was on a plane within four hours and on my way over, ready to start the season. Did not know what to expect, had no idea who was going to be on board. I just knew Captain Sandy [Yawn] was going to be there, and that was good enough for me."
Both Viljoen and Scudder are listed as second stews, which was their rank last season. Having rank lines blurred also contributed to some of their problems because Scudder would often create an incredible tablescape but then be relegated to doing cabins during dinner service.
So how does this spicy friendship shake out this season? Below Deck Mediterranean Season 8 begins on Monday, Sept. 25 at 8 p.m. on Bravo.