Kylie Jenner Bought Ex-Bestie Jordyn Woods a $14K Gift
These days, Jordyn Woods' name is most often associated with her brutal and very public fallout from bestie Kylie Jenner. The split was centered around Woods having kissed Khloé Kardashian's then-beau Tristan Thompson. Fans have taken sides, picked apart the conflict, and stood in judgment of both women. It can be hard to remember that there was a time when Woods was like a family member to the Kardashian-Jenner sisters.
In fact, in happier days, Jenner gifted Woods with an impressively expensive token of her friendship.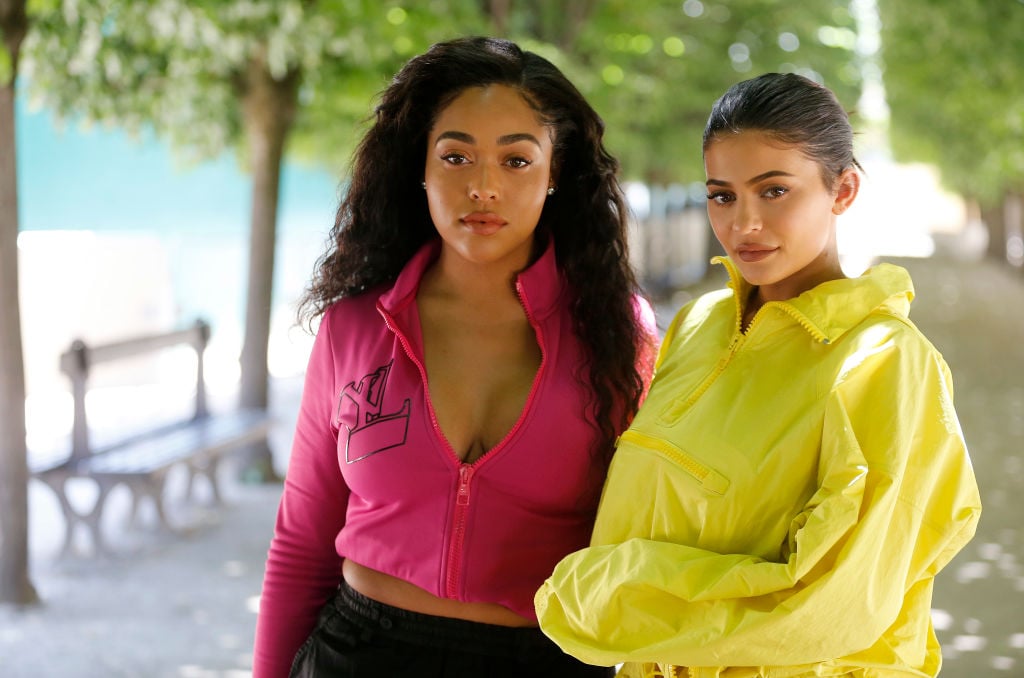 Kylie Jenner and Jordyn Woods were very close
According to Cosmopolitan, Woods and Jenner met in 2012 — the summer before they began high school — through a mutual famous friend, Jaden Smith. They quickly became very close, and Woods even attended Kanye West and Kim Kardashian West's wedding as a guest of Jenner's in 2014. When Jenner launched her lip kits — which were the foundation for her incredibly successful beauty business — she did so with Woods' vocal support. By all accounts, these two young women were building one another up as they entered adulthood.
Woods would even go on to model for Kylie Cosmetics. In 2016, Jenner would return the favor and support Woods' fashion line launch. When Woods appeared on Jenner's reality series Life of Kylie, the pair even got "married" to demonstrate their commitment to one another as friends. "I promise to encourage you, inspire you, love you, through all the good and bad times," Jenner told Woods. They vacationed together, and in June 2018, Jenner revealed that they also lived together.
Things went downhill fast between Kylie Jenner and Jordyn Woods
RELATED: Kylie Jenner Fans Think She Misses 'Her Real Best Friend' After Watching Her Recent Videos
In January of 2019, things still appeared fine between Jenner and Woods. They were even vacationing together again. By the very next month, reports spread that Tristan Thompson had cheated on Khloé Kardashian with Woods. Things went downhill fast. In the midst of the rumors, Woods insisted that Thompson had initiated a kiss and that it went no further, but Kardashian was on the warpath.
In the aftermath, Jenner and Woods stopped speaking. Many fans took Woods' side in the ordeal, noting that Kardashian attempted to destroy Woods' reputation without real evidence that she had done anything wrong. The anger at Kardashian became even more pronounced when she later appeared to take Thompson back, suggesting the scandal wasn't even that serious to her relationship. Many feel that Woods came out on top by breaking from her codependency with Jenner and getting to shine more brightly on her own.
Elaborate gifts were part of the friendship
Back before things turned sour, Jenner and Woods were extremely close, and their lives were quite intertwined. Evidence of just how much they meant to one another shows up in the lavish gifts Jenner gave Woods. For Woods' 18th birthday, Jenner famously gifted her a brand new black Mercedes. That's definitely one of the most over-the-top gifts from the friendship.
However, the very next year Jenner provided Woods with another lavish gift. While it may have been more "subtle" than a brand new luxury car, the $14,600 Cartier Rainbow bracelet still turned a lot of heads, as reported by Marie Claire.
Many wonder if the relationship between Woods and Jenner will ever be repaired. It seems like Kardashian has moved on from the scandal, and both Woods and Jenner have spent time focused on their respective careers. Woods once expressed publicly that she'd like to patch things up, but there are no signs that the pair are back on speaking terms. It may be that all that's left are the memories and the gifts to commemorate a friendship that burned brightly before vanishing forever.