Kylie Jenner's Fans Call Her Out For Dressing Stormi Inappropriately In Recent Photo: [She's] Too Young'
Fans Kylie Jenner's daughter, Stormi, is dressed too adult-like.
Beauty mogul Kylie Jenner loves posting her daughter, Stormi, to social media. And with one of the largest Instagram fan bases in the world, millions of people come across Jenner's photos. While fans often love the content she posts, they recently took issue with Jenner dressing her daughter in an outfit that some saw as far too grown up for a two-year-old.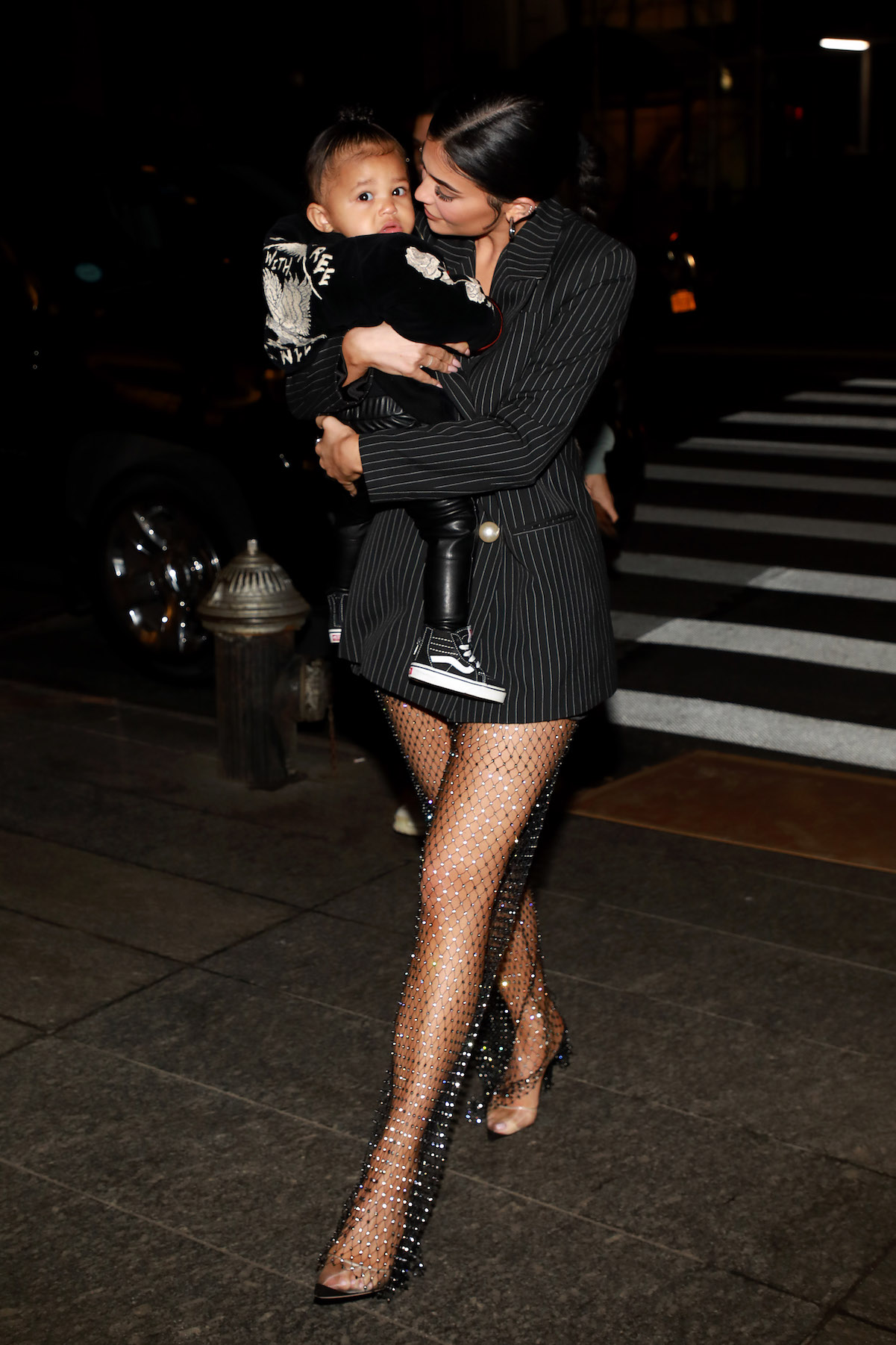 Kylie Jenner's daughter, Stormi, has become a favorite among her fans
When rumors began to swirl that Jenner and her then-boyfriend Travis Scott were having a baby, people weren't sure what to believe. But a few months after the story broke, Jenner introduced her daughter, Stormi Webster, to the world. Since then, Jenner has been showing Stormi off on social media, highlighting her contagious energy and likeable personality — and fans have loved it.
Jenner often records her daughter's sense of adventure and excitement, including playing basketball with Stormi and testing her patience by asking her to wait to eat some M&Ms.
Fans slammed the beauty mogul for the way she dressed her daughter on vacation
Though most people dote on Stormi in the photos and videos Jenner posts, her recent snapshot of the little girl on the beach had some suggesting Jenner was trying to make her daughter look too old. Jenner had dressed Stormi in a bodycon-style dress during their trip to Turks and Caicos; the dress sat tightly on the toddler's body and had some fans questioning Jenner's outfit choice for the little girl.
"Why [is] she dressed like a grown woman [though]," one user asked. "[She's too] young for that dress… But let me mind my business," another person wrote. "I don't like that outfit on a baby," another person added. "It looks like a grown woman's body and a big head," one person said of the photos.
Jenner has come under fire for the way she's raising Stormi
Though Jenner did not respond to any of the negativity in fans' comments, this isn't the first time she's been called out for a decision she's made about her daughter's style. Jenner was slammed by fans for putting gold hoops on the toddler after some suggested they were a hazard. And Stormi's collection of designer handbags has angered some, too. Jenner has photographed her daughter holding expensive accessories, such as Louis Vuitton bags; fans have argued that the money could be better spent somewhere else.
Jenner has learned to tune out her haters
Growing up in the Kardashian-Jenner family leaves plenty of room for criticism. But Jenner, who is the family's youngest child, has learned not to let the negative opinions faze her. Rather, whenever Jenner receives negative feedback, she tends to ignore it.
Though people have called her out for how she's raising Stormi, she hasn't changed her ways. Jenner, who is worth close to $1 billion, has spent upward of $100,000 on each of Stormi's birthday parties, and it doesn't seem like she's near slowing down when it comes to giving her daughter the absolute best.