Kylie Jenner's Friends Are Obsessed With Stormi's New Earrings: 'She's Cooler Than I'll Ever Be'
Kylie Jenner loves giving her daughter, Stormi, anything she wants. After all, Jenner is one of the wealthiest women in the world, and Stormi is the most important person in her life. Jenner loves to show off her daughter's antics on social media, but she's also made it clear that she totally spoils her little girl. And Stormi's earrings are the most recent example of it — but her friends (and fans) were obsessed with Stormi's gold hoops.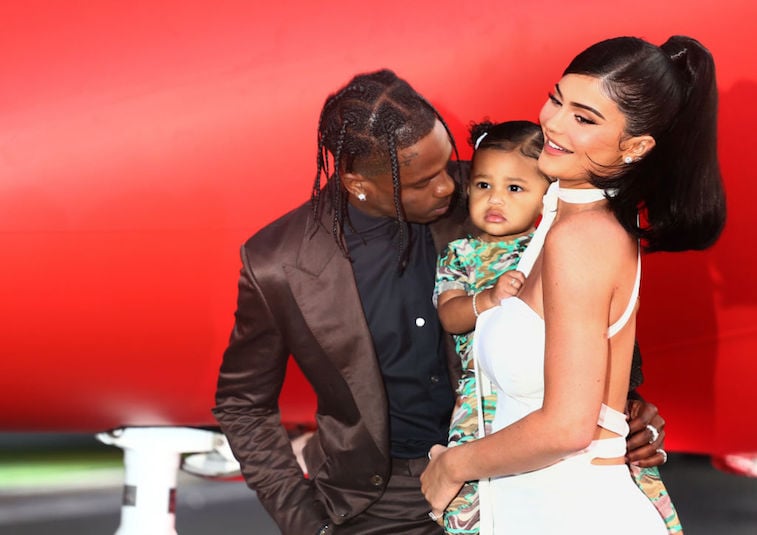 Kylie Jenner loves to post Stormi to social media
Jenner is one of the world's most-followed Instagram users. She launched her account back in the early 2010s, and with more than 162 million followers, she recently passed her older sister, Kim Kardashian West, for the title of most-followed Kardashian-Jenner.
Though Jenner definitely shows off her lifestyle and money on the photo app, she also loves showing off the close bond she shares with her daughter. Jenner posts funny photos and videos of Stormi frequently; her daughter appears to have a lot of spunk.
Her friends were obsessed with Stormi's new earrings
Jenner recently posted a photo slideshow of Stormi's outfit, but the focus was on the little girl's earrings. The gold hoops had a cursive "Stormi" written inside them, and though Jenner didn't reveal how much they cost, they likely weren't cheap, since they were clearly custom made. But when Jenner posted the photo, both her friends and her fans loved the look.
"Yassss earrings," Malika Haqq commented. "She's cooler than I'll ever be," wrestler Danielle Moinet wrote. "The earrings lol bless," designer Hayden Williams added. Fans also loved them, and one called Jenner a "very aware mother" when someone expressed concern about Stormi pulling them out of her ears (an unlikely scenario).
Does Jenner spoil her daughter too much?
Stormi is clearly the light of Jenner's life. The Kylie Cosmetics founder wants nothing more than to give her daughter everything she wants. But does Jenner go too overboard with Stormi's lifestyle? The two-year-old has previously been spotted with Chanel and louis Vuitton bags, and she once asked her mother if she was surprising her with a Birkin. Plus, Jenner always takes Stormi on private jets and clearly has no problem dropping plenty of money on gold hoops for the toddler.
To some, Jenner might seem completely over the top in the treatment of her daughter, but truthfully, Stormi might actually be the one thing keeping Jenner grounded.
Stormi seems to be the best thing to ever happen to Jenner
It's everyone's dream to become a billionaire. But at 22, Jenner was the world's youngest person to do so. And it's easy to get lost in life when you have so much money at such a young age. Though Jenner might spoil her daughter, Stormi is someone else for her to focus on; she's someone else for Jenner to build a future for. If Jenner was walking around with all the money in the world and had nobody to keep her grounded, she could easily drown in all that wealth and completely lose touch.
Though Stormi might not have been planned, she's clearly made a huge impact on Jenner — and in the best way. It's hard to imagine what Jenner would be doing with all that money if she didn't have her little girl to watch out for.