How Kylie Jenner Kept Fans Guessing Over Pregnancy
Reports surfaced on Sept. 22, 2017, that Kylie Jenner was pregnant with her and boyfriend Travis Scott's first child together. However, the reality star didn't confirm the news until after giving birth to her baby girl. Instead, she kept her fans guessing about whether or not the rumors are true.
This prompted Jenner's followers to look for clues that she or her famous family dropped via social media or in interviews, but they didn't make it easy. Here's how Jenner kept fans guessing over her pregnancy.
Jenner posted this cryptic Instagram photo
https://www.instagram.com/p/BZT9rWVl-Dz/
The day before the possible pregnancy news broke, Jenner posted an image to Instagram that her followers didn't think much of at the time. However, after the internet blew up with reports that she was having a girl, this photo really got everyone's attention, speculating if this was Jenner's way of letting her fans know she was pregnant.
Next: Here's what Kim Kardashian had to say about it.
Kim Kardashian tweeted it's fake news
This sounds like a very fake story… https://t.co/ZIxCltgK6d

— Kim Kardashian West (@KimKardashian) September 26, 2017
Just when we thought the pregnancy rumors could actually be true, Jenner's older sister, Kim Kardashian, threw us a curve ball.
Kardashian took to Twitter with a link to a Harper's Bazaar article which again claimed that Jenner was pregnant and detailed how her big sis reacted to the news. Mrs. West tweeted a pretty feisty response to the publication that the story sounded "very fake."
Next: Making appearances on these shows haven't revealed much either.
Mama Kris refused to confirm news
Kris Jenner hasn't been forthcoming at all about if her youngest daughter is expecting either. During an episode of Live with Kelly and Ryan, the Kardashian-Jenner family matriarch texted Ryan Seacrest to say that "Kylie is not confirming anything."
In November, the momager appeared on Ellen DeGeneres' talk show and avoided any questions pertaining to whether the Life of Kylie star is preggers.
Next: Is Kylie just trolling her own fans?
'Nothing's Gonna Hurt You Baby' Snap
Jenner, meanwhile, continued to confuse her many social media followers by posting a video to Snapchat with the song "Nothing's Gonna Hurt You Baby" by Cigarettes After Sex playing in the background. Moreover, she captioned it "BABY" with a winking face emoji.
So, is she trolling us or trying to tell us something?
Next: This is Kylie's excuse for those prego-looking photos.
Kylie claims tabloid pics were Photoshopped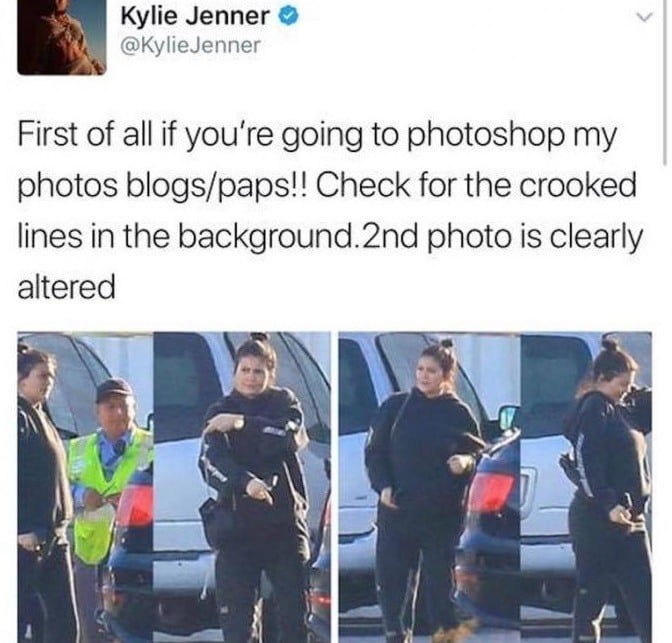 On Nov. 5, some pictures were published by the Daily Mail showing what is supposedly Jenner's baby bump, but the makeup mogul fired back claiming that the images were "Photoshopped."
The X17Online, whose photographer took the pics, then responded to Jenner's with a statement that the photos were in no way altered. "100% REAL! No Photoshop, #nofilter, no additives, no preservatives—all organic and all REAL!"
Next: But her style hasn't changed much, leaving fans to wonder.
She only wears baggy clothes
https://www.instagram.com/p/BZb2LFiF3yI/?hl=en&taken-by=kyliejenner
Although Jenner claimed that the baby bump pics aren't real, there hasn't been an explanation for why she's only been seen in baggy clothes lately. One look at her social media accounts show the reality star in a way we're not used to seeing her: all covered up in oversized sweats.
Next: Is this the biggest clue she isn't really pregnant?
Jenner bought tampons
Probably the most confusing thing of all, and what really threw everyone off, is when Jenner posted on Snapchat her purchases at a convenience store. Some eagle-eyed followers noticed that underneath a pile of junk food was a box of tampons!
So, there could be a few different explanations for this. She could be using them to put on foundation, buying them for someone else, or just keeping us guessing. There's also always the possibility she really isn't pregnant. You decide.
Next: Kylie is missing from this popular photo.
She didn't appear in the Kardashian-Jenner family Christmas card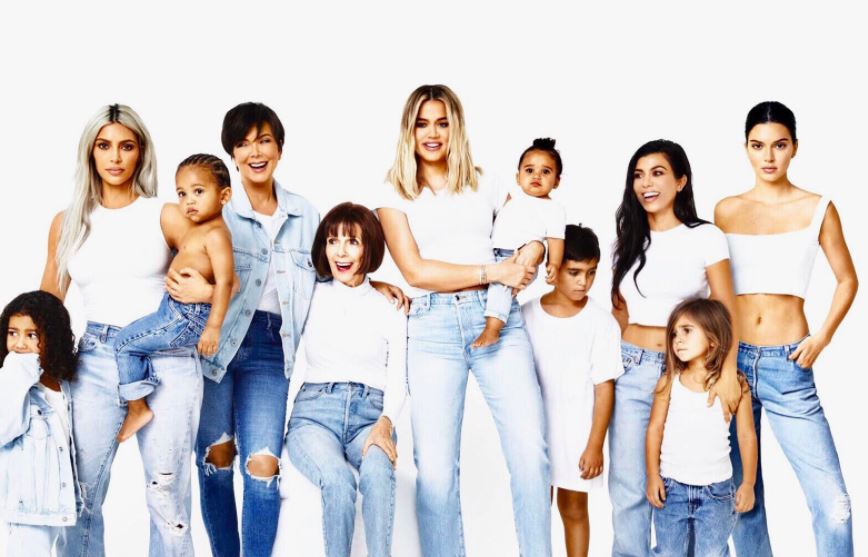 The Kardashians and the Jenners aren't ones to miss a photo opportunity. But Kylie has certainly been laying low — and she kept that going through the holiday season.
Leading up to Christmas Day, Kim and co. shared images from a denim-themed photoshoot on social media featuring many members of the Kardashian-Jenner clan. Notably missing was Kylie herself, which sparked even more conversation about her alleged pregnancy.
Next: She conveniently covered up in this family photo.
She covered up in the Calvin Klein promotional shoot
In January 2018, the first images of the Kardashian and Jenner girls for their new partnership with Calvin Klein appeared. And once again, the jury is out on whether or not Kylie is pregnant.
In every photo in which she appears, Kylie's abdomen is somehow blocked from view. It's worth noting that Khloé, whose pregnancy has been confirmed, isn't showing in the photos either, though Kylie is rumored to be further along than her big sis.
She finally confirmed her pregnancy
After months of speculation, Jenner finally confirmed her pregnancy — after giving birth, that is! The star announced on Feb. 3, 2018, that she had just given birth two days prior on Feb. 1. She took to social media to announce her "beautiful and healthy" baby girl, who at 4:43 p.m. local time and weighed in at 8 pounds, 9 ounces.
She shared the baby's first name and an image
While many suspected Jenner would wait until an episode of a Keeping Up with the Kardashians or another media moment in the future to spill more details, she surprised us. The 20-year-old mom took to her Instagram account just two days after confirming her daughter's birth to share this image.
Accompanied by the simple caption, "stormi webster" and an angel emoji, Jenner appeared to reveal the infant's name alongside a pic showing part of her face and her tiny hand holding on to her mother's (perfectly manicured) thumb. It's simply adorable, but of course, leads to more questions, like "Is 'Stormi' short for something?"
Webster is the legal last name of the child's father, Travis Scott (birth name Jacques Webster).
Additional reporting by Becca Bleznak.
Follow Michelle Kapusta on Twitter @philamichelle.
Check out The Cheat Sheet on Facebook!