Kylie Jenner Critics Feel Bad for Stormi and the Other Kids in Her Family
While millions of people may be obsessed with Kylie Jenner and her sisters, KarJenner fans seem to be even more enamored with her two-year-old daughter, Stormi Webster, and the other kids in her family. In fact, the multi-millionaire and her siblings have only gotten more popular since they have added kids into their fold. But, some critics are already expressing concern and pity about how Stormi and her cousins are treated.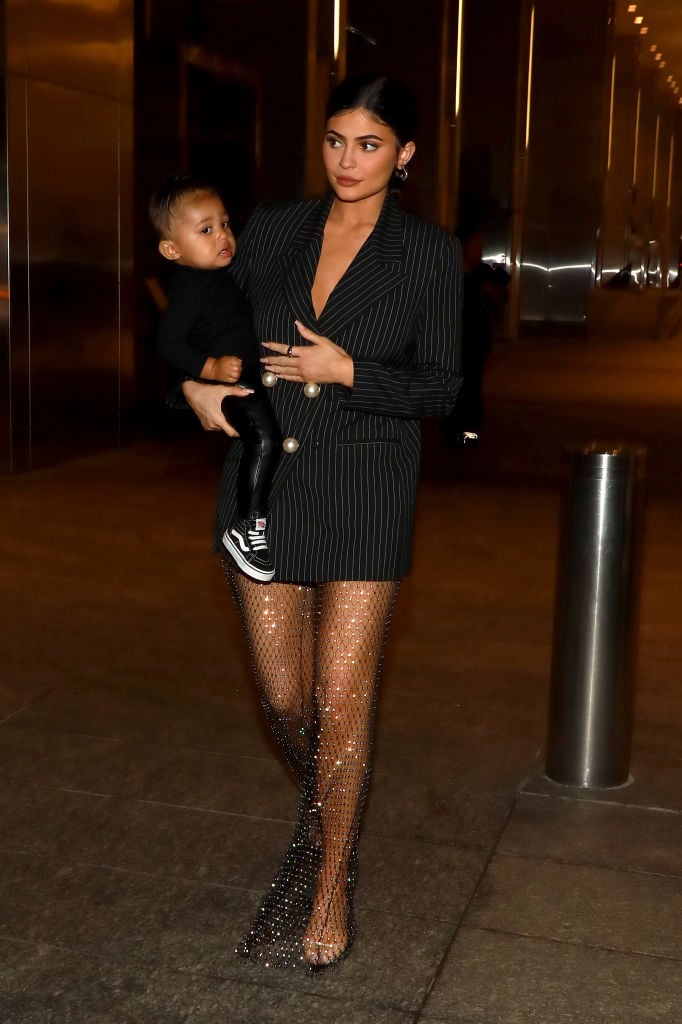 Between the Kardashians and Jenners, there are tons of kids to account for. In fact, Kendall Jenner is the only person in the clan who is currently childless. The eldest sibling, Kourtney Kardashian, has three children, Mason Disick, Penelope Disick, and Reign Disick. Next in line is Kim Kardashian West, who leads the pack in numbers with four kids, North West, Saint West, Chicago West, Psalm West. Meanwhile, Rob Kardashian, Khloé Kardashian, and Jenner all have one child each, Dream Kardashian, True Thompson, and Stormi respectively.
The Kardashian/Jenner kids have experienced fame from a young age
As the KarJenners are worth millions upon millions of dollars, their children never want for anything financially. Though none of their kids are over the age of 10, many of them have already traveled internationally and received lavish gifts, e.g. diamond rings and famous clothing. Furthermore, they are already considered famous in their own right. North, Saint, Chicago, and Stormi have all already been on the covers of huge magazines like Vogue and Harper's Bazaar.
Most recently, Stormi was featured on the cover of Vogue Czechoslovakia with her mother. The pair were shot and interviewed in their newest multimillion-dollar Los Angeles estate. "New cover with my baby for @vogueczechoslovakia shot at home on my iPhone 🤍 @morellibrothers#VogueCS," Jenner captioned the photo of the magazine cover which she shared to her Instagram page.
Kylie Jenner unveils her latest Vogue cover on Instagram
While Jenner's fans gushed over how cute Stormi looked in the photos, critics were not impressed by the display. Many people felt uncomfortable with the fact that Jenner has allowed her daughter to be on magazine covers from such a young age. Last year, Jenner unexpectedly included Stormi (who was not yet two) in her photoshoot with her mother, Kris Jenner, for Harper's Bazaar Arabia.
"Really amazing how she hid her pregnancy because she wanted to ~protect her daughter~ and then the second she was born she promptly started pimping her out to anyone that would publish a photo," one critic commented about Jenner's choice to include her daughter in the photoshoot. Other critics took the opportunity to speak about the KarJenner kids as a collective and the way that they are treated and marketed.
Critics feel that the 'KUWTK' kids are treated as accessories
"Sigh. These babies are treated like accessories," one person wrote. "It's too bad these kids are on social media and now magazine covers. No concept of privacy, no concept of unfiltered," yet another person chimed in. "It's so ridiculous how celebs don't even give their kids the choice of growing up relatively normal. I hate it," yet another person wrote, commenting on not just the KarJenners, but many celebrities as a whole.
For her part, Jenner has admitted that she's spent a lot of time wrestling with trying to educate Stormi about fame. Back in February of 2020, the 22-year-old spoke to Harper's Bazaar about how she's currently teaching her daughter to cope with the crazy fame she was born into.
How the Kylie Cosmetics founder teaches her daughter, Stormi, about fame
"I think about it a lot because the world is just so crazy now. Exposing her to all of the negativity that comes with the Internet, I think about that too. I'm just trying my best, even though she's still little, to remind her how blessed we are and that this isn't normal, the way we live. It's just our life. People want to take pictures. I think she would feel differently if I was always covering her face like, 'Don't look!'" Jenner revealed.
Of course, the KarJenners can't help that the world is so obsessed with their kids. But, it's one thing for the paparazzi to take pictures and it another to make the choice to include them in photoshoots and magazine covers. Ultimately, it's their decision how they want to raise their kids. But, we do hope that the famous children are afforded some semblance of privacy should they want it.