Kylie Jenner Is Looking More Like Khloé Kardashian In Recent Photos
The Kardashian-Jenner sisters are members of one of America's most famous families. For more than a dozen years, the family has been appearing on their reality show, Keeping Up With the Kardashians, where they've let fans in on pretty much every part of their lives.
Kylie Jenner, the youngest member of the family, has always had her own style. But her recent hairstyle change has us thinking she's starting to resemble her older sister, Khloé Kardashian.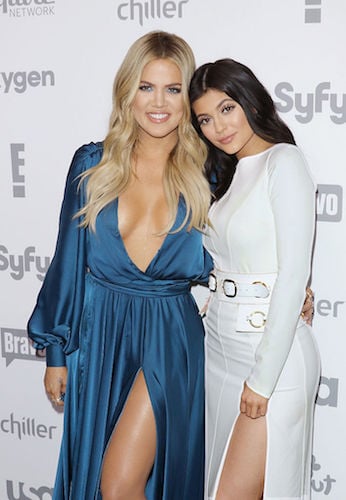 Kylie Jenner has always been close with Khloé Kardashian
Growing up, all of the Kardashian-Jenner siblings were super close. But Khloé Kardashian was often seen as the fun, easy going sister, and she was someone who Jenner always looked up to. There was even a time on the show when Jenner "ran away" from home as a teenager and ended up going to her sister's house, who helped her work through the problems she was having with her mom.
Now that the women are older, they've still stayed close. By now, Jenner has grown into her own interests and has become a true adult. But her older sister is still always there for her.
Jenner loves changing up her hair
Through the years, Jenner has changed up her look plenty of times. She loves trying new things with her hair. The Kylie Cosmetics founder might specialize in makeup, but she loves to experiment with her locks and never ceases to surprise fans with something new. Jenner has dyed her hair everything from purple to green to bright yellow, and she also enjoys more conservative styles, such as her classic long, black, wavy hair and the short, dark bob.
For the most part, fans think she can rock anything, though there have been a few mishaps. Jenner came under fire for cultural appropriation when she wore her hair in twists a few months back. And her recent look, which consisted of a 10-foot ponytail, didn't get too much love from fans, either.
Her recent hairstyle has us thinking she resembles older sister Khloé
One of Jenner's recent hair switches came in the form of blonde ombre. Though Jenner has gone blonde in the past, it was more of a platinum blonde, and her hair was hardly to her shoulders. But this recent look was a sandier ombre blonde that turned brown at the roots. And it reminded us a lot of Khloé Kardashian's hair.
These days, Kardashian's hair is more of a bleach blonde, but fans remember the sandier color when she was first transitioning her hair from brunette to blonde. We got major big-sis-Khloé vibes from Jenner's new look.
Khloé Kardashian often comments on Jenner's photos
Kardashian loves to hype up her sister, but she also loves to drag her as a joke. Kardashian has commented on Jenner's posts plenty of times in the past. When Jenner wore her super long pony, Kardashian wrote, "Don't ever call me extra again." Kardashian has also called Jenner out on her Instagram photos, suggesting she loves to post but doesn't answer her texts. It's all in good fun, and it's nice to see the two have such a close relationship.