Kylie Jenner Fans Are Convinced She's Getting Plastic Surgery
If you've been keeping up with the Kardashians, then by now you've heard that the youngest KarJenner, Kylie Jenner, was hospitalized early this week. Reporting flu-like symptoms, the 22-year-old has been unable to travel because she is so sick. And while the Kylie Cosmetics owner is receiving her fair share of well-wishes, not everyone is convinced that the billionaire is actually suffering from the flu or a common cold. In fact, plenty of fans (and some critics) are convinced that Jenner is having and/or recovering from plastic surgery.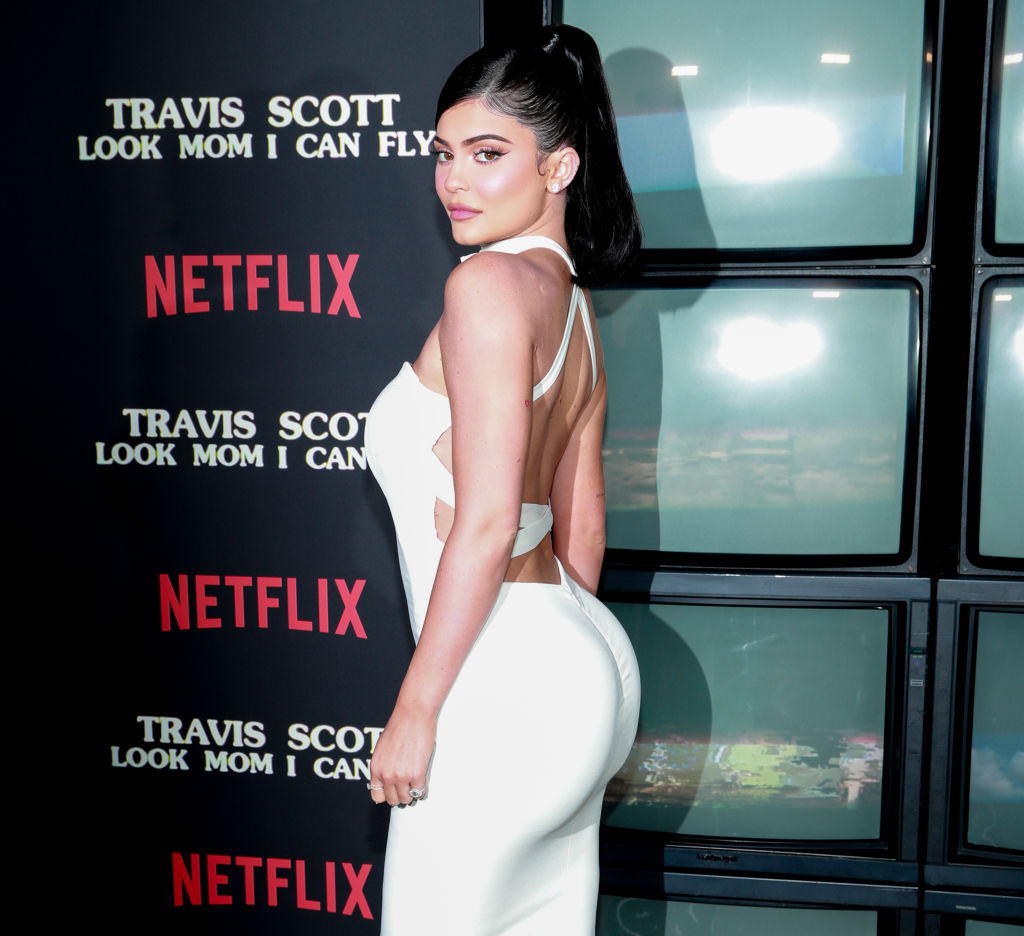 Recently Jenner surprised fans by announcing that she collaborated with Balmain for an exclusive makeup collection called KYLIE X BALMAIN. For those unfamiliar to the fashion world, Balmain is a French luxury fashion house that's been around since 1945. Currently, Olivier Rousteing is one of the people at the forefront of the company and serves as the brand's Creative Director. The collaboration comes just in time for Paris Fashion Week, where Balmain will unveil its latest collection.
Jenner launches her new KYLIE X BALMAIN makeup collection
"Paris is always a good idea 🇫🇷 surprise.. KYLIE X BALMAIN @kyliecosmetics collection launching this Friday 9.27 on KylieCosmetics.com," Jenner posted on her Instagram to officially announce the collection. Jenner was also supposed to fly to Paris herself for the Balmain fashion show but had to cancel because she is sick. Taking to her Twitter page, she penned a message for her millions of fans.
Jenner was in the hospital earlier this week
"Hi guys! So as you know, I was getting ready to go to Paris for the Balmain show at Paris Fashion Week for the launch of my makeup collab with Oliver. Unfortunately, I'm really sick and unable to travel. I'm heartbroken to be missing this show, but I know that my amazing team, and my friends who are in town for the event, will help me be there in spirit," Jenner said, expressing her sadness about not being able to be at the event in person.
Too sick to travel
The reality TV star then went on to share how excited and proud she was of the collection and how she is sending virtual support."Creating this collection with Oliver has been a dream. Of course, this collection isn't just for the runway…I created this so you could have a piece for this once in a lifetime event. I'm SO proud of this collection and of Oliver, and our friendship, vision, and creativity really comes across in the products we created for you guys. Make sure you guys watch the show with me on Friday. It's going to be an epic event and I can't wait. I love you Oliver, congratulations, and I'm sending you all my love," Jenner exclaimed.
Of course, plenty of fans immediately rallied to send their well-wishes to Jenner."I hope you feel better soon Ky!! Love you so much and I'm obsessed with this collection! I can't wait to buy," one excited fan wrote. Other fans, were convinced that Jenner had another reason for missing the event. "Last time she was missing big events she was pregnant," one skeptic fan wrote. However, the most common conspiracy theory is that Jenner is having plastic surgery.
Fans are convinced Jenner is getting plastic surgery
"She's getting more plastic surgery done you morons," one person tweeted, responding to the scores of people sending Jenner get well soon messages. "She's been 'sick' for a couple of weeks. Her breast implants are probably poisoning her body," another fan chimed in. "Is this code for plastic surgery gone awry," one person questioned. "She's getting more surgeries," another Twitter user said adamantly.
Jenner's before and after pictures are suspect
Jenner and most of the Kardashians have insisted that they've never gotten plastic surgery. However, many of their before and after pictures have caused serious speculation. But, whether Jenner is sick with the flu, is experiencing complications due to plastic surgery, or just recovering from a plastic surgery procedure makes no difference to us. We just hope that, for Stormi's (her adorable one-year-old daughter) sake, she feels better soon.