Is Kylie Jenner Richer Than Travis Scott's Ex, Rihanna?
Kylie Jenner and Rihanna are at the top of their game. Since they became famous, the celebrities can barely go anywhere without fans (or paparazzi) approaching them. Additionally, the two have strong fan bases who support their business endeavors.
Many fans were shocked to find out that Jenner and Rihanna share a common ex, Travis Scott. Although they might have the same taste in men, who has the higher net worth?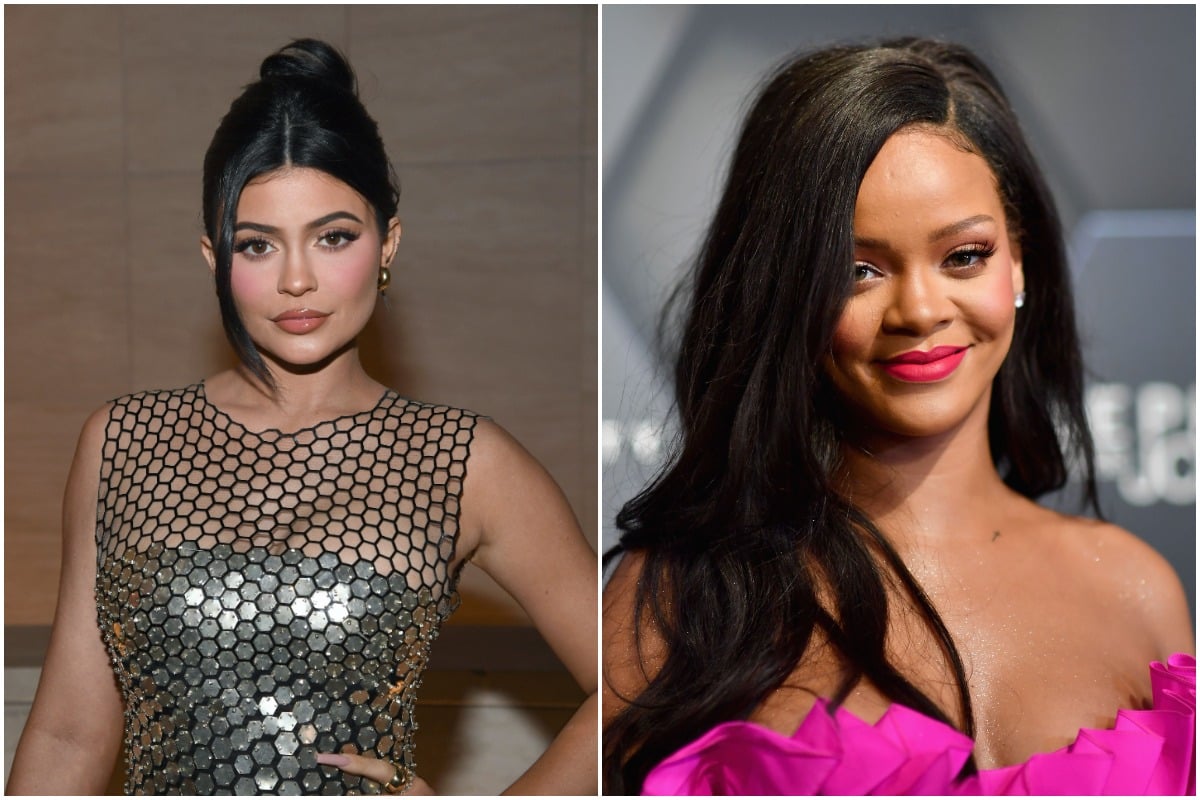 Kylie Jenner and Rihanna's career trajectory
In May 2020, a moment from Rihanna's dating history started making headlines. During his 2015 interview with Complex, Scott opened up about his relationship with RiRi. The comments resurfaced five years later when Complex's former editor Lawrence Schlossman claimed the "SICKO Mode" rapper "embarrassed" the Grammy winner, per Business Insider. After they ended their "friends with benefits" relationship, Scott started dating Jenner. 
RELATED: Kylie Jenner Pregnant: How She Could Earn $45 Million From Baby No. 2 With Travis Scott
Before either of them dated the "TKN" rapper, Rihanna and Jenner both had stellar careers. In 2007, fans first met the Life of Kylie alum on Keeping Up With the Kardashians. However, Jenner broke away from her family's fame in 2015. At 17, she launched a collection of Kylie Lip Kits. While promoting the brand through her popular social media accounts, she eventually created her makeup line, Kylie Cosmetics. 
Like Jenner, Rihanna expanded her career through beauty. In 2006, the singer found fame with her debut album, A Girl Like Me. After creating eight albums within a decade, the artist dabbled in other avenues. In Sept. 2017, she launched Fenty Beauty, a partnership with ​​LVMH's Kendo Brand. Following the release, Rihanna premiered her luxury fashion line, Fenty. Additionally, the singer created a lingerie line, Savage X Fenty.  
Rihanna has a higher net worth than Kylie Jenner
RELATED: Rihanna's 'Traumatic' First Kiss Entailed 'Entire Saliva Glands' In Her Mouth
Rihanna and Jenner's popularity and business savvy resulted in successful beauty brands. However, the "Desperado" singer earns more money than the former reality star. According to Celebrity Net Worth, she became a billionaire in 2021 after earning $1.7 billion. Additionally, Rihanna reportedly makes $70 million per year. 
As for Jenner, the influencer has a net worth of $700 million. Although Forbes deemed her the "youngest billionaire" in 2018, the 24-year-old entrepreneur reportedly inflated her earnings by making her business seem more significant than in multiple interviews. 
"It's fair to say that everything the Kardashian-Jenner family does is oversized," said Stephanie Wissink, an equity analyst covering consumer products at Jefferies to the outlet. "To stay on-brand, it needs to be bigger than it is."
Which beauty mogul spends more money?
Despite being more prosperous than Jenner, Rihanna spends significantly less money on personal items. In March 2021, she made a significant purchase when she bought a $13.8 million home. Additionally, she has several high-end cars, including a Porsche 997 Turbo.
Throughout her fame, Jenner has spent of her net worth on real estate than RiRi. In April 2020, she purchased a Holmby Hills, California mansion for $36.5 million. Jenner also bought a $12 million home in Hidden Hills, California, and a lot in the same area.