Kylie Jenner Shares 1 Thing Daughter Stormi 'for Sure' Gets From Her
Kylie Jenner says her 2-year-old daughter Stormi "for sure" inherited a personality trait having to do with food from her. Ahead, find out what quirk the 22-year-old passed down to her daughter which means they most certainly have snacks with them at all times. 
Kylie Jenner gave birth to Stormi in 2018
The Kylie Cosmetics founder who reached billionaire status in 2019, became a mother on Feb. 1, 2018, when she and rapper Travis Scott her then-boyfriend, welcomed daughter, Stormi Webster (Scott's legal last name is Webster). 
The couple kept the fact they were expecting a secret for the duration of Jenner's pregnancy although fans guessed as much when the Keeping Up with the Kardashians star strategically hid her growing baby bump on social media and later retreated from the spotlight.
They split in Oct. 2019 after dating for two-and-a-half years but fans now believe Scott and Jenner have reunited although the two haven't publicly confirmed they're back together.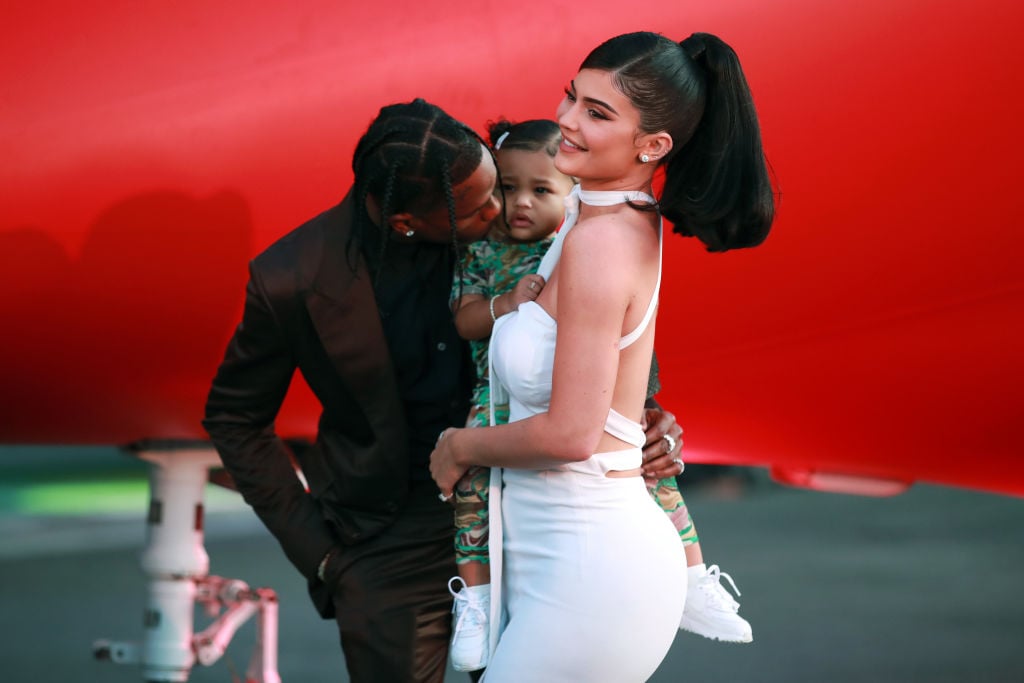 Stormi gets hangry just like her mom
In a Feb. 2020 YouTube video for Harper's Bazaar titled, "Everything Kylie Jenner Eats in a Day," Jenner not only broke down what she eats and drinks (spoiler: it involves a lot of bone broth, celery juice, and peach tea) but the California native said she'd be the universal face of hangry — aka getting irritable when hungry — if one existed.  
"If there was like a face of hangry it would be me. I would be the face of hangry," she said in the video before adding her daughter is the same way. 
"And Stormi has it too because when that little girl's a little hungry she turns into a different baby," Jenner explained. "You wonder where she gets it from. Me for sure."
In the same video, Jenner also said Stormi has a nut allergy which is why they have a "peanut-free household."
The mom of one, who celebrated Stormi's birthday on Feb. 1 with an extravagant Stormi's World 2 party, shared details about the birth of her daughter on Instagram Stories ahead of the celebration. She reflected on the birth of her daughter saying Stormi arrived a day early after labor had been induced. "They broke my water and I had her 45 minutes later. It was crazy," she said. 
Jenner and Stormi look so much alike
Stormi is practically Jenner's twin. Thanks to side-by-side photos the Kylie Cosmetics founder posted to her Instagram Stories in Dec. 2019, fans got to see just how uncanny the resemblance is between Jenner and her daughter. 
One photo featured a smiling Stormi holding a Kylie Cosmetics lip product after messily applying it to her face, according to People. The other showed a younger version of Jenner giving the camera nearly an identical smile to Stormi's. Jenner posted the side-by-side comparison with smiling emojis.
Following Stormi's birth, Jenner took to Twitter to answer questions from fans saying she could see a resemblance between her and her little girl right away. "She looks just like me when I was a baby," she told one Twitter user after they asked how Stormi had been doing since her arrival three weeks earlier, adding she'd been "staring at her all day."